LIFESTYLE
Meet J-K's solo traveller Shabnam popularly known as 'Isabella Bird' of Valley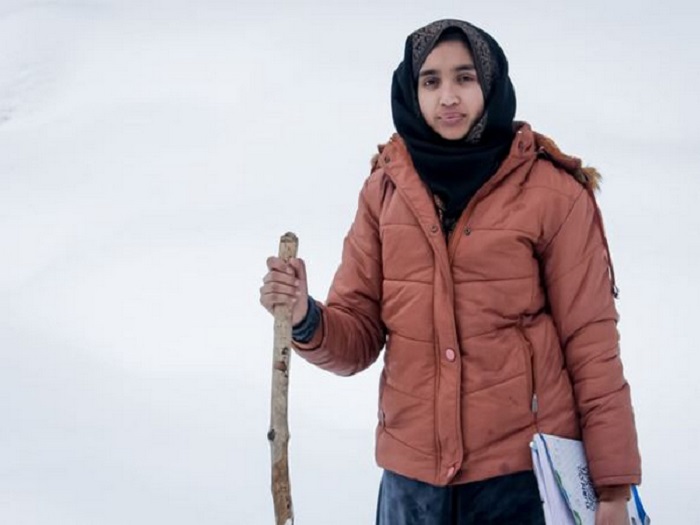 Jammu and Kashmir : A 24-year-old tribal girl Shabnam Bashir Gojer Chechi, hailing from a remote hamlet in Indian administered North Kashmir's Bandipora, exploring the unexplored destinations in search of her dreams is now known as Valley's Isabella Bird, famous British explorer and writer.
Travelling as a woman, even today has its challenges by imposed restrictions. But a 24-old enthusiastic traveller Shabnam Bashir Gojer Chechi is a female solo traveller, who dared to explore the unexplored and defied all odds. Hailing from Quil Muqam village of North Kashmir's district Bandipora, Shabnam Bashir Gojer Chechi is a tribal researcher and an author. Shabnam's main area of research is unexplored meadows in the upper reaches of Harmukh ranges in North Kashmir that possess ordinary beauty, roaring rivulets, snowy mountain tops, lush landscapes, murmuring streams, and thick cloud curtains.
She has taken amazing journeys with a determination which has paved the way well ahead of her time. Since her childhood days, she has been putting her best endeavours to promote adventure tourism in Kashmir and bring unexplored tourist destinations to the tourism map of Kashmir.
Shabnam was fascinated by discovering the hidden and unexplored tourist destination of Kashmir since childhood. She said tourism should not be restricted to a few select and popular locations, including Gulmarg, Pahalgam, Sonamarg and Dal Lake, but believes the real Kashmir is up in the unexplored mountains.
Shabnam is a final-year student of BTS (Bachelor of Tourism Studies). She authored her debut book titled "Unexplored Kashmir" in 2021 with the main aim of highlighting the tourism potential of Kashmir and presenting a guide to the people of Kashmir about the unexplored tourist destinations so that adventure-loving people are attracted to such places.
She had to consistently research for three years to write her book in which she has provided every minute detail about the various unexplored tourist destinations of Kashmir. The book was released by Deputy Commissioner Bandipora Dr Owais Ahmad during a career counselling programme organised for the tribal population.
Shabanam has discovered dozens of unexplored tourist destinations like Nachni, Badi Dumgali, Choti Dumgali, Danna, Kemsar, Lashkoot, Banzuri and Naagmarg in Bandipora, which had remained unknown and unheard for tourists from across India.
Shabnam has been working very hard to bring the quirky tourist destination on the tourism map of J&K. She has been relentlessly working to highlight the tourism potential of unexplored tourist destinations of Bandipora to attract tourists to this part of the Kashmir Valley.
She said she has been visiting these places for the past three years wherein she explored several tourist destinations. These include lush green meadows surrounded by deep forests some along them are Nachni, Badi Dumgali, Choti Dumgali, Danna, Kemsar, Lashkoot, Banzuri and Naagmarg in Bandipora.
She has been working in close coordination with the Bandipora district administration with the aims of reviving, promoting and preserving tourism in the district. She invited "Kashmir Offroad", India's premier overland adventure provider to the Ketson Village, the village about which has talked at length in her book.
Shabnam played a significant role in bringing this tribal hamlet Ketson to the tourism map. It was because of her constant efforts, Ketson got recognition by the J-K government as a tourist village. Following its recognition as a tourist village, a first-of-its-kind Tribal Winter Festival was held at Ketson, which witnessed huge public participation. The festival witnessed music, dance, and cultural events that left the people enthralled.
Apart from working on adventure tourism, Shabnam works on culture tourism as well. She said that with the intention of offering cultural tourism, I aim to exhibit the culture and heritage of the tribal communities to the travellers.
"Cultural tourism facilitates and encourages those involved with heritage conservation and management to make the significance of that heritage accessible to the host community and visitors," she said
Shannam had to face a lot of challenges to pursue her dreams.
"People would often say me people aim to become a doctor or an engineer, but you have chosen such a field which has no scope and job opportunity. But I had made my mindset from childhood for exploring unexplored tourist destinations," she said
Shabnam says it is not easy for any parent, especially in our community which is grappling with a lot of gender stereotypes, to send their daughter to forest areas.
"It was because of the immense support of my parents that I was able to pursue my dreams. My parents always supported me, be it in terms of rebutting the criticism of the people around, or allowing me to go to forest area alone for research purposes or providing me monetary help to carry out research", she said
Her father Bashir Ahmad said, "at times I felt worried about my daughter because she would leave home early morning and sometimes return very late to home. She had to go to forest areas to collect the data which sometimes added to my worries. But I knew the work she is doing is very useful, therefore, always encouraged her."