LIFESTYLE
Weaving together for a more sustainable fashion industry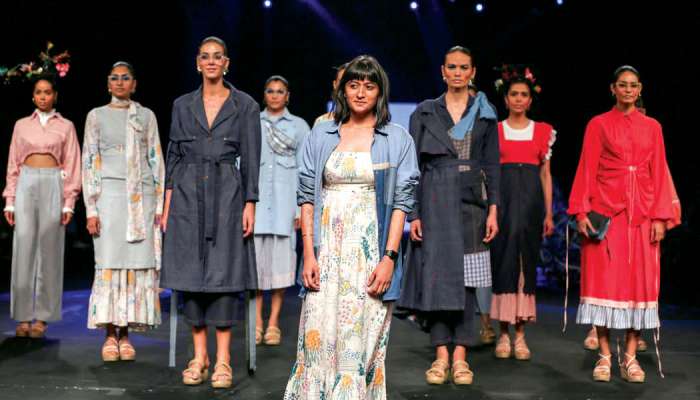 Circular Design Challenge (CDC) recently celebrated its fifth year since its inception at Lakme Fashion Week in partnership with FDCI in India. To celebrate this milestone, CDC hosted a special showcase by three of its alumni — labels Chamar, Doodlage-Made from Waste and Iro Iro.
   
Circular Design Challenge presented by R|ElanTM is India's largest platform and award for design entrepreneurs working in Circular Fashion, in association with the United Nations in India and Lakme Fashion Week in partnership with FDCI.
   
 Mr Hemant D Sharma, sector head, Polyester, Reliance Industries Limited, said, "Five years ago, we initiated the Circular Design Challenge, to accomplish the vision of our chairman Mr Mukesh Ambani, to turn India into a world leader in adoption of sustainable and green manufacturing practices. In the past half-decade, the popularity of Circular Design Challenge has grown exponentially. It has now become a trend in the Indian fashion value chain which is nurturing talent in the sustainable and environment-friendly sphere and promotes waste reduction in the industry. Encouraged by CDC's success in India and unprecedented international interest especially from the leading global countries, we are committed to expand this initiative across the globe."
   
 Mr Shombi Sharp, UN resident coordinator, India, said, "The UN in India is proud to be a founding partner of the Circular Design Challenge since its beginning five years ago. The UN and CDC are united in our belief that fashion can and must be both a source of joy, celebrating culture, human expression, and innovation, and a force for greening our world. Weaving together so many different threads of society and the economy, a more sustainable fashion industry can help drive the achievement of the global SDGs across a broadcloth of value chains. We look forward to the next stage, unlocking circular solutions on a global scale with CDC."
   
Mr Jaspreet Chandok, head, RISE Fashion and Lifestyle, said, "The fifth edition of CDC is a huge milestone for all of us. It has been tremendously satisfying to see the program receive increasing participation and appreciation with each passing year. Expanding CDC to global frontiers is in line with our ambition to make sustainable fashion commonplace. We are thankful to R|Elan, and UN in India for their continued support season on season that has made Circular Design Challenge such a prestigious platform in the country. We now look forward to making this platform a bigger success world over, with our global partners."
   
Taking the milestone celebrations further, each of these designers will submit a Tee shirt design for the EarthTee. The winning design will be chosen via digital polling and will be launched on Earth Day 2023.The EarthTee by R|ElanTM will be made using PET bottles that will be collected at Lakme Fashion Week in partnership with FDCI in March, 2023 edition.
   

 IRO IRO – For the pyaar of fashion
   
The 'Iro Iro' label by Bhaavya Goenka presented a collection that was an ode to love and therefore titled "Pyaar", which is often seen in memorable items like a grandfather's coat, mother's scarves, father's jumpers, friend's T-shirt, or grandmother's saris.
   
  Inspired by this, "Pyaar" – the line of creations by 'Iro Iro' used upcycled the many materials with the wonderful indigenous craft practices in myriad colours. These could turn into exchangeable clothing, accessories and even footwear that can be used by people in a caring and loving manner.
   
 Eye-catching on the ramp were the indigo culottes and boxy cropped long-sleeved jacket both ideal for cool fun days that last all day. The intricately detailed long-sleeved, midi shift in indigo and grey showcased feminine balloon sleeves and intriguing, contrast, fabric, side seam, insets for more drama.
   
 The "Pyaar" collection by Bhaavya Goenka for the 'Iro Iro' label brought a great fashion dimension to the forefront.
   
Talking about the collection, Bhaavya Goenka said, "Through collaboration and co-creation, our aim is to build transparency and camaraderie in fashion, an industry obnoxiously famous for being opaque. In this spirit, we have collaborated with a Jaipur-based footwear brand, Chal, to develop shoes from our signature hand woven upcycled textiles, with upcycled tyre soles, an innovation by Chal. We have also collaborated with a Berlin-based Headwear design studio, Studio Lennie, who has designed hats from our textiles for the collection Pyaar. Collaborations help us better advocate for an equitable, environmentally sustainable, and socially responsible fashion & textile industry."
   
Chamar – Embracing leftovers
   
Like a warm embrace, the 'Chamar' label by Sudheer Rajbhar unveiled the "Blacking Boot Polish" line, which was all about animal hides and recycled rubber that emerged from industrial leftovers, automotive scraps and other discarded materials.
   
Rubber was the main communicator skin, as the collection mobilised the sustainable philosophy that was the foundation of the underlying community involved in leatherworking practices to create useful items of daily use like bags, backpacks, and wallets. The styles were practical and timeless that would enable the buyer to treasure them for a long time.
   
The 'Chamar' label unveiled a revised look with the "Blacking Boot Polish" line with the most popular line of bags on garments that were inspired by black boot polish, which is commonly known as blacking.
   
 Sudheer Rajbhar added, "True fashion celebrates the beauty of diversity, and we are elated that this fashion week highlighted minorities who embrace their first skin and who can choose a second. At its essence, clothing is about self-expression and the freedom to choose one's own identity, another skin. Let us continue to celebrate and uplift those who challenge societal norms and redefine what it means to be fashionable."
  
Doodlage – made from waste
   
The 'Doodlage' label by designer Kriti Tula unveiled the "Nostalgia" collection, made from waste, which was a memorable, nostalgic journey back to simpler and greener times when upcycling and limited resources, as well as hand-me-downs were part of life.  For a nostalgic look at fashion, the label walked down memory lane to an era of kids in the 90's.
   
Recycled material as well as upcycled post industry waste used to create dresses, jackets, and belted creations. Highlighting the sustainable look, the outfits had the childlike floral drawings as prints, while denim printed with fabric was a unique feature of the apparel.
   
The "Nostalgia" collection by Kriti Tula for her 'Doodlage' label will encourage people to wear their values and change what they want to see and invest in.
   
  Kriti Tula added, "We are so excited to showcase at Lakme Fashion Week in partnership with FDCI after the pandemic again. We are thrilled to see the show being received so well and our effort to present yet another season-less collection made from waste is appreciated. Everything in the collection is envisioned from the industry waste and dead stock that we collect from factories and recycled material made on handloom."
   
 With the ambition to expand its presence and collaborate with like-minded partners and attract design talent across the world, Circular Design Challenge announced the global expansion of its program from the next season in October 2023.
   
The program will collaborate with global partners including British Council for the UK, Berlin Fashion Hub for Germany and the Redress Award for Hong Kong/Asia Pacific among others in a bid to invite participation of talent from across the world. Shortlisted finalists will get a chance to pitch their work to an esteemed jury at the October 2023 edition of Lakme Fashion Week in partnership with FDCI, and the winner will be awarded prizes worth INR 20+ Lakh, CDC Trophy and six-months mentorship program, along with the chance to present a stand-alone showcase at Lakme Fashion Week in partnership with FDCI in March 2024.