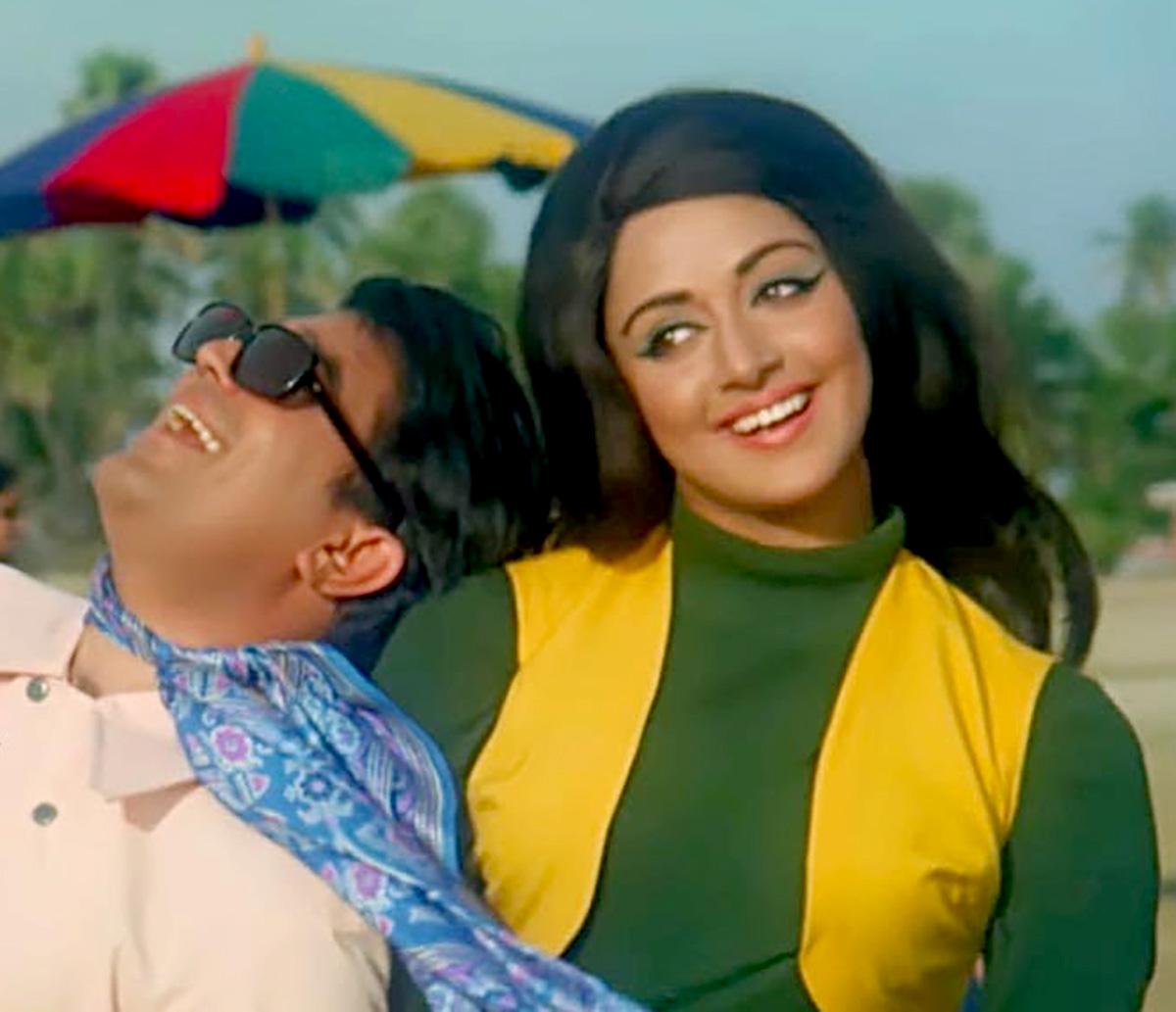 'When I met Atalji for the first time, he wouldn't look at me. He seemed very embarrassed.'
IMAGE: Rajesh Khanna and Hema Malini in Andaz.
One of Indian cinema's most influential film-makers Ramesh Sippy turns a year older on January 23, and India's Dream Girl Hema Malini recalls her close association with him.
"Rameshji's first film was Andaz, and I was in it," she tells Subhash K Jha.
"I was advised not to play a widow so early in my career, but I liked the film and the role. The film was a superhit, especially the song Zindagi Ek Safar Hai Suhana."
"Then, we did Seeta Aur Geeta, which was one of the most important films of my career. People think doing Seeta Aur Geeta was tough for me, but it was a cakewalk. That's because somewhere, even the playful, mischievous and restless Geeta was part of my outwardly demure personality. So that was not tough."
IMAGE: Hema Malini in Seeta Aur Geeta.
Seeta Aur Geeta made Hemaji very popular.
She recalls an encounter with the late Atal Bihari Vajpayee: "When I met Atalji for the first time, he wouldn't look at me. He seemed very embarrassed. I wondered why. Then someone told me he was a big fan of my film Seeta Aur Geeta. He had seen it at least 25 times."
As for Sholay, Hema says: "It is a film where every character, every dialogue has made history. People liked my Basanti for her chirpiness. Shooting the film was tough. We shot Sholay in the blistering heat in a place called Ramnagara near Bengaluru."
"I was in full makeup, in my wig and costume, riding the tanga. I could never do without wigs. During those days, actresses were allowed to sport all kinds of hairstyles. For Gulzar's Meera, I needed straight hair. For Sholay, I needed a curly wig.
'I couldn't subject my real hair to so much shock. Once I stopped using wigs, I gave them away to hairdressers, fans and transvestites."
IMAGE: Hema Malini with Ramesh Sippy on the sets of Sholay. Photograph: Kind courtesy Hema Malini/Instagram
Forty-five years after Sholay, Hemaji collaborated again with Ramesh Sippy for Shimla Mirch about a single mother, played by Hema Malini, and her daughter (Rakul Preet), who fall in love with the same man (Rajkummar Rao).
"It was offered to me in the midst of my parliamentary work, but I couldn't say no to Rameshji," Hemaji, who is the Bharatiya Janata Party member of the Lok Sabha from Mathura in Uttar Pradesh, says.
"I liked my role, but the film didn't turn out the way it was planned. Hota hai. It's all part of the film business. You win some, you lose some. Films that I hold really close to my heart like Meera and Razia Sultan have not done well."