BUSINESS
More downside seen in Infosys earnings estimate; stock to derate: Analysts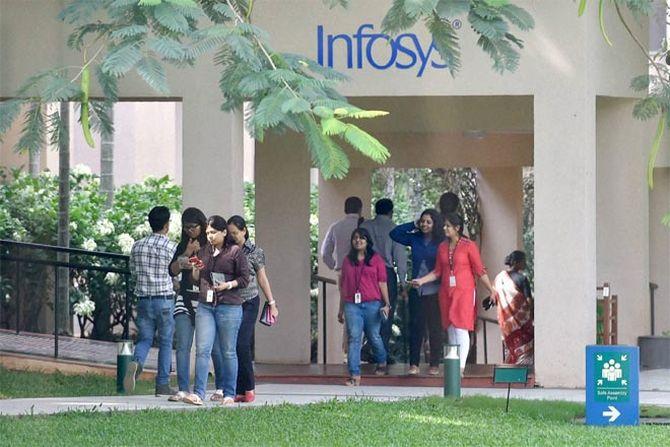 Infosys was the only large-cap IT player to report sequential constant currency (cc) revenue growth for the June quarter (1 per cent ), which was ahead of analyst expectations, but the company's sharp downward revision in its growth guidance took most brokerages by surprise.
Photograph: PTI Photo
In line with the cut in its FY24 revenue guidance (cc) to 1-3.5 per cent, brokerages have unanimously reduced FY24 EPS estimates for the company in the range of 2-4 per cent, though the Street is likely fearing even further downside, they say.
Global brokerages Macquarie and Nomura downgraded Infosys to underperform and reduce ratings, respectively, with the latter cutting the target price to Rs 1210 from Rs 1260.
"Lowered guidance reflects pullback in discretionary demand and slow decision making and has magnified the growth weakness," Nomura said.
Analysts at Antique Broking expect the guidance cut to lead to a de-rating especially given the sharp run-up in the stock in the last few months.
Those at JP Morgan maintained their underweight rating on Infosys.
"The guidance cut brings a welcome dose of realism that should be extended to valuations," their note read.
Meanwhile, the sharpest cut in the target price came from PhillipCapital at Rs 1,390, down from Rs 1,580 earlier, along with a downgrade to neutral from buy.
It slashed the FY24-FY25 EPS estimate by 4-6 per cent.
That apart, Infosys' large deal wins were still strong for Q1, up 9.5 per cent QoQ and 35.3 per cent YoY at $2.3 billion.
But the management said that revenues from some of its mega and other large deals in the pipeline will accrue only towards the later part of this financial year.
Meanwhile, in the short term, the company expects to see some clients stopping or slowing transformation programmes and discretionary work, especially in financial services, mortgages, asset management, investment banking and payments, and telecom.
It also sees some impact in the hi-tech industry and parts of retail.
Financial services and retail are Infosys' largest verticals, which together account for nearly 50 per cent of its revenues.
That said, brokerages such as Motilal Oswal Financial Services, Kotak Institutional Equities, HDFC Securities and JM Financial Services have maintained hold-to-buy ratings on the stock, albeit lowering the EPS estimates.
This comes as they believe the firm has revised its growth estimate broadly to compensate for the previous guidance, which was rather aggressive with a high ask rate.
"We believe the management had erred on the side of optimism in its earlier 4-7 per cent guidance. Thus, the cut is a course correction rather than a sign of incremental deterioration in the demand environment," said Abhishek Kumar and Anuj Kotewar of JM Financial in a note. However, they do expect deeper cuts in the consensus estimate for the company.
Similarly, those at Kotak believe that the higher-than-expected discretionary spending cuts are an industry-wide phenomenon, rather than specific to Infosys.  
"The guidance cut will be negative for the share price in the short term, but we see the miss as more of a perception issue rather than an operational one given the earlier guidance was too optimistic in the current environment", said analysts at Motilal Oswal.