SPORTS
Equestrian gold comes after sacrifices and an arduous journey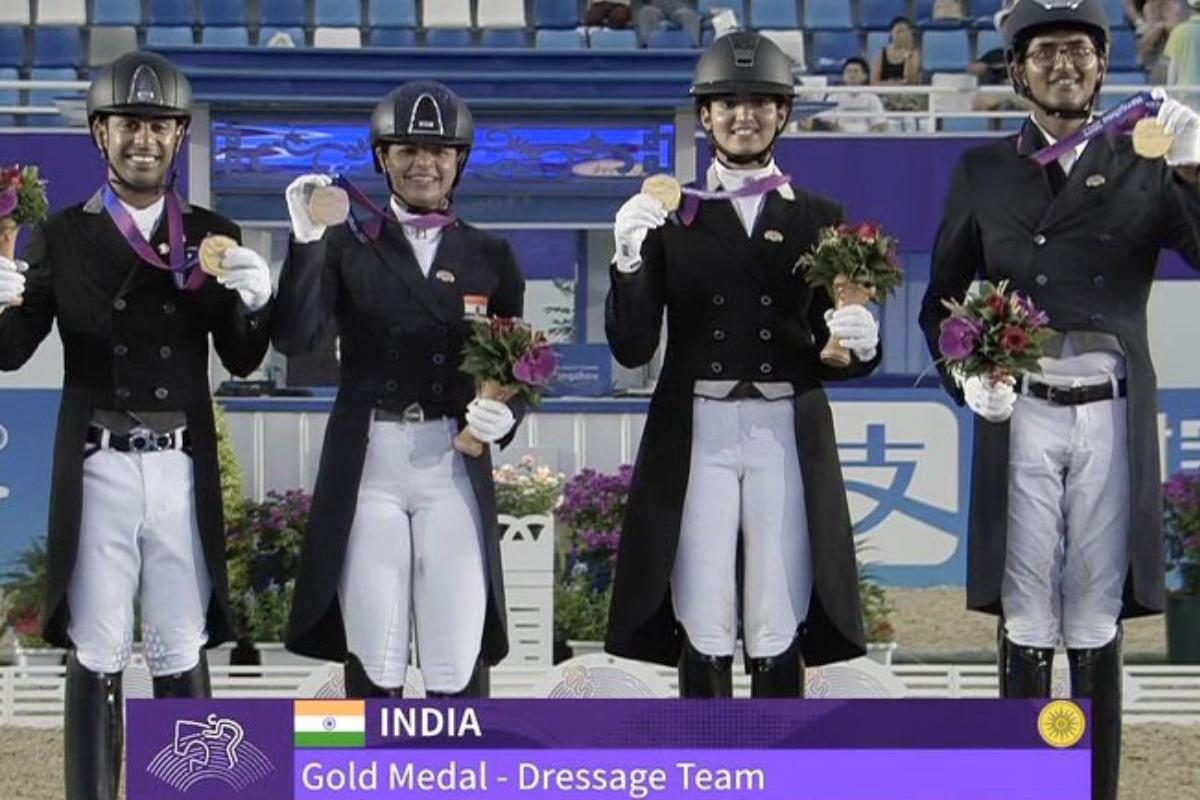 'It was not easy. I did not have the normal life of a teenager because I have been busy training with my horses. But it is all worth now. During Diwali and Holi, I was alone. The motivation was the goal of winning medals for India. So, we endured all this A big shout out to our horses also. We are nothing without them.'
IMAGE: All of us stuck together, shouting and supporting each other. I was the last to go in the competition and after a few riders after me, finally we realised that Team India has won a gold. That was a very emotional moment," said the 23-year-old Anush, who left his home in Kolkata in 2017 to train in Europe, said Anush Agarwalla. Photograph: Kind courtesy Sachin Tendulkar/X
Success requires sacrifices, and for the unheralded Indian equestrian team, it was about moving away from social circles and leading a "boring" and "lonely" life but it all seemed worth as they created history in the Asian Games in Hangzhou on Tuesday.
The young quartet of Sudipti Hajela, Divyakriti Singh, Anush Agarwalla and Vipul Hriday won India's first ever dressage team gold and only the second medal in the discipline. It was also India's first equestrian gold in 41 years, after the 1982 Asian Games in New Delhi.
It was a long and difficult journey for the Indian team which has an interesting mixture of riders.
All of them left home at a young age and have been training in Europe separately for the last few years away from their family.
They took part in the Asian Games selection trials organised in Europe by the Equestrian Federation of India.
Their horses were quarantined in Aachen in Germany for seven days under strict rules before they were brought to China on September 21.
"It is unbelievable to win a gold here. It is not an easy journey for any of us. All of us have gone to Europe at a young age," said the 21-year-old Sudipti, the youngest of the quartet.
"We have worked hard for many years away from our families. We have made a lot of sacrifices," said Sudipti, who hails from Indore.
"All of us stuck together, shouting and supporting each other. I was the last to go in the competition and after a few riders after me, finally we realised that Team India has won a gold. That was a very emotional moment," said the 23-year-old Anush, who left his home in Kolkata in 2017 to train in Europe.
"The national anthem was playing and the national flag was flying, there was no better feeling than that. It was all we had worked for and we realised our dream. The first gold medal for India in dressage," said Anush.
For Divyakriti, who hails from Jaipur, the achievement was also due to their horses.
"A big shout out to our horses also. We are nothing without them," she said.
"It has been a long journey and not an easy one. None of us thought it (to win gold) but we gave our hundred per cent and we did it," she added.
"Ours is not a social sport and we led a boring life. But I think I enjoyed every bit of it. I have not gone home for a very long time and my family has made a lot of sacrifices too," Divyakriti said.
"I went to a boarding school and that made me a little bit independent. It has been a long journey but a very good one."
The 23-year-old from Jaipur, who studied at the famous Mayo College Girls School in Ajmer, left for Europe in 2020 just before COVID-19 pandemic struck the world and she was alone in a different country unable to go back home.
"Europe had very strict lockdown and I was in a new country all by myself away from my family. I was an amateur then, was new to professional sport, so it was very hard. But without the experiences and learnings from those hardships, I would not have been here today," she said.
IMAGE: All four of us are on the same page. We had the same goal. We knew there will be bumps on the journey but we remained positive. Hardships made us mentally strong,' said Sudipti. Photograph: Kind courtesy Narendra Modi/X
For Sudipti, missing parents' birthdays and not being able to be with them during Diwali and Holi was painful.
"Sacrifice is not from me only, it is also from my family. To live away from home, that is the most difficult job. Not having a family there (in Europe) at such a young age and living a lonely life" she said.
"I have not enjoyed the life of a normal teenager and school life, that is very difficult. You can't attend your mother's and father's birthdays, I missed Diwali and Holi, we just continued the boring life."
Hailing from Kolkata, Anush, also 23, shifted to Germany in 2017 and since then he has been training there.
"I shifted to Germany at the age of 17. I was in class 12 then. I flew back to India to finish my class 12 examination. Before that I have not done much riding and have never competed at a higher level," said Anush, who has been with his horse Etro since February.
"It was not easy. I did not have the normal life of a teenager because I have been busy training with my horses. But it is all worth now. During Diwali and Holi, I was alone. The motivation was the goal of winning medals for India. So, we endured all this."
Equestrian is a costly sport, because maintaining horses, training with them and transporting them for competitions need a lot of money.
"It is not easy to have horses and maintain them, especially in Europe. It is a kind of difficult sport. It's difficult to make it accessible to all," Sudipti admitted.
"My parents and state government support me. It requires a lot of outside help, besides own money."
She said till the horses were quarantined before competition for the Asian Games, all of them managed by themselves.
Sudipti currently trains at Pamfou in France, while Divyakriti and Anush are based in Hagen und Borchen in Germany.
"All four of us are on the same page. We had the same goal. We knew there will be bumps on the journey but we remained positive. Hardships made us mentally strong," said Sudipti.
"There was fire in the belly and we have pulled above the limit here."
"We all trained separately with our own trainers. But all the shortlisted riders came together during the pre-defined selection trials held in Europe by the Equestrian Federation of India. The quarantine period gave us the opportunity to train and gel together," said Divyakriti.