SPORTS
Pankaj Advani wins World Billiards Championship for 26th time!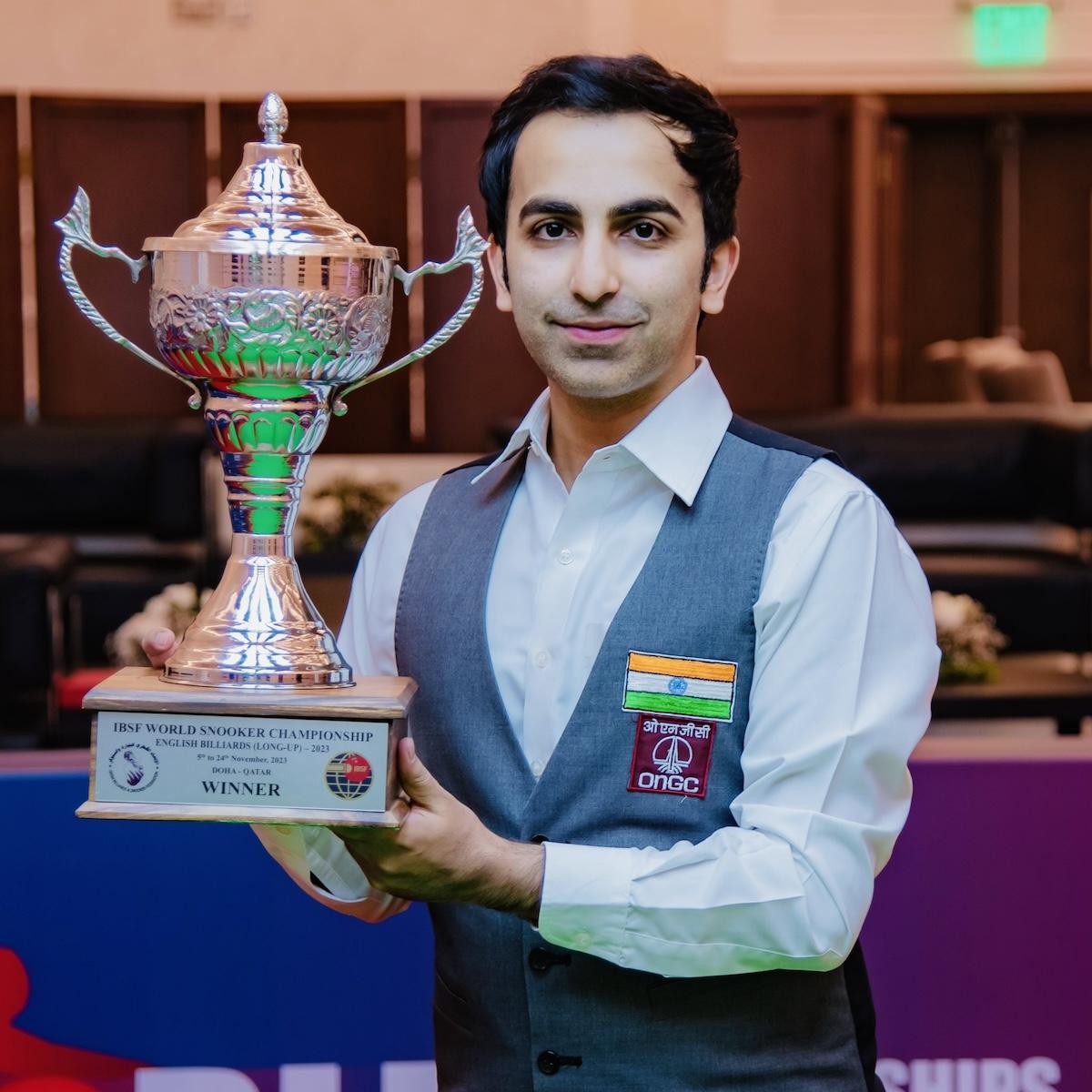 IMAGE: Pankaj Advani continued his domination as he clinched his 26th world title. Photograph: Kind courtesy Pankaj Advani/X
Indian cueist Pankaj Advani rallied to win the IBSF World Billiards Championship title in Doha on Tuesday for a staggering 26th time, beating compatriot Sourav Kothari in the final.
Trailing 26-180 in the first hour, Advani rallied to defeat the 2018 world champion Kothari 1000–416 in a rematch of last year's title clash in Kuala Lumpur.
Playing back-to-back matches, Kothari took the initial lead and was going strong but faltered on a couple of easy chances to allow Advani recover from the deficit.
From there, it got a little scrappy with both players exchanging visits between them and a couple of 150-plus breaks by Advani helped him stretch the lead while Kothari could not fully capitalise on the chances he got.
Advani fired in a break of 214, the highest of the match, and looked unstoppable after that.
Advani maintained a healthy 250-point lead for a better part of the match.
A 99 from Kothari brought the difference down to 150.
The ace from Bengaluru then switched gears to extend the lead and reach the 1000-mark with an unfinished break of 199 to end the proceedings.
Describing the feeling as "unreal", Advani said: "I have won before so I know how it feels, but to repeat it year on year is what makes all those hours of work on skill, body and mind totally worth it.
"To me, consistency is the hallmark of success and continuing to bring home world titles for the country is what drives me the most."
Advani will get no rest as he participates the next edition of the World Billiards Championship, which is the short format, 150-up.
Kothari blamed fatigue for squandering his early lead.
"My semifinals stretched on for almost five hours and I had to play the final with just a little more than an hour's break. So I guess I was fatigued," Kothari said.
"I hope to make amends in the point-format now which begins later in the day," he added.
Kothari pulled off a close win against Dhruv Sitwala, prevailing 900-756 in a gruelling semi-final that stretched for about five hours.
Kothari had breaks of 223 and 82, while Sitwala scored 199 and 188.
Advani, on the other hand, defeated fellow Indian Rupesh Shah 900-273 in the other semi-finals.
It saw breaks of 259 and 176 from the defending champion, while Shah managed a 62 break only in the 900-up format.
Advani won his first world title in 2003.
The only player globally to win world titles in all formats of both billiards and snooker has maintained his superlative level of performance to keep India on top of the world in the 3-ball game.
While Advani has won the 'long format' for the ninth time, he triumphed in the 'point format' championship on eight occasions, besides winning the World Team Billiards Championship once.