INDIA
Supercars Australian Grand Prix: Fuel fire chaos sparks big change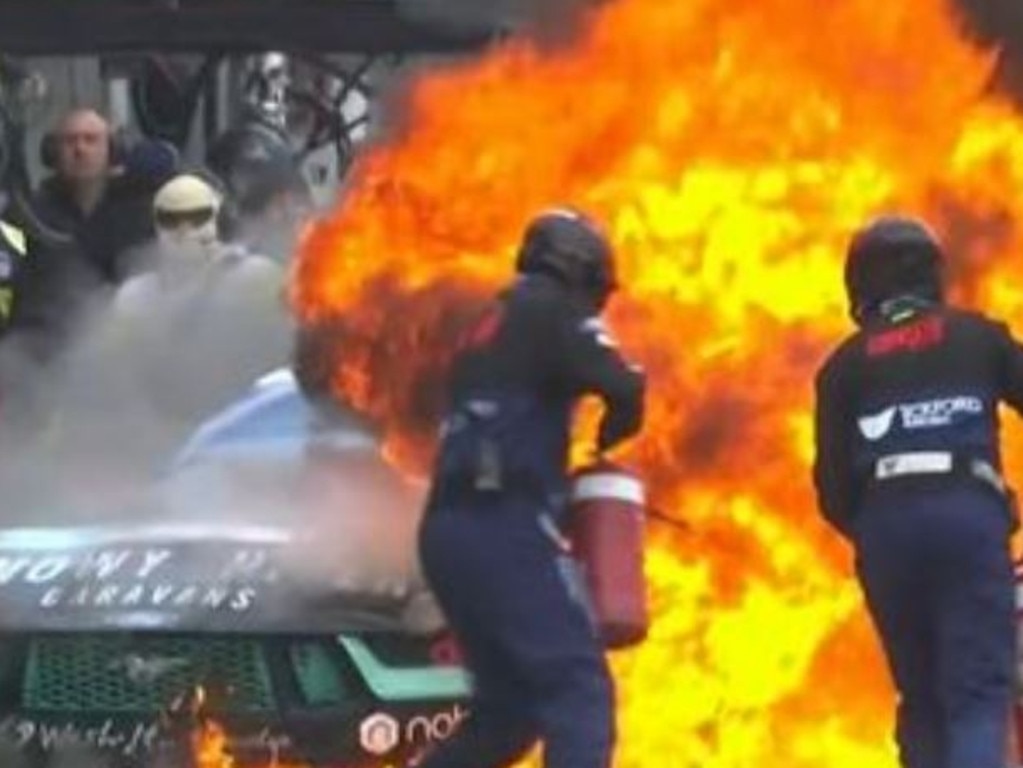 The final race of the Melbourne SuperSprint is set to start behind a safety car as officials look to mitigate the chance of a third fuel fire in as many days at Albert Park.
News Corp Australia understands Race 6 will start in single file under safety car conditions in response to a worrying and dangerous trend that reared its head in both Friday and Saturday's sprint races.
Both Nick Percat and James Courtney's Ford Mustangs caught fire during the early stages of Friday and Saturday's sprint races respectively.
Read Next
Teams and officials have scrambled to find the root cause of the engine fires and an early theory is to do with the start procedure, hence the decision to start behind the safety car on Sunday.
It's a serious safety problem that will trouble Supercars and its teams beyond this weekend.
Even Mercedes Formula 1 star George Russell showed concern on Saturday, when he noticed Courtney's engine fire on the big screen while completing a post-qualifying interview.
Race 6 of the Supercars season is due to begin at 10.20am on Sunday.
SuperCars comedy show? No one is laughing in pit lane
Albert Park claimed another four victims as tempers and flames flared for the penultimate race of the Supercars Melbourne SuperSprint on Saturday.
James Courtney became the latest driver to park his flaming Mustang in pit lane as teams were left to count the cost of an almost comedic 13-lap sprint race.
It took 71 starts for Erebus ace Brodie Kostecki to record his maiden Supercars win and just one more to notch his second — the 25-year-old leading home Will Davison and Bryce Fullwood in yet another race dominated controversy.
But Davison and Fullwood had their podiums yanked from their grasp after receiving dual 15-second post-race penalties for unsafe release in the last-lap scramble for position.
That elevated Shane van Gisbergen and Will Brown into second and third respectively.
It leaves Kostecki just one point off series leader Chaz Mostert for the championship lead.
He also now finds himself in a two-way battle with van Gisbergen for the coveted Larry Perkins Trophy, which goes to the top driver of the Melbourne SuperSprint.
"I'm just taking it race by race to be honest. I start 14th tomorrow and Chaz starts P2 so I just have to have a clean race tomorrow and maximize the spot we're in," Kostecki said.
"It seems pretty chaotic around the midfield so I just have to hope I don't get caught up in it."
Kostecki followed the safety car for seven laps to the chequered flag on Friday and headed the field for another four in Saturday's feature.
Thankfully the No. 99 Camaro was this time able to cross the line at race pace, converting pole in another bizarre sprint race that will have tongues wagging well beyond the weekend.
Mark Winterbottom's tough week continued when he was sent into the wall off a nudge from James Golding on the opening lap.
'Frosty' was in no mood to talk as he surveyed the damage to his No. 18 Camaro.
Joining him in the garage were Anton de Pasquale and Macauley Jones, who were both caught up in lap two carnage.
De Pasquale's DJR Mustang suffered front and rear-end damage as he bounced between barriers across the circuit, while Jones' trip into the wall also ended his day.
All of that while mechanics raced to put out an apparent fuel fire that engulfed Courtney's Snowy Rivers Mustang, in scenes eerily similar to what ended Nick Percat's race a day earlier.
"Yeah I saw the flames and I said to the guys I could smell something … then I could see the flames, so I just tried to get to the pits," Courtney told Fox Sports.
"I'm not sure what's gone on but it's (the) front-left corner I think, probably something similar to what happened to Nick (Percat)."
The race resumed and as teams learned the 13-lapper would run to a time finish, the scramble to enter the pits for the mandated stop began.
Further carnage ensued when Fullwood and Davison both pushed to leave the pits ahead of their podium rivals.
Fullwood found the back of Declan Fraser leading to his post-race penalty, while Davison left his pit box and drove into a tyre out the back of the Red Bull garage, which launched a wayward wheel across the pit exit narrowly missing Chaz Mostert.
Kostecki drove clear to the chequered flag followed by Davison and Fullwood; the latter two soon learned of their penalty fate.
Van Gisbergen rose from 11th at the start of the race to the second step of the podium, and within striking distance of another Larry Perkins Trophy.
"I saw Larry this morning and he's a hero of mine," the Red Bull star said.
"It was a pretty awesome moment to win that last year and be presented his trophy. This year to be in the running – I thought it was all over today – and to be closer to (Kostecki) and get the fastest lap point as well edges me up a bit.
"It's always good racing with Brodie – I can't wait."
The three-time Supercars champion congratulated his rival for getting to stand on the podium, having not had the opportunity on Friday.
"It was pretty disappointing yesterday for him to get no attention – like yeah, maybe it wasn't a race but it's his first win, it's a huge achievement and to not really celebrate it was pretty sad to see," van Gisbergen said.
"I'm stoked he got it today up on the podium. It was a really cool moment, to be standing there with a mate was good."
Supercars: Nightmare continues for Reynolds, SVG shock
David Reynolds has dominated the Supercars qualifying narrative on Saturday morning but not in the way he would have liked.
The veteran's nightmare Melbourne SuperSprint continued with the No.26 Penrite Mustang ruled out of both sessions.
In eerily similar circumstances to Friday's race, Reynolds found himself in the gravel at turn one, bringing an early end to the early qualifying session and catching the field out.
That handed Erebus a Race 5 front-row lockout with Brodie Kostecki and Will Brown banking the two fastest times before Reynolds' roll-off brought out the red flag.
Reynolds had barely gotten back to the garage before the second qualifying stint was ready to run – and he only lasted half the session before returning to the pits with a bent steering arm.
The second session ran to time and it ended in a flurry, with Broc Feeney making amends for his disastrous Q1 – where the red flag left him stranded in P21 – to take pole for Sunday's race ahead of Chaz Mostert.
"Yeah man the highs and lows – 21st and then first," Feeney said.
"I was pretty fired up between the sessions.
"It's about time (I got pole), I've been so close so many times. Credit to the team, the timing was pretty perfect. I nearly stuck it in the fence that last lap there, crazy conditions.
"I was so fired up, I was screaming at the top of my lungs when I heard there was a red flag (in the first qualifying session) and knew we would be at the back.
"it's going to be a hard one this afternoon."
Feeney's teammate Shane van Gisbergen was not as fortunate, with the reigning Supercars champion caught out in both sessions.
In incredibly rare circumstances, the Kiwi superstar failed to feature in the top-10 in either qualifying session.
He took P11 and P12 for the Saturday and Sunday sprints respectively.
Walkinshaw Andretti United pulled an all-nighter to get Nick Percat's car ready for the second qualifying session, less than 24 hours after his Mustang caught fire during Friday's sprint race.
He sat out the first session but managed to land in P16 for Sunday's race, with team owner Ryan Walkinshaw conceding there were still some "gremlins" to be found in the hasty rebuild.
Saturday's sprint race begins at 5.30pm AEDT.
RACE 5 QUALIFYING
1. Brodie Kostecki
2. Will Brown
3. Bryce Fullwood
4. Anton de Pasquale
5. Matt Payne
6. Will Davison
7. James Golding
8. Andre Heimgartner
9. Mark Winterbottom
10. Chaz Mostert
RACE 6 QUALIFYING
1. Broc Feeney
2. Chaz Mostert
3. Will Brown
4. Andre Heimgartner
5. Bryce Fullwood
6. Jack Le Brocq
7. Will Davison
8. Matt Payne
9. Thomas Randle
10. Scott Pye
Read Next
Comments