WORLD
Melbourne Cup time 2022, live updates, horses, tips, field scratchings, who is favourite sweep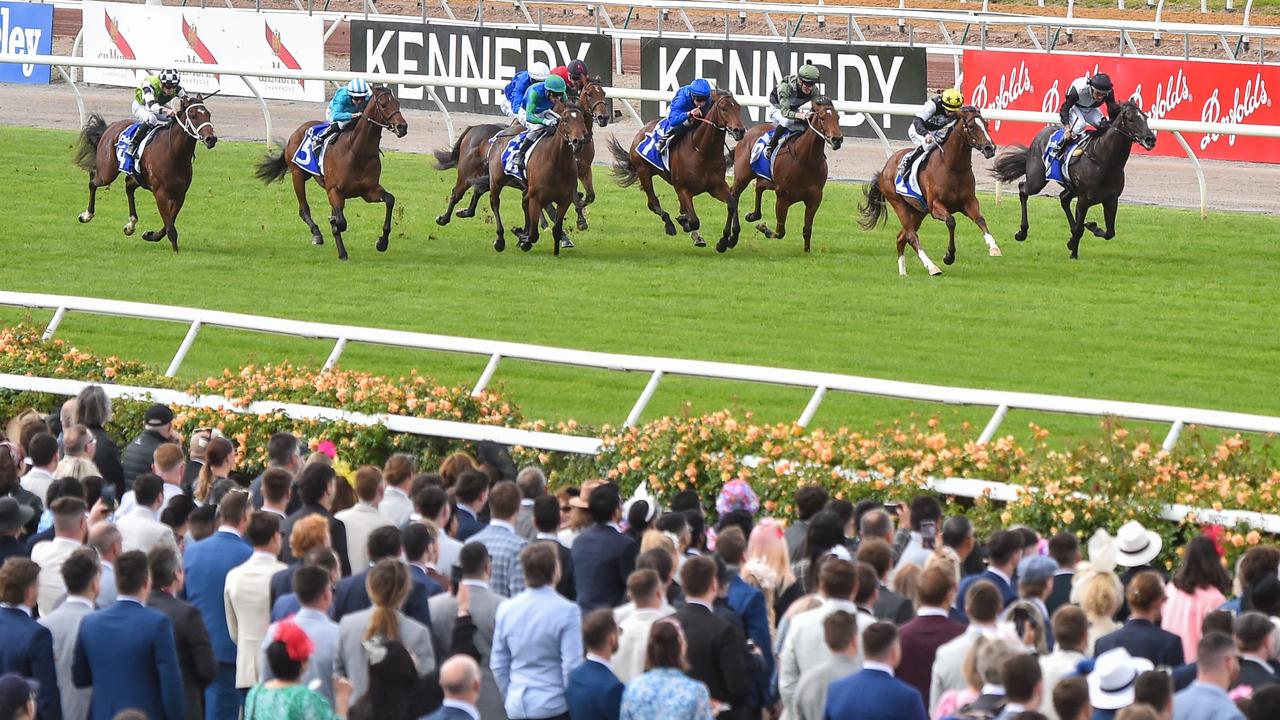 The Melbourne Cup, the race that stops the nation is almost here. Welcome to our live coverage as we count down to the biggest horse race in Australia.
The field for Tuesday's 3pm race has been reduced to 22 after Lunar Flare joined Point Nepean as a late scratching.
The Grahame Begg-trained horse presented with lameness on Monday and will not race in the $7.75m race.
Begg was less than impressed by the decision.
"She improved markedly overnight, but in their opinion, not enough," he said.
"To be truthful, we thought she was good enough to run. But it's the Melbourne Cup and they (officials) are under pressure and they want horses to be absolutely perfect.
"I can understand that but there will be other horses going to the races today that will trot out a lot worse than her."
Heavily backed favourite and international raider Deauville Legend, to be ridden by triple Cup-winning jockey Kerrin McEvoy, will carry the No. 8 saddlecloth and jump from barrier number 9.
The race jumps at 3pm AEDT
SUGGESTED BETS
RON DUFFICY'S TIPS
1. STOCKMAN
2. Deauville Legend
3. Realm Of Flowers
4. Gold Trip
RAY THOMAS' TIPS
1. MONTEFILIA
2. Deauville Legend
3. Knights Order
4. Stockman
Get the full run down from Ray Thomas
RACE 2 WHITE MARLIN WINS
After a horror start for punters to Melbourne Cup day, they bounced back in a big way when one of the shortest favourites of the meet prevailed in Race 2.
The Gai Waterhouse and Adrian Bott trained White Marlin jumped at $2.40 and could hardly have done it with more ease powering to the line after settling third in the run.
Tim Clark hardly had urge the undefeated five-year-old on as it powered to its fifth career win from as many starts.
RACE 1 RESULT: KRAKARIB WINS DARLEY MARIBYRNONG PLATE
A boilover in the first on Melbourne Cup day.
Damien Thornton powers to the line on the rank outsider in the Darley Maribyrnong Cup, piloting Krakarib to victory by a length.
The $30 chance finished strongly ahead of Little Brose ($2.90), Awestruck ($2) and Hellish (fourth).
Realm of Flowers backers will hope the victory is a sign of things to come for Thornton.
"It laid out well, (Krakarib) jumped OK," Thornton said on Channel 10.
"Wasn't worried, just wanted to get him into the rhythm, and relax and cruise down. I was happy to come up and Simon (Zahra) just sort of got him into the rhythm, and his got to kick and if he doesn't, we will find out."
10.40AM WHO TOP CUP ANALYSTS ARE TIPPING
— Rob Sutherland
The mathematical wizards from Macquarie Bank's quantitative analysis team have shifted their focus from stock tickers to saddlecloths in the search for a Cup winner.
The team considered five key factors when rating the field. They were:
1. Value – average prize money per race as this represents the return of each horse.
2. Momentum – movement in the odds from opening prices until the latest available odds.
3. Sentiment – the last available odds before publication as this is representative of the mood of the market.
4. Quality – each horse's form and winning hit-rate with both an indication of a safer, more reliable runner. We additionally use odds dispersion amongst bookmakers to indicate variance of the perceived value of the horses.
5. Innovative Data –
● Wet Weather: This year, given the ominous weather forecast, we include the winning percentage of each horse on wet tracks in the model.
● We use the Australian form to account for the large number of foreign horses in the field. If the horse has successfully raced, won or placed in Australia, it receives a higher weighting (depending on result).
● We considered factors that made up previous winners of the Melbourne Cup. Starting barrier can give the horse an obvious advantage.
● We also look to see if the horse has won over the longer distance of the Cup. According to historical analysis, winning horses are almost twice as likely to have started in one of the first 14 barriers. The age of the horse can also make a difference. Almost half of winners since 1861 have been aged four or five.
The team then ranked the field (see below). Their betting tip is to place a bet on the top horses in the model and a box trifecta using the top quartile of horses.
10AM UPDATE ON THE FAVOURITE
Deauville Legend trainer James Ferguson says the race favourite is in terrific shape ahead of today's race.
"(I'm feeling) good. Watching the horse at Werribee this morning, I think he's in great nick. I can't be sending the horse into the race in better form, I feel, so the rest is up to him," Ferguson told SEN.
The weather does present some question marks over Deauville Legend's ability to handle a heavy track.
"I'm not too bothered (by the weather) to be honest. He's got a pedigree that says he'll handle the soft. Whatever it is tomorrow, it won't be English soft… we'll get what we're given and hope luck goes our way.
Deauville Legend jumps from barrier 9.
But 2015 winner Michelle Payne isn't as confident about the favourite in the rain.
"He looks the class runner (but) I do not know whether he is a very good on the wet, that is the stable but he is the class runner, he has the speed, he will be strong but whether he will be strong enough, it is a gruelling 2-mile test and he has only just turned four and not well abated."
GATES ARE OPEN
The crowds are flocking into Flemington in a desperate race for a table under cover. it might be gloriously sunny right now but the rain is coming and at 1pm things will be getting WILD.
HERE'S WHAT YOU NEED TO KNOW.
Not good. Cold wet and the chance of hail.
HOW MUCH IS THE PRIZEMONEY?
$7.75m
HOW LONG IS THE RACE?
3200 metres at Flemington Racecourse
CAN WE DO AN OFFICE SWEEP?
WHO IS FAVOURITE?
Deauville Legend
WHO WON LAST YEAR?
Verry Elleegant.
FORMGUIDE
Find a winner in five minutes right here
WHAT TIME ARE ALL THE RACES? (AEDT)
Race 1 – 10:45AM Darley Maribyrnong Plate (1000 METRES)
Race 2 – 11:20AM The Macca's Run (2800 METRES)
Race 3 – 12:00PM Resimax Group Subzero Handicap (1400 METRES)
Race 4 – 12:40PM TAB Trophy (1800 METRES)
Race 5 – 1:20PM The Schweppervescence Plate (1000 METRES)
Race 6 – 1:55PM Furphy Plate (1800 METRES)
Race 7 – 3:00pm Lexus Melbourne Cup
Race 8 – 3:50PM In Memory of Her Majesty Queen Elizabeth II (1400 METRES)
Race 9 – 4:35PM The Hong Kong Jockey Club Stakes (1400 METRES)
Race 10 – 5:15PM MSS Security Sprint (1200 METRES)
BETTING
$3.50 Deauville Legend
$10 Without A Fight, Realms Of Flowers
$11 Montefilia
$16 Hoo Ya Mal, Knights Order,
$17 Gold Trip, Smokin' Romans
$23 Vow And Declare
$26 Duais
$31 Stockman
$34 Young Werther, High Emocean
$41 Daqiansweet Junior, Emissary, Interpretation
$51 Camorra
$61 Numerian, Serpentine
$71 Tralee Rose
$81 Grand Promenade, Arapaho
Odds: TAB
LUCKIEST NUMBERS
SADDLECLOTHS: 4, 12, 1 are the three best performing numbers
AGE: 4 year old horses are most successful with 46 wins
GENDER: Stallions are best performers
COLOUR: Bay horses are your best bet if that is how you want to choose
Originally published as Melbourne Cup race time 2022: Live updates, tips, scratchings, what time is the race?