WORLD
Matthew Sean Donaldson: Inside troubled mind behind attempted sex worker murder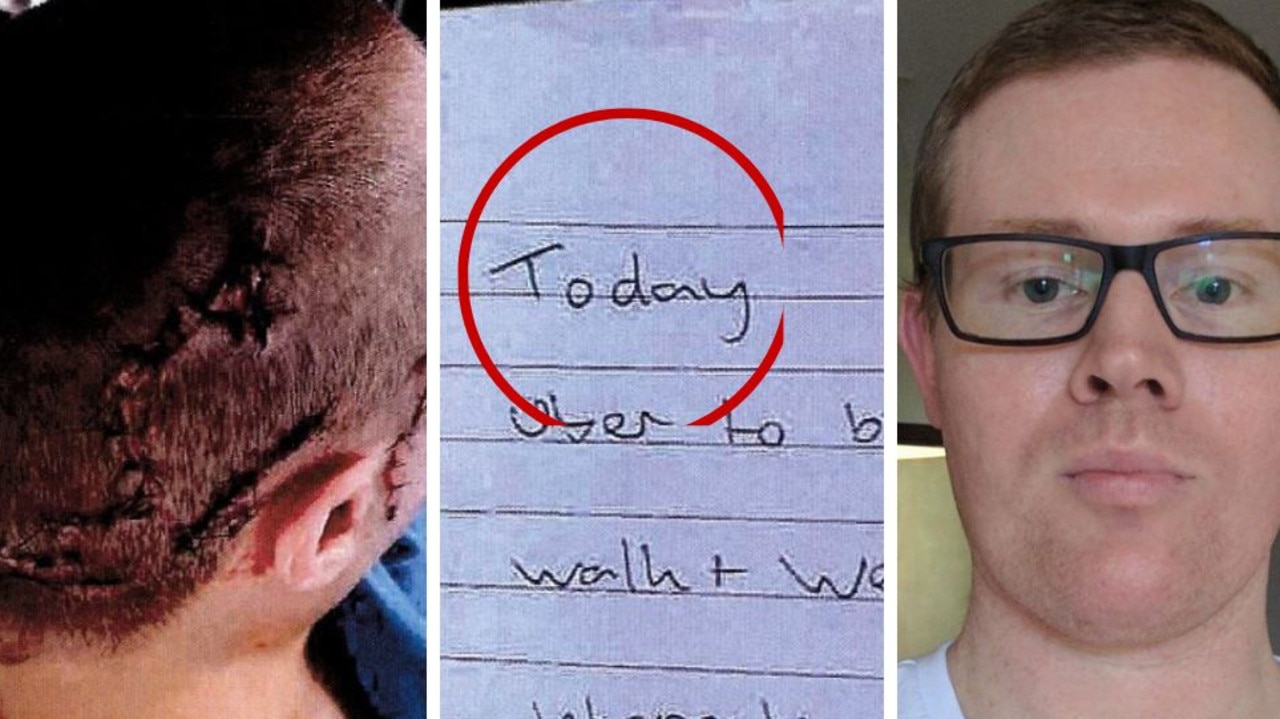 WARNING: Disturbing content.
"Practice Kill".
A twisted recluse wrote these two chilling words in his diary before he bludgeoned a sex worker with a hammer and left her with permanent brain damage, court documents reveal.
As Matthew Sean Donaldson awaits sentencing for attempted murder at a Sydney hotel, agreed facts, handwritten letters and doctors reports have exposed the troubled mind behind a near-death attack that followed an argument about morals.
They paint a picture of a man riddled with anxiety and depression who longed to live without stress.
The facts state Donaldson sold all his assets and spent hundreds of thousands of dollars living a "carefree" life in the months leading up to the fateful night.
About to run out of money, the then 40-year-old decided on one final act of indulgence before planning to take his own life – he'd hire three escorts on February 23, 2021.
In his diary, he crossed out tasks such as "Pistol Practice" and "Purchase Tool", but others remained: "Uber to Bunnings", "Practice Kill", "Just Do It".
He would later tell police the "Practice Kill" task was in the context of a video game he was playing, but he did in fact buy a hammer at Bunnings – a hammer that almost killed an innocent 26-year-old woman.
While in an Uber to meet the first sex worker at Sydney's five-star Primus Hotel, Donaldson read nine articles about murders of women.
Next to him sat what he called his "torture porn" bag. He told police he'd hoped to act his fantasies out on the sex worker and never intended what happened next.
The night started well. He and the first sex worker for the night were seen on CCTV smiling in an elevator. They ordered cheese boards to their hotel room. But before long, an argument erupted.
Donaldson, who had moments ago used a "knife or scissors" to cut his victim's underwear off, filled with rage as he told her sex should be reserved for "loves". As the upset woman turned away and looked at her phone, Donaldson struck her on the head with a hammer.
He continued the attack until she fell to the floor and began making "mumbling noises". Donaldson grabbed his pistol from the cabinet and a Coles bag holding a rain jacket and fled.
Later that night, as his victim lay helplessly in a pool of blood, Donaldson texted her: "Should have picked a different career honey".
He posted photos to Facebook from the hotel room, taken prior to the attack, and captioned it: "Game over". In response to a comment, "That looks fancy. What game are you playing?" he wrote: "Life or death. I lost."
In the room, police found a hammer, bloodied underpants, and a suitcase. Inside the suitcase were condoms, tape, hoods, rope, a ball gag and handcuffs.
The victim was rushed to hospital with horrific injuries, including a bleeding brain and severe fractures to her skull, cheek and eye socket.
After spending three months in hospital, her recovery was far from over.
Doctor reports tendered to court list her extensive lifelong injuries, including lack of memory and concentration.
In an emotional victim impact statement, she said the attack forever changed her.
"I do not trust people like before. You have destroyed my life and I could very easily have died," the statement read.
Donaldson was arrested in the wilderness of the Blue Mountains two days after the attack, telling police he couldn't bring himself to take his own life as intended.
He told them: "It (the night with the sex worker) didn't go the way I planned … I just freaked out and lost it."
Sitting in a prison cell after being refused bail, he wrote his victim a letter in which he said he was paranoid at the time and thought people were hunting him when he saw her on her phone.
"I knew something was wrong and I should have sought professional help … you don't deserve what happened to you," it read.
To his family, he wrote: "I was supposed to hurt myself, not somebody else … I just lost my head".
Donaldson pleaded guilty to causing wounding with the intent to murder on May 12, 2021.
During his sentence hearing this week, the NSW District Court heard Donaldson had been diagnosed with schizophrenia, but doctors had differing views on whether he was reacting to "voices" telling him he was being hunted by people or acting on a nihilistic world view when he attacked.
Doctor reports tendered to court showed he also suffered from autism, depression, anxiety and a possible sexual sadism disorder.
The sentence hearing is due to continue on March 27.