OTHER COUNTRIES
Aussie young gun Dyson Daniels struck down with brutal ankle injury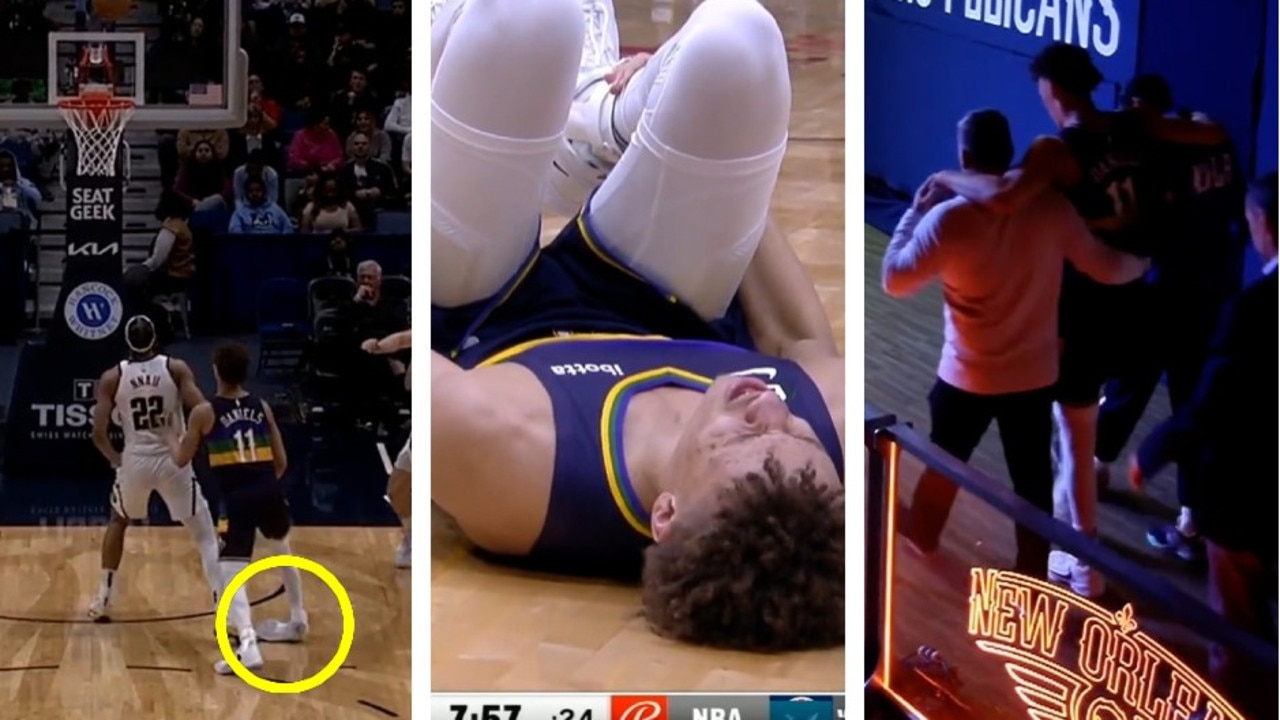 New Orleans Pelicans Aussie young gun Dyson Daniels has been struck down with an ankle injury during his team's clash with the Denver Nuggets on Tuesday (all times AEDT).
Daniels early in the second quarter missed a floater shot in the lane before landing awkwardly on Nuggets big man Zeke Naji's foot and turning his right ankle.
The 19-year old looked to be in a lot of pain as he grabbed at his ankle, eventually getting helped off the court by team officials and taken to the locker room.
Watch an average of 9 LIVE NBA Regular Season games per week on ESPN on Kayo Sports on ESPN on Kayo Sports. New to Kayo? Start your free trial now >
The team confirmed later in the second term Daniels wouldn't return to the contest.
It's a brutal blow both for the 19-year old, who's flourished with increased opportunities for the injury-hit Pelicans in a promising season, and the already undermanned team, which is dealing with injuries to Zion Williamson, Brandon Ingram and Naji Marshall, dropping seven of its last nine games.
"Unfortunate situation for Dyson. A good take and a good opportunity in the paint, but the Pels are shorthanded, and now this young man is going back to the locker room," Pelicans commentator Joe Meyers noted.
"Dyson was just playing really sound at both ends of the floor. If the shot's not falling, he's doing all the little things well."
The rookie, who was drafted by the Pelicans with Pick 8, started each of the team's last six games, averaging 6.3 points, 4.8 rebounds, 4.5 assists and 1.3 steals in 28.3 minutes, but was brought off the bench against the Nuggets.
He finished with two points and one rebound in seven minutes before departing the game.
"The silver lining in this is Dyson already has on ankle braces, so that helps," New Orleans special comments caller Antonio Daniels highlighted.
"You're going to see his right foot come down on Zeke Nnaji's foot, and that hurts. Any time your ankle touches the floor, it's obviously not a good situation.
"But it's not nearly as bad as it could've been if he wasn't wearing those protective ankle braces."
New Orleans trails Denver 63-47 at half-time.
It comes after NBA insider reported Williamson, who's been out since January 3 with a hamstring injury, is making good progress, but will be re-evaluated in two weeks, meaning his absence will extend beyond a month.
The Pelicans are in the midst of a four-game losing streak to slide to fourth in the West after sitting atop of the conference earlier this season.