WORLD
Paige Spiranac swoons over 'special' Bruce McAvaney, horse racing, channel seven, Flemington, PointsBet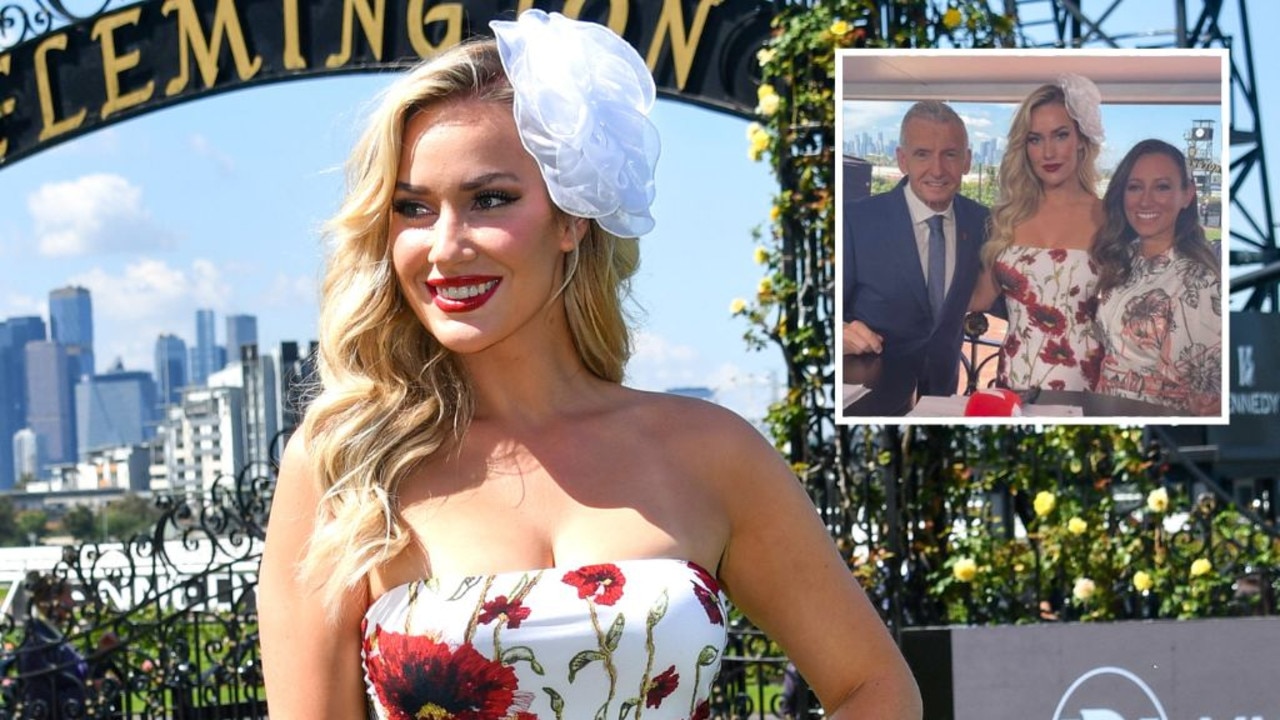 Bruce McAvaney has a new admirer.
The legendary commentator who has rocked the microphone for well over four decades, still has the appeal most men can only dream of.
Stream Over 50 Sports Live & On-Demand with Kayo. New to Kayo? Start your free trial now >
This time it was former professional golfer turned social media sensation Paige Spiranac who got swept up in the McAvaney fever.
As part of her whirlwind tour Down Under as PointsBet's global ambassador, the buxom blonde took centre stage at Flemington racecourse in Melbourne on Saturday on a blockbuster day that featured the Group 1 Newmarket Handicap race.
But it was the icon who stole her eye as she made special mention of hoping to snare a snap with the legendary caller.
Alongside former AFL star Dale Thomas, Spiranac was asked who she'll be looking to get a selfie with among the hounding of fans chasing her for snaps.
"Jamie Kah for sure, but Daisy I've got to tell you … Bruce is looking special," she said.
Ask you and shall receive it seems as Spiranac and McAvaney smiled alongside one another in a post uploaded to Instagram.
Spiranac left players hot under the collar on Wednesday when she tried her hand at rugby league as she spent time with the Manly Sea Eagles.
At Brookvale Oval the influencer put the players through their paces off the tee as they hit shots across the oval.
The tables then turned as Spiranac was put through some drills with the players as she spent time on the tackle bag before sailing some kicks over the bar.
Footage from the session caught the eye of NRL legend Andrew Johns who threw his nephew, Cooper, under the bus on his WWOS show Immortal Behaviour during the week.
Host Danika Mason set up Johns, bringing up the "celebrity promo day" which saw golf influencer and PointsBet ambassador Paige Spiranac go to Manly training during bye week.
"I think your nephew was there …" she said.
"I saw a picture of him holding the tackle bag — he was really interested in the technique," Johns said before both of them began to laugh.
"Someone said, 'have a look at this photo of this golfer tackling the tackling bag at Manly training', and I said 'okay, $1.01 who's holding the tackling bag'. And there's Cooper, with that stupid grin on his face."
Spiranac's online popularity has soared over recent years, resulting in her launching her own content website OnlyPaige.
The influencer shows off plenty to her vast followers online and even more to subscribers of her site.
But Spiranac won't do one thing despite her immense success online, explicit content.
"No, there is no nudity on OnlyPaige," Spiranac said on Wednesday's instalment of her Playing A Round podcast, in which she answered a series of fan questions.
"I think some people get confused because it is OnlyPaige and it was a cheeky name to make fun of OnlyFans, because I get asked to do OnlyFans all the time by people and so, I wanted it to be very tongue-in-cheek. There is no nudity, and that's on purpose."
The site was launched in January, providing subscribers with access to golf instruction, live streams, Q&As and exclusive photos.
The 29-year-old added on her podcast Wednesday that she believes "implied nudity and not showing everything is actually sexier."
"I have no issues with implied nudity at all. I just never want to show those parts of my body and I never will do that," she said. "I also just don't think it is beneficial to my business goals and how I see my career unfolding in the next five, 10, 15, 20 years."