WORLD
David "Guru" Graham: Sovereign citizen allegedly intimidated 2GB staff, fights for belongings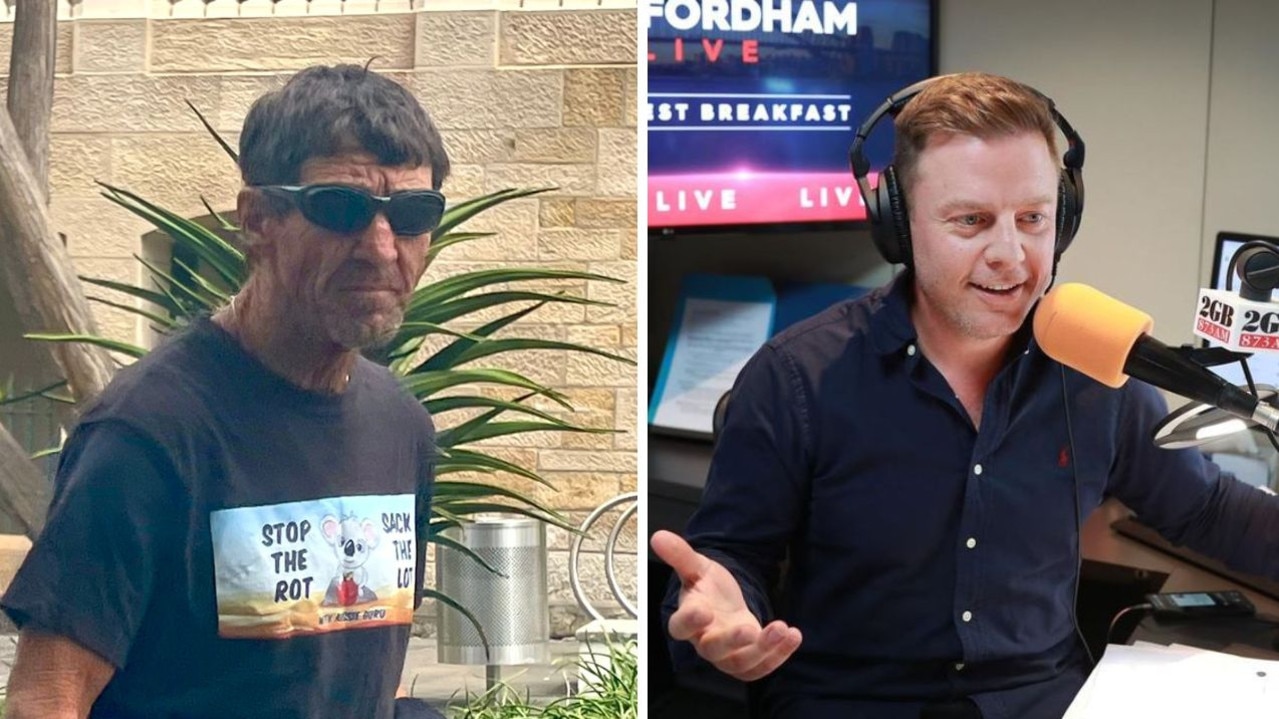 Well-known conspiracy theorist David "Guru" Graham has acted bizarrely in court as he faced intidamation charges against Ben Fordham and another 2GB staff member.
He also fought to have police return belongings seized during a search of a boat.
The charges, which come weeks after the self-described "free thinker" revealed plans to run in the NSW state election, allegedly relate to phone calls made to 2GB radio station and one allegedly threatening comment said to a member of Ben Fordham's staff.
Among many of Graham's extreme and strange views voiced on his Podcast and during public appearances are that McDonald's burgers are made of "baby meat," the Covid pandemic was fabricated and the government – which is supposedly robbing Australian of 75 per cent tax – should be "removed".
Wearing a T-shirt showing the name of his Podcast, "Stop the rot, sack the lot," a dishevelled Graham walked into Wollongong Local Court on Thursday along with about 10 supporters.
A man sitting in front of them grew frustrated as the group chatted among themselves, turning around to say: "We're in court; can you please be quiet?"
Before his matter was even called, Graham walked up to the bar table and sat down, causing the prosecutor to ask him to return to the public gallery.
According to court documents, Graham allegedly intimidated a 2GB staffer between 5:30am and 9am on January 30 at Pyrmont, and intimidated Benjamin Fordham between 1:40pm and 1:45pm the next day at the same place.
The documents allege he intended to cause them both fear of physical or mental harm.
Magistrate Melissa Humphreys adjourned the matter until March 16 so Graham could seek legal advice.
But she did hear an application by Graham to have his seized belongings returned.
Graham told the court: "The anti-corruption squad has come down to my boat and taken all my devices – I have no defence. We have given an order to police to get my stuff back so I can get to court … I've been told it could be months and months before I get anything back".
"I haven't been able to (seek legal advice) as I'm actually running for parliament and I've been trying to get together with my people so we haven't had legal advice lined up."
Magistrate Humphreys approved the return of a "2023 burgundy diary and attached paperwork" and a "yellow notebook titled NSW State Election 2023," but ordered him to make another application on April 20 regarding the electronic devices he wants returned.
Get in touch — clare.sibthorpe@news.com.au
Outside the courthouse, Graham's partner told news.com.au journalists needed to "say the truth and tell the truth".
When she was told she was being given the opportunity to say what she believed was the truth, she said the media was not interested in that, adding that they were "ruining families" and it was her boat that was raided.
Graham said he did not want to comment.
But an interview with news personality Chriscoveries before the court hearing, Graham gave an insight into his version of events regarding the police charges.
In that interview, Graham said police charged him for intimidating a certain radio personality and his (staff) and some comments played in his livestream in the background.
"We more or less told Ben Fordham's little girl to go home for the day so they took that as a threat" he said.
"We meant 'you oughta go home for the day because your phones aren't gonna stop ringing and you're not gonna have a very great day'."
"It has no substance."
Sourness towards Fordham began on Sunday January 29, when Graham recorded himself and other sovereign citizens bombarding staff at 2GB with phone calls after claiming they were snubbed by Fordham for a spot on the show.
But according to Fordham, that interview was never guaranteed.
Graham claimed to his livestream followers he would be having a conversation with Fordham on air at 5.45am the next morning in what he referred to as his "big break" and saying he would handle "whatever he throws at me".
If Fordham were to "pull out", the man directed his followers to bombard 2GB with emails and phone calls and demand for him to be on the air.
However, Fordham told his listeners a bloke who "calls himself Guru" called into Chris O'Keefe on Friday afternoon to talk about another topic, the beer economy, and claimed he was told by a producer to send an email "and be ready for an interview on Monday morning".
"Forget the red pills Guru, you need to change your medication mate," Fordham said, referring to Graham's claim to his followers that he would "red pill" people through the "mainstream media".
Graham, a concreter from Wollongong, recently announced his intention to contest the upcoming NSW state election alongside former Australian Army Special Forces lieutenant colonel turned right-wing political hopeful Riccardo Bosi.
According to Graham's Podcast Facebook page, his aim is to "stop the rot in our country and world and deliver the truth to the masses".
A statement from NSW Police confirmed a 61-year-old man was charged with two counts of intimidate or stalk with intent to cause fear of physical harm following a search warrant on a boat in Wollongong Harbour on the morning of February 17.
"The search warrant was executed as part of an ongoing investigation," the statement read.
The sovereign citizen movement makes up anti-Establishment people who believe they should decide which laws to follow and which to ignore, as opposed to obeying police and the legal system.
It surged following the pandemic as it merged with anti-lockdown and anti-vax groups.
In the interview with Chriscoveries, Graham was at a "Freedom Rally" where he was pictured wearing a shirt with a troubling detail — the letter "Z" in the colours of the Russian flag.
He and Bosi, the leader of the unregistered AustraliaOne party, have vowed to run in the NSW election as independents in the upper house.
In a video recently posted to social media, Bosi said the pair would be "getting in to tear the place down – metaphorically, of course".
– With Ally Foster