WORLD
The dangerous craze killing young Aussies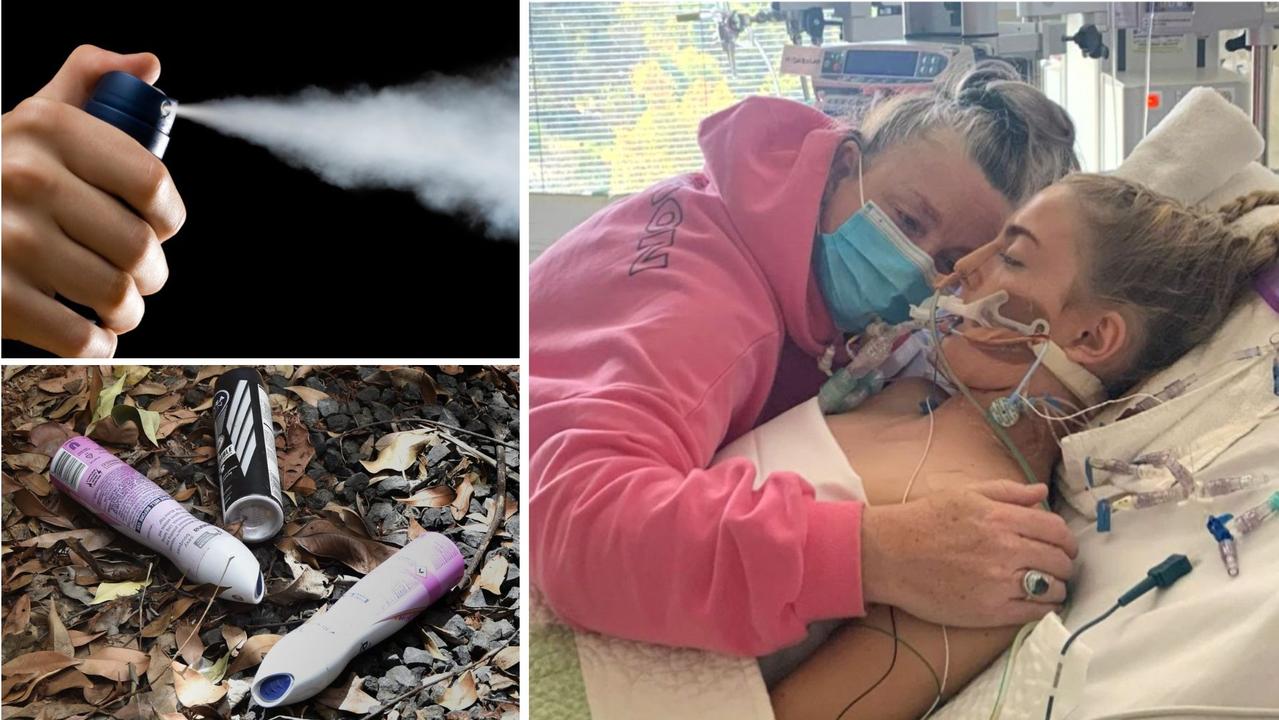 The death of an Australian teen has exposed a dangerous new drug craze that is growing in popularity and threatening the lives of young people across Australia.
Esra Haynes has become the tragic face of "chroming", a form of substance misuse involving inhaling toxic chemicals to get high, after her accidental death earlier this year.
The Victorian high school student went into cardiac arrest and suffered extensive, irreparable brain damage after inhaling the chemicals from a deodorant can at a friend's sleepover in March.
Eight days later, her parents turned off her life support. She was 13-years-old.
Now experts say Esra's death was of a dangerous new chroming craze, which research has shown is on an "upward" trend.
Chroming – also known as huffing or sniffing – is a form of Volatile Substance Use (VSU) that involves inhaling toxic chemicals, such as those from aerosol cans, paint, or petrol for a quick high.
The method is particularly popular with teenagers who, for many reasons, wish to achieve that high without using hard drugs.
But chroming can be extremely dangerous and has the potential to cause serious short-term physical or cognitive harm, even "sudden death", according to LaTrobe University Associate Professor Sarah MacLean.
"Problem with volatile substances is that they have different effects, because they have different chemical profiles. But we know that, beyond intoxication, they can cause serious damage," Dr MacLean said.
"Chronic users show significant neurological and cognitive impairment, including deficits in learning, memory and verbal intelligence and damage to organs and bone marrow.
"They have the capacity for sudden death, but there is no telling who is going to die, when, or how with misuse."
A recent paper from the UNSW National Drugs and Alcohol Research Centre reported identified 164 documented deaths in Australia between 2000 and 2021 associated with inhalant misuse, as identified through the National Coronial information System.
Teenagers were the second-largest age group to die by inhalant misuse, covering 28 per cent of cases.
But the problem, according to Dr MacLean, is that little is known about the prevalence of chroming and its impacts may only be the tip of the iceberg.
"We cannot know how many near-misses there have been [with chroming]," she said.
"It is hard to say exactly how many people have died after chroming because a lot of the people who do chrome aren't that well reflected in national surveys."
What is known, however, she said, is that a inhalant use is increasing and that a "higher proportion" of use is by younger high school students, than older teenagers.
The Australian Institute of Health and Welfare National Drug Strategy Household Survey 2019 found inhalant use had risen from 1.0 per cent in 2016 to 1.7 per cent in 2019, with the most common substances – used by more than 60 per cent of people aged 14 years and older – were nitrous oxide (known as laughing gas) and nitrates (like poppers).
Other inhalants were used far less: petrol was inhaled by under six per cent of the group, aerosols just over four per cent and "other volatile solvents", just over five per cent.
Meanwhile, the 2017 Australian Secondary Students' Alcohol and Drug Survey found of 20,000 12 to 17 year old students, 18 per cent had intentionally sniffed inhalants at least once in their lifetime.
Of those, 43 per cent had chromed once or twice, and 19 per cent had done it 10 times or more in one year.
A similar survey was conducted in 2022, but the results are yet to be published.
Dr MacLean said the growth of chroming was "a matter of fashion" and that what was once a substance misuse issue relegated to the edges of society had become far more mainstream.
"[VSU] used to be associated with social marginality, and we would see a lot of young people who were involved in child protection system, or who are homeless chroming – we still do," she said.
"But there is evidence that some people who get caught up in [VSU] are within mainstream backgrounds."
Esra Haynes' parents blamed social media for her learning about chroming and called for tighter restrictions to avoid kids getting access to that kind of "adult" content.
In 2021, the New York Times reported "nitrous related content" was "flourishing" online, and news.com.au viewed a number of TikTok videos from young users talking about their chroming habits.
According to the Alcohol and Drug Foundation, young people reported sniffing inhalants because they were easy to get, or to cope with trauma, pain, and stress, or to overcome boredom.
But authorities are attempting to clamp down on the rising craze, raising awareness of the dangerous practice and making it harder to access chroming supplies – both with education programs and literally locking products behind glass doors.
But Dr MacLean says the thing that will prove most effective is for deodorant and aerosol companies to "reformulate their products to be un-sniffable", like how White Out was reformulated and spray paints were made less volatile.
"Product reformulation is absolutely key to shifting people to less harmful substances," she said, noting that education, care, and redirection of urges for substances were important.
"Of course, always, part of the response to drug use is providing care for young people and to provide alternative activities for young people that are fun.
"As with any kind of drug use, it needs to be addressed in multiple ways at once."
For free and confidential advice about alcohol and other drugs, call the National Alcohol and Other Drug hotline on 1800 250 015. If someone is in need of urgent medical help, call triple-0.