WORLD
Explainer: What sparked brawl between Pro-India supporters and Sikhs at Melbourne's Fed Square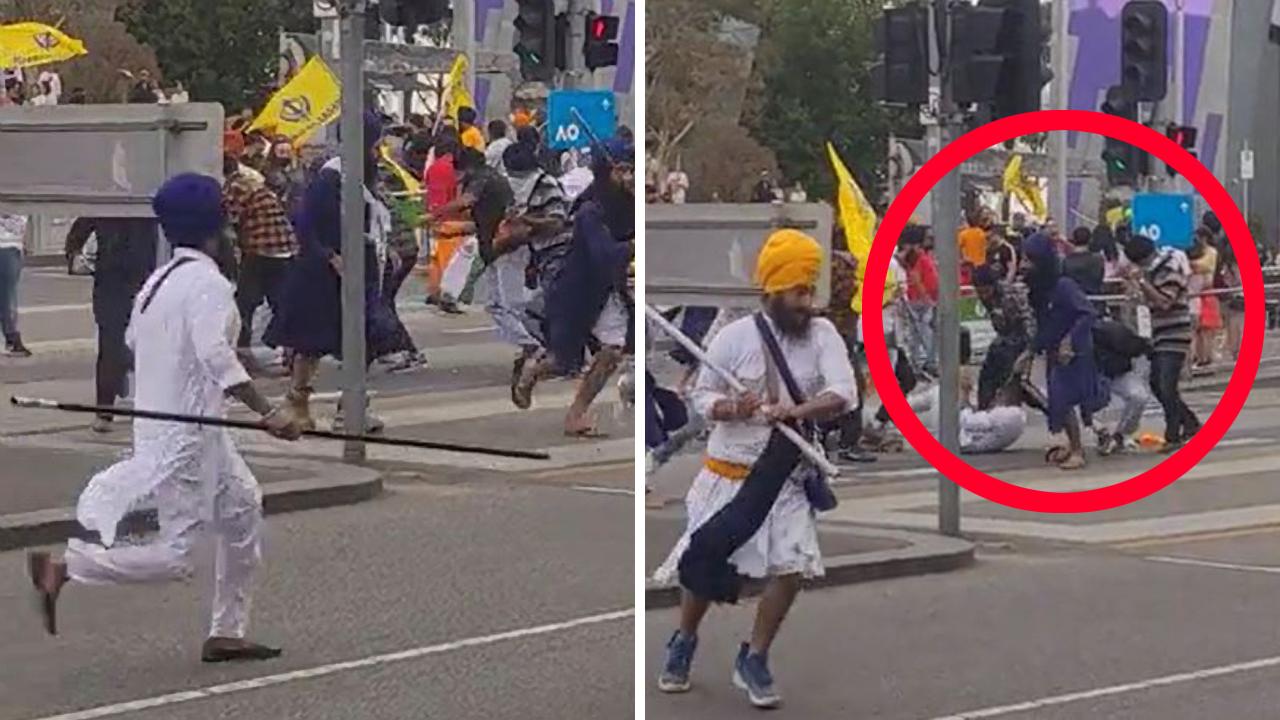 Over the weekend, a Melbourne landmark became the centre of an ugly clash between two Indian ethnic groups in scenes rarely seen in Australia.
Footage posted to social media captured the moment about 100 people broke out into a fight, using flags as weapons outside Federation Square on Sunday afternoon.
The brawl, which broke out at about 4.30pm, occurred during a referendum event organised by US-based group Sikhs for Justice, who are campaigning to create a separate Sikh-majority state called Khalistan in India's Punjab region.
The state of Punjab was established in 1947 when the partition of India split the former Raj province of Punjab – which was previously under British rule – between India and Pakistan when the two countries gained their independence.
But because Khalistan will take away land from parts of Punjab less than a century on from its emergence, pro-India activists are against the movement creating a rivalry between the two groups.
So when a group of pro-India supporters arrived at the Khalistan referendum in Melbourne on Sunday, a usually family-friendly Federation Square became the centre of a wild brawl which left two men injured and innocent bystanders scrambling for safety.
As police investigations continue, many questions have been raised by concerned community members about the groups involved and what led to the confronting scenes.
Here's news.com.au's deep dive into the situation.
Why were these ethnic groups at Federation Square?
Prior to the brawl, the day commenced peacefully as dozens of voters taking part in the referendum were seen queuing outside Federation Square from 8.30am.
"The purpose of the referendum was to exercise the democratic right given to all humans by the Universal Declaration of Human Rights of freedom of speech and expression," Jaswinder Singh, CEO of Sikh Volunteers Australia told news.com.au.
Melbourne's referendum event was one of several non-binding referendums that have occurred globally in recent years, with others being held in the UK, Italy, Canada and Switzerland.
It's anticipated more will be hosted across Australian cities in some time.
"By conducting a non-binding referendum in the whole world among the Sikh population, Sikhs want to convince the United Nations and the Western World that a binding referendum must be conducted in Punjab to liberate it from Indian occupancy," Mr Singh said.
Those taking part in the referendum were asked the yes-or-no question: "Should Indian Governed Punjab be an independent country?".
After submitting their vote, Sikhs around the polling place were seen waving Khalistan flags while sporting the colours yellow and blue. Voting was open until 5pm that evening.
At the same time, it's believed a small pro-India group who practiced Hinduism were protesting near the Botanical Gardens.
At about 4.30pm, pro-India members who allegedly came from the Botanical Gardens protest, were spotted at Federation Square waving their national flag.
While it's still unclear what exactly caused the brawl, a violent clash soon broke out with members of both parties using their flags as weapons while others were forced to flee to safety.
The larger altercation came just hours after a smaller dispute in the same area which Victoria Police said occurred shortly after midday.
Rivalry between Sikhs and pro-India groups not uncommon
Pro-India activists oppose the Khalistan movement as it takes land away from parts of India and Pakistan. Additionally, a large body of Hindu Indians are strongly against the move, some of which were believed to be involved in the Melbourne scuffle.
Due to this, challenges between Sikhs and pro-India communities aren't uncommon in other parts of the world, with one recent clash between the two groups occurring in Canada while celebrating the Hindu festival of Diwali last year.
Between 400 to 500 people were reportedly having a face-off near a mall parking lot, with those in attendance seen waving both Khalistan and Indian flags in a similar scene to Melbourne's clash.
Fireworks were also set off in the middle of the crowds while one protester reportedly stood on top of parked cars while waving the Indian flag.
How do the Australian Indian community feel about Sunday's scenes?
While some members of the Australian Indian community support the referendum, others have taken to social media to condemn the violent actions of those involved in the brawl.
"Sikhs are some of the most friendly, loyal and giving people I have ever met. They would literally give you the shirt off their back and believe in welfare and all," one supporter said.
Meanwhile some Australians were concerned Sunday's behaviour would damage the ethnic group's reputation.
"I am neither Indian nor Sikh. Sikhs have a lot of respect in Australia! Don't spoil it by doing this here," one TikTok user posted.
Mr Jaswinder Singh said while everyone has the right to protest peacefully, violence is never welcome.
"The Sikhs are very affirmative about the referendum and are braving all to cast their votes," he said.
"(But) violence in any form is not the answer to any problem … A democratic process should be conducted peacefully, and any law-breaker needs to be dealt with just."
Mr Singh added Sikhs are grateful to the Australian community and government for letting them have the referendum in the country.
What is Sikhism?
Sikhism was founded in the late 15th century in Punjab, North India, and is practised by over 25 million people making it the world's fifth-largest religion.
Its philosophy advocates for several values including equality and social justice, while those practising the religion live by the message "spiritual devotion and reverence of God at all times".
Sikh males have the last name 'Singh' while Sikh females have the last name 'Kaur'. Respectively, these terms mean lion and lioness or princess.
"Sikhs first arrived in Australia in the late 1830s when convict transport to New South Wales began to decline and was eventually abolished in 1840," Mr Singh said.
Now, about 200,000 Australians are Sikhs, some of which are members of many well-known volunteer groups that provide assistance to Australians in times of need, most recently being the east-coast flood crisis.
Meanwhile, Hindu Indians were also at Federation Square on Sunday. Hinduism is another major religion practised widely in India and is the oldest living religion on Earth.
Have a story? Get in touch – rebecca.borg@news.com.au