WORLD
Insight: Stars reveal their vision for the future of women's sport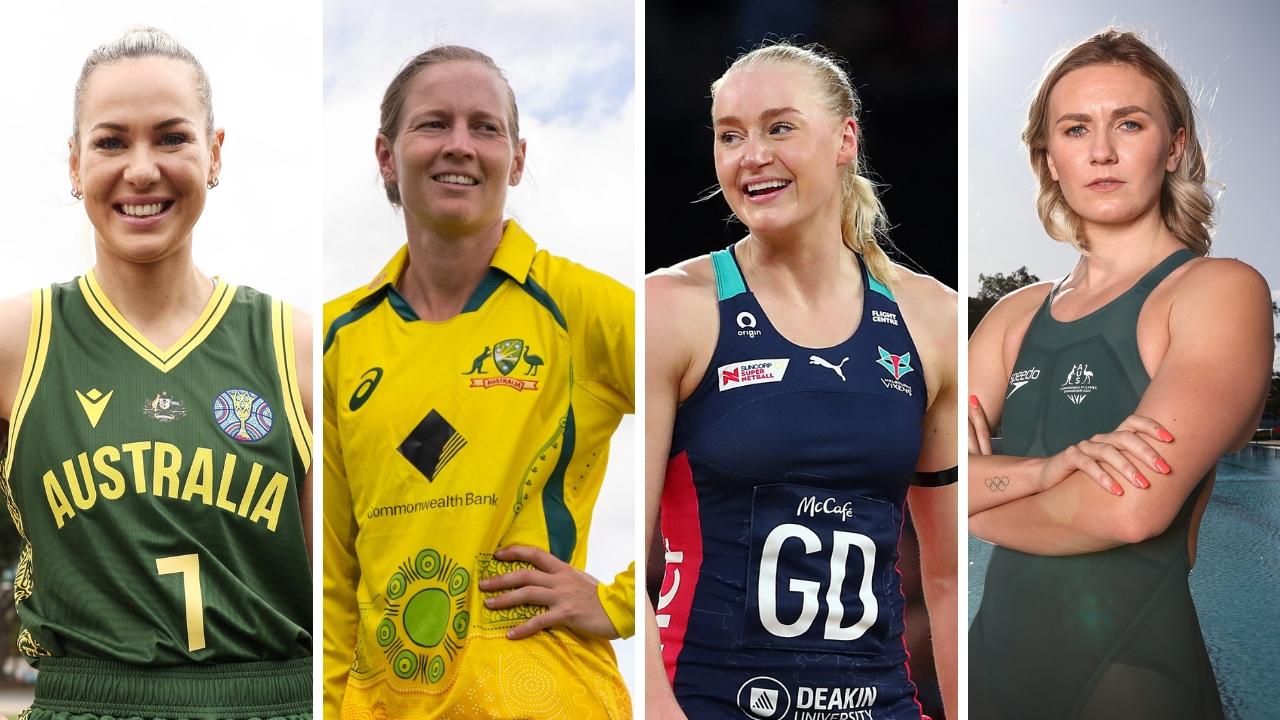 From winning world titles to championing change, this country is blessed with some of the finest women athletes in a truly golden era in Australian sport.
To celebrate International Women's Day Insight Sport asked six leading athletes from six sports to share with us their views on the future, the changes they want to see and how they believe sport can grow in the coming years.
MEG LANNING, AUSTRALIAN CRICKET CAPTAIN
1. In 2023 I want to see … packed stadiums for the Matildas at the FIFA Women's World Cup.
2. I am most inspired in women's sports by … seeing so many young girls having the opportunity to play sport and the smiles it brings to their faces.
3. The greatest challenge for women's sport is … individual athletes and teams attracting more sponsors and commercial partners, like CommBank who are great supporters of the women's game. While coverage and interest has grown significantly, and despite being incredibly successful, there's more to do to get sponsors to commit and champion female athletes.
4. In the next five years I want to see my sport … continue to lead the way. Cricket has provided incredible opportunity and support to its women's players and has been industry leading. There is still work to do to ensure that cricket is the sport of choice for young females; there's many options out there now which is great, but it means we need to stay active and bold.
5. If I could tell my younger self one important message, it would be … aim big. Don't be afraid to have high hopes and want to achieve something. Everything moves so fast, and it's scary to think how much things can change in the space of a few years if you commit to something and see where it takes you.
TESS MADGEN, OPALS BASKETBALL CAPTAIN
1. In 2023 I want to see … the Matildas win the World Cup on home soil. And from a broader sporting perspective I want to see women's sport played in the best stadiums, with larger attendances. Some sporting codes do this but I want it to become the regular for WNBL to be played in John Cain Arena with record-breaking crowds. I also want to see women's sport and athletes given the recognition they deserve, prime time viewing on TV, more media coverage in the paper or on the news. There have been TOO many times that a male sportsperson will be in the paper or on the news for getting a scan on an insignificant injury where their female counterparts are achieving amazing results at significant events. It really is time to flip the script and start recognising the amazing performances and results that female athletes produce!
2. I am most inspired in women's sports by … sporting codes that pay equal wages to their males and females, like tennis and surfing. It really highlights that it is possible and find it inspiring to keep pushing the cause!
I also find so many of my peers inspiring with how they juggle full time, part time or casual work with being an elite sports person. And all the athletes out there that are also Mum's. As women we tend to juggle SO many things in order to reach the pinnacle of our sport and I find that balance commendable and inspiring!! I also think as females we do such a good job giving back to the community and charities. On average we don't get paid nearly as much as men do but we still find the time to speak out on important social justice issues and give so much time back to the community. Take Lauren Jackson for example, she stays after her game until EVERY SINGLE person in the stadium that wants a photo with her or an autograph gets one. We are talking about one of the GOAT basketballers, she is like the female equivalent to Michael Jordan! You don't see any male basketballer doing that in Australia!
3. The greatest challenge for women's sport is … there are so many sacrifices and challenges that female athletes face but I think the biggest two are starting a family and starting a career after sport. Our prime window as an athlete coincides with when many people want to start having a family. As female athletes we need to decide whether we sacrifice time in our peak playing years to start a family or sacrifice having children at an age you would ideally like to. When I started playing basketball I wanted to have four children. I am 33 this year and am yet to have one child so I have had to sacrifice the amount of children I intended to have to keep achieving my sporting goals. Secondly, we don't make nearly as much money as our male counterparts so life after sport is not always as easy. We haven't had the money to look for investment opportunities and once retired from sport we are at a much older age than our peers and have to start from the bottom and miss opportunities we could have achieved if it wasn't for playing. So many of my peers have had to stop playing to start a family or get into a career after sport. These are things that our male counterparts don't have to consider!
4. In the next five years I want to see my sport … I want to see the disparity in pay decrease. I want us to receive the recognition we deserve. I want playing in big stadiums become the regular. I want basketball to be a full-time job for everyone on my team, not just three to six players.
5. If I could tell my younger self one important message, it would be … As cliche as it sounds, TRUST. THE. PROCESS. You will have so many setbacks in your career, there will be too many times that you want to give it all up. But you will be okay, everything happens for a reason. Stay true to who you are and your core beliefs and don't compromise them for anyone or anything. Your integrity, loyalty, resilience, work ethic and passion will shine through and you will achieve everything you could have dreamed of and more by staying true to them! You will have people tell you you're not good enough, you're too heavy, you're too slow but they fuel your fire, prove them wrong. most importantly ENJOY EVERY MOMENT! The reason you love this game is for the people so make the most of being able to hang out with your best friends everyday because when you look back, that's what you'll cherish the most. You are ALWAYS enough! Never do less- go get it!
CHLOE MOLLOY
AFLW star
1. In 2023 I want to see … more women inducted into Hall of Fames, taking over coaching roles, winning awards, being elected into positions of power and making headlines in the news.
2. I am most inspired in women's sports by … the women's Australian cricket side. They are reaching new levels of their sport and have every women's trophy in the international competition in their cabinet and are arguably the most dominant team ever across women's and men's cricket. They are the greatest women's team in any era across any sport.
3. The greatest challenge for women's sport is … breaking the stigma that we are a side piece to men's sport. Women's sport exists but we now need to establish ourselves within our own leagues. Producing thrilling matches week in, week out and pushing towards becoming full-time professional athletes that can invest entirely while also finically being able to support ourselves.
4. In the next five years I want to see my sport … have a full fixture where all teams play each other, the entire league is competitive and players can financially support themselves with their AFLW contract. I also want to see the AFL and AFLW come together and push for change in the world, we are more powerful together.
5. If I could tell my younger self one important message, it would be … care less about the naysayers and invest more into those that want to see you succeed.
LYDIA WILLIAMS
Matildas goalkeeper
1. In 2023 I want to see … create more landmark achievements and opportunities throughout the year.
2. I am most inspired in women's sports by … my teammates and what they are achieving on the world stage. I am also inspired by other teammates in different sports, all their achievements and their character on and off the pitch, park or field.
3. The greatest challenge for women's sport is … commitment to consistent investment opportunities to ensure there are foundations for the next generation. A commitment to a long-term goal rather than a short term vision.
4. In the next five years I want to see my sport … excel and become the most popular sport in all metrics in the world and for the continued growth in participation all over the world.
5. If I could tell my younger self one important message, it would be … to never give up. That it is important to build and stay resilient. Always do the action that you believe in and trust your gut.
JO WESTON, DIAMONDS NETBALLER
1. In 2023 I want to see … female athletes as the first sports news item or the first story in the sports section in the newspaper. Putting women's sports to the front will continue to grow the game but also the profiles of female athletes, which in turn will lead to greater commercial opportunities.
2. I am most inspired in women's sports by … athletes that return from childbirth and the women in their life that help along the way, I just think it is incredible! To have the support from your sport gives women the confidence that there will be an opportunity for them once they return, akin to maternity leave in a more conventional job.
3. The greatest challenge for women's sport is … continuing to push for progress not just in remuneration but in the other areas of professionalism. This refers to standards around travel, healthcare and career development. There sometimes is such a large focus on pay that other areas for growth get neglected along the way.
4. In the next five years I want to see my sport … netball has come such a long way in the 10 years I've been playing with the Melbourne Vixens. Within the next five years I would love to see some additional teams added to our competition to make the season longer. I think aiming for our sport to be able to pay all athletes a liveable full-time wage would be an incredible achievement, as the minimum salary is currently $43,000. Furthermore, I believe it would be amazing to have a program that facilitates the transition of athletes out of the sport, it is something that other sports do really well but netball struggles with due to our small Players' Association.
ARIARNE TITMUS, OLYMPIC CHAMPION SWIMMER
1. In 2023 I want to see … my team, the Dolphins swim team, once again be a dominant force on the world stage. I love being a part of this team and I believe when we work together we can create magic.
2. I am most inspired in women's sports by … I am constantly in awe of the women in our country who continue to perform on the world stage. Although to me, I value who you are as a person and what you stand for more than any achievement or accolade. In Australian sport we are so lucky to be surrounded by powerful women who not only dominate in their field, but set an example and stand up for what they believe in. That's girl power to me.
3. The greatest challenge for women's sport is … I believe women's sport is on the right trajectory in many ways.
However, at a professional level compared to men, many women are having to still hold down a job to make a living. Men's sport has been around since the beginning of time and in many sports it's all we have known. With the inclusion of women in male dominant sports such as the football codes in Australia, a fan base needs to grow from scratch and sponsors need to jump on board to generate income. We need to encourage crowd support and attendance, participation and media coverage of which will continue to grow the profile of the sport with the hope of generating more income for the players and the sport to be financially sustainable.
4. In the next five years I want to see my sport … I feel very grateful that swimming in Australia is easily accessible at every level from learn to swim right through to the elite. Internationally men and women are offered the same program of events to swim in and are paid equally based on performance which is great.
However, I would love swimming to be more relevant in the three years pre/post an Olympic Games. Every four years, the performance of the Australian Swim Team is highly anticipated. In a non Olympic year, we are competing at a major international meet of which we are a dominant force. If more eyes are drawn to the other major swimming events around an Olympics there is more opportunity for commercial activity and a growing fan base. In turn, the level of participation should grow in grassroots swimming and at an elite level there is more money generated to enhance our chances of being the best swimming nation in the world.
5. If I could tell my younger self one important message, it would be … to truly enjoy the big moments. Throughout my career I have always been looking ahead to the next thing, the next goal, the next milestone. I wish in the beginning of my career I had soaked up all the emotions and let it sink in. Swimming is only a small part of my life and before I know it, it'll all be over. With what time I have left in elite sport, I really want to take my own advice and enjoy the important moments.
Originally published as Insight: Stars reveal their vision for the future of women's sport