WORLD
Australian Open 2023 live scores, schedule, order of play: Thanasi Kokkinakis 4am finish, Andy Murray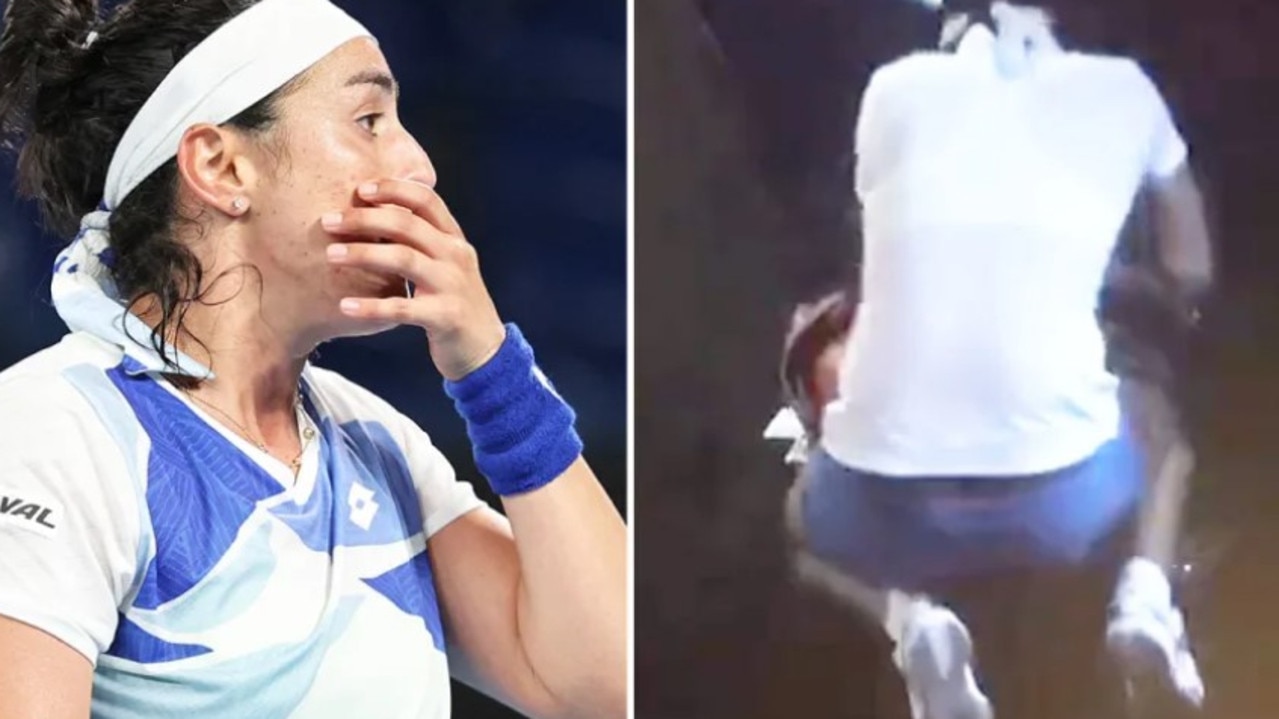 Ons Jabeur suffered a shock second-round exit at the Australian Open becoming the latest seed to fall at Melbourne Park and there were heartbreaking scenes as she left the court.
The Tunisian went down in three sets to world No. 86 Marketa Vondrousova on Rod Laver Arena and was in tears as she left the arena.
Vision of the 28-year-old went viral.
It shows Jabeur waiting until she was out of crowd sight before falling to her knees, clearly shattered.
It was past 1am AEDT in Melbourne when the match finished, something Vondrousova said was not right.
"I think for the body also, I don't think it's healthy to play at 1am," she said.
"Also, like, if you are playing three sets, it's crazy.
At this level you have to be ready for every point. I don't think it's very healthy, but it's night session, so you have to prepare for it."
She said it had been a "very crazy" week of weather and waiting around the player area amid ongoing delays and scheduling dramas.
"I was also tired, but I think she was too," Vondrousova said.
"You know, it was 2am., so I don't think it's very healthy, and I don't think you can prepare for this also."
She planned to sleep and then will back up with doubles on Friday afternoon.
Jabeur, who missed last year's Australian Open with a back injury, won Madrid and Berlin trophies last year in a breakout season which propelled her to second in the rankings.
She hit back at the start of the second set but was broken again when serving for the set at 5-3.
Jabeur then blew a set point on Vondrousova's next service game, but at 6-5 created another chance and this time converted.
It was a rare moment to celebrate in a desperate performance devoid of any spark against an inspired opponent who simply made fewer errors.
11:20AM: AMERICAN FANS, STARS VOICE DISPLEASURE WITH ESPN
While most people in Australia missed the finale of Kokkinakis and Murray because they were asleep, American fans missed out due to the host broadcaster ESPN.
ESPN, which holds the rights to the tournament until 2031, chose to continue its regular programming across its channels, rather than showing the epic five-setter.
Morning talk shows such as ESPN First Take were given the platform, with the Australian Open shown on their subscription service ESPN+.
American great Andy Roddick voiced his grievances with the move on Twitter, criticising the move to go with "talking heads," instead of the match.
ESPN+ is $9.99 USD per month and gives subscribers exclusive content.
11AM: STARS PAST AND PRESENT SLAM 4AM FARCE
Tennis fans and players around the world are calling on the Australian Open after last night's marathon between Andy Murray and Thanasi Kokkinakis.
The 6 hour epic, finished at 4am Melbourne time, with the Brit prevailing in five sets.
American tennis legend Andy Roddick weighed in after Murray was denied a chance to use the toilet after taking the fourth set, having used his allocation of breaks.
Elsewhere, Martina Navratilova called it "crazy" the finish time between the pair, suggesting the sport needs to find a way to fix this issue.
Craig Tiley said on Channel 9 this morning that there would be no schedule changes at this time.
10:30PM WHO DOESN'T LOVE A 6AM WINE?
This wouldn't be available in Sydney eh?
Journalists in vast numbers walked out of Melbourne Park at around 5:30AM, watched the sun rise over the MCG and went for a well earned glass of red, or white, or whatever your tipple is.
8AM AUS OPEN WON'T ALTER SCHEDULE DESPITE PLAYER ANGER
Australian Open boss Craig Tiley says there is no need to change the schedule following the 4am finish between Andy Murray and Thanasi Kokkinakis.
Appearing on Today, Tiley said it is hard to account for a match of that length.
"It was an epic match and when you schedule a match like that just before 10:00 in the evening before you're not expecting it to go close to six hours.
"It does and when you have 25 sessions, two weeks, hundreds of thousands of people coming through the gate, all the best players 5 00 of them in the world here, you're going to have those moments," he said.
7:30AM 'THIS F******G SPORT': KOKK SHARES BRUTAL IMAGE
Thanasi Kokkinakis, like a lot of tennis fans was not happy with the late finish to his epic encounter with Andy Murray.
The Australian's match with Andy Murray did not finish until 4.05am this morning, in a five-set battle for the ages that left many fans without sleep.
Kokkinakis took to Twitter to voice his frustration after the battle.
The 26-year-old also posted this on his Instagram after the match.
The tournament has been under criticism for its schedule after two days of unplayable conditions left players on the outside courts without a chance to play, causing a backlog.
Kokkinakis' friend and doubles partner Nick Kyrgios, voiced his support for the Aussie afterwards.
7:00AM NETFLIX' HILARIOUS RESPONSE TO AUS OPEN 'CURSE'
Netflix' in-depth tennis program Break Point has made waves across both the tennis and the sports world, giving fans a look at the players behind the scenes across 2022.
However, its impact might not be limited to just television, with most of the stars from the program either eliminated from the Australian Open or missed the tournament entirely.
Clearly, the feedback from certain fans about the shows stars has gotten to the desk of the streaming giant, with its UK & Ireland platform tweeting this today.
Australia's Nick Kyrgios and Ajla Tomljanović missed the tournament entirely, while Thanasi Kokkinakis was eliminated early this morning by Andy Murray.
Other high-profile stars from the show are among the handful of big names to have been eliminated from the Aus Open so far.
AUS OPEN NO NAMES CREATE CRAZY GRAND SLAM STAT
Owen Leonard
The men's race to the semi-finals has been burst wide open in one quarter of the draw – and it's good news for Novak Djokovic.
Seeded players dropped like flies on Thursday, headlined by No. 2 seed Casper Ruud (knocked out by Jenson Brooksby) and No. 8 seed Taylor Fritz (beaten by Alexei Popyrin), who on paper looked likely to play out in a quarterfinal.
It means a host of unfamiliar names will now be battling it out for quarterfinal berths, with 12th seed and 2020 semi finalist Alexander Zverev also bundled out on a barren day for players ranked inside the top 30.
Thursday's carnage gives New South Welshman Popyrin a conceivable run to the quarterfinal – if he knocks off Ben Shelton in the third round, he'll face either JJ Wolf or Michael Mmoh, ranked world no. 67 and 107, in the fourth.
The day five decimation also gives Djokovic a dream run. If Djokovic gets through his quarter – which still includes Andrey Rublev and Holger Rune, it should be noted – there is now every chance he'll be facing off against an unseeded opponent forums spot in the final.
After being denied the chance to compete in 2022, it seems fate has turned back in the Serb's favour.
Originally published as Australian Open 2023 day 5 live scores, schedule, order of play