INDIA
Eddie Jones in fiery journo clash over World Cup bombshell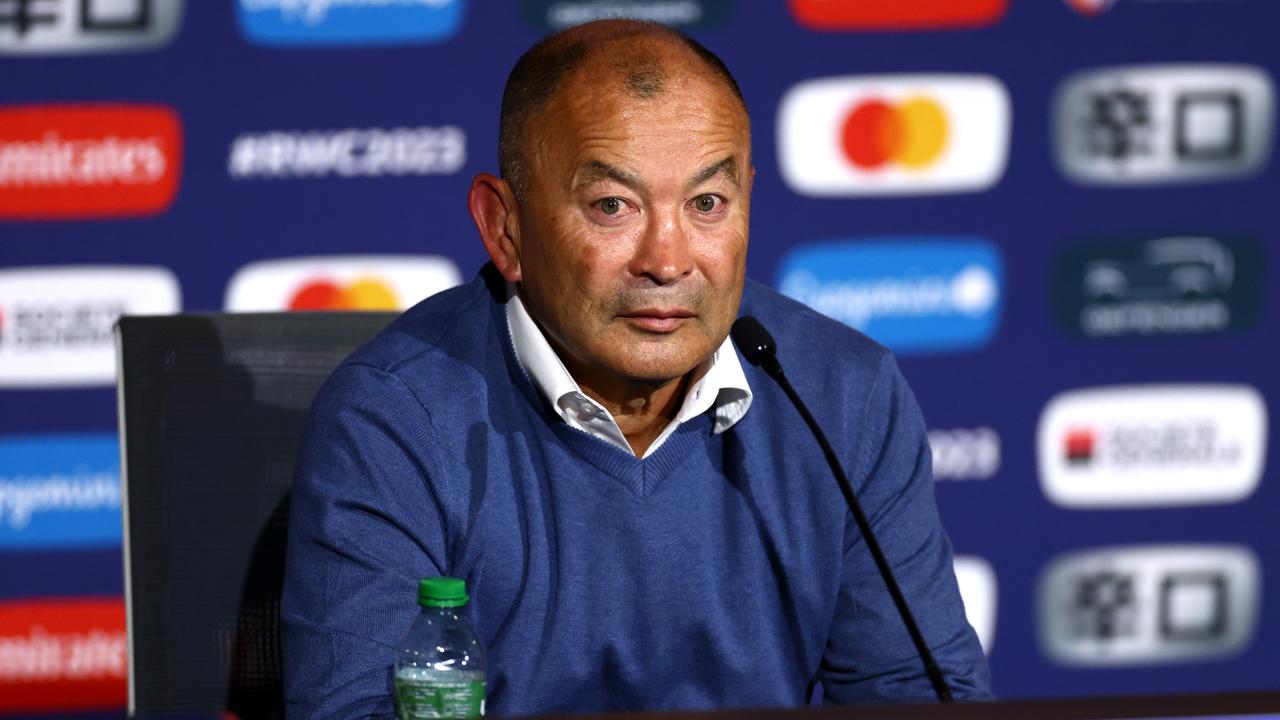 Eddie Jones has bristled over questions about his commitment to the Wallabies following a bombshell report on the eve of his team's humiliating loss to Wales.
Australia was nothing short of abysmal against the dominant Welsh and conceded 33 unanswered points when they were supposed to be playing for their World Cup lives.
The toothless 40-6 display has been met with angry responses from Australian rugby greats — but the most furious reactions have been directed towards Jones.
The veteran coach's tenure has been nothing short of a disaster since he replaced Dave Rennie 12 months out from the World Cup.
A report on Sunday took his tenure to a new low with claims he had held a secret job interview with Japanese Rugby on the eve of the tournament — despite being contracted with Australian Rugby through to the next World Cup on home soil in 2027.
Jones was asked about the report in his tense post-match press conference and was not entirely convincing.
When asked if he interviewed for the Japan coaching position, Jones said: "I don't know what you are talking about mate.
"I take umbrage to people questioning my commitment to the Australia job."
Jones then had a fiery exchange with rugby journalist Tom Decent, the reporter who first wrote the story about Jones' with Japanese Rugby.
When asked if Jones has a second interview planned with Japanese Rugby, the veteran coach replied: "I said I don't know what you're talking about, mate".
Jones was then pressed to give a categorical answer.
"Can you give Wallabies fans an 100 per cent commitment you will not be coach of Japan next year," Decent asked.
Jones replied: "I have committed to coach Australia."
Decent responded: "Next year?".
Jones was visibly unhappy with his final response: "I have committed to coach Australia."
The 63-year-old also threatened to storm out the press conference after Wallabies captain David Porecki was also asked about his coach' position.
"I take umbrage at the questioning," he said, cutting off Porecki.
"People questioning my commitment to coaching Australia. I have been working non-stop since I came here, and I apologise for the result. I keep saying that. But to question my commitment to the job is a bit red-hot, so we are not going to deal with those questions any further. I am happy to talk about Wales, I am happy to talk about Portugal. If you want to keep going down that line, I will excuse myself."
Jones had earlier said a report by a Japanese news outlet which also named him on the list of candidates for the coaching job was "bulls*** and gossip". Since then, the The Sydney Morning Herald has reported Jones held a Zoom meeting interview with Japanese officials days before the team's final World Cup warm up match against France.
Jones earlier said he is "100 per cent" committed to coaching Australia.
"I came back to Australia to try to help," he said.
"At the moment I'm not giving much help, am I? But that doesn't mean my commitment to helping has changed.
"I'm a proud Australian, and I hate to see Australian rugby do as poorly as we have been doing, particularly under my reign.
"It's not just the Wallabies, we've got to improve the whole system of Australian rugby, and that's not an excuse. But we've got to have a really good look at ourselves."
Jones admitted Rugby Australia will review his position at the end of the World Cup.
The coach who led Australia to the 2003 World Cup final started his press conference by apologising again to Australian supporters.
Wallabies captain David Porecki and Tate McDermott also made an apology to Aussie fans.
Rugby Australia, meanwhile, on Sunday night released a statement in response to the bombshell report about Jones' future by standing by their coach.
Rugby Australia chief executive Phil Waugh issued a statement.
"I take people at their word and Eddie's said there's nothing in it," Waugh said.
"So, as far as I'm concerned, that's the end of the story and everyone's focus is on this weekend's crucial game against Wales."
RA chairman Hamish McLennan has also communicated he is standing by Jones.
While not being in the mood to talk about his own future, Jones was honest about his performance.
"We're all gutted mate. I apologise to all the supporters here and back at home," Jones said.
"We kept letting the pressure off, whether it be a set piece error or a ball carrier error. A kick error. And Wales were good enough to take advantage.
"I'm the person given the responsibility to coach the team. I haven't done it well enough. I really apologise to everyone back home.
"We're going through a tough time at the moment. Whether we've hit rock bottom I don't know."
Sonny Bill takes huge swipe at Eddie Jones
Kiwi code-hopper Sonny Bill Williams was not too disappointed with the Wallabies' performance in the first half — but his tune changed dramatically after the embarrassing second half.
"That second-half team looked like a team that just lost belief, they didn't believe in themselves. And that starts from the head in the sheds, the guy that's telling them to get up," Williams said on StanSports.
Williams suggested it was obvious the players were struggling to perform for a coach who may have one foot out the door.
"From a player's point of view – I'm not following a guy that's sitting, having a meeting with another national team potentially looking for another job days before you're hopping on the plane to come to this World Cup. That's just my opinion," he said.
"As a player, if a coach shows his characteristics and does things like that, I'm not going to follow him into battle.
"I've got to be prepared to die for a coach, and go out there and give my heart and soul.
"If someone is doing that – and the narrative that he's saying is about the jersey, about the next four years – that's how I feel."
Williams was also scathing of Jones' tactical moves.
"They came out here and didn't really perform at all, it's really disappointing," he said.
"I feel for these boys, I feel for the fans.
"I'm going to keep it real here, they were up against it from the start.
"Where we are right now, questions need to be asked, from selections to the mind games Eddie's been playing with these kids, these young men.
"It was evident, there's a guy in the studio back home (Michael Hooper) who should be here right now.
"The proof is in the pudding, 40-6 is really embarrassing, and I feel for these kids, they're going to carry this on for the rest of their careers and feel this."