WORLD
Alex Murdaugh's prompt guilty verdict called 'stunning' while convict slammed as 'schemer'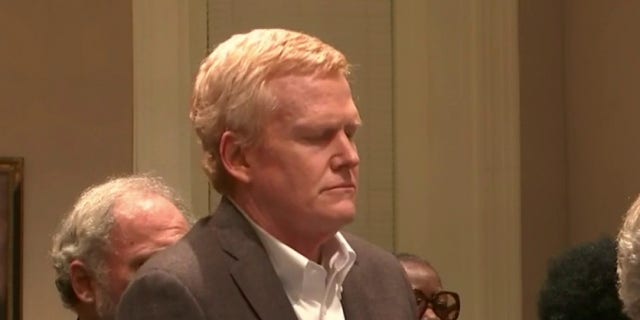 The jury adjudicating the murder case against Alex Murdaugh was not moved by the defendant's self-advocacy. 
Murdaugh, a Democrat whose family held the state's equivalent to the district attorney role in the Lowcountry from 1920 through 2006, was found guilty Thursday of murdering his wife and one of his sons.
Judge Jeanine Pirro, co-host of "The Five" and a former district attorney, said Murdaugh's taking of the stand in his own defense did not "pull the wool over the eyes" of the jury that agreed he was guilty.
"I've said all along that I believed he was guilty," she said on "Jesse Watters Primetime," adding that the "bottom line" was that prosecutor Creighton Waters skillfully proved Murdaugh was the only individual with the "murder, means and opportunity" to kill Maggie and Paul Murdaugh.
ALEX MURDAUGH CONVICTED OF FATALLY SHOOTING WIFE AND SON
Pirro asked whether Murdaugh admitting he was a compulsive liar in other situations made his decision to testify in his own defense a flawed tact.
"I almost wonder if his taking the stand wasn't a mistake — the jury had to look at this guy and say, 'Gee, he lies so well,'" she said, pointing to a situation involving a SnapChat video taken at the Murdaughs' kennels on their Islandton, S.C., property.
Pirro recounted Murdaugh initially denying he was present at the kennels, until he was purportedly forced to admit his presence after the video came out. 
"This is a guy who was very much a schemer, who understood the one significant point where he could not be at the scene obviously within minutes of the homicide, and he ended up… admitting finally that he was there, but that was the one area where he actually… was traumatized."
As for the jury's decision, Pirro said a verdict is not typically established this quickly after such a lengthy trial unless the panel is "totally in-sync" in disbelieving the defense.
ALEX MURDAUGH: TIMELINE OF ONCE-POWERFUL SOUTH CAROLINA LAWYER'S SPECTACULAR DOWNFALL
Pirro said the victims knew Alex Murdaugh was in trouble in a number of ways, and that they became uneasy.
"In the end, this guy's never going to see the light of day again — he'll go to jail until he's dead," she said of Alex Murdaugh.
"America's Newsroom" anchor Bill Hemmer remarked at the quickness with which the jury returned a guilty verdict.
"It's stunning to me," he said. "The jury deliberated — to the extent that they did deliberate — for a grand total of three hours. They barely stayed for dinner at this courthouse tonight."
The jury didn't believe much of Murdaugh's testimony, and instead threw it out in record speed, he said.
"He was trying to convince the jurors he was addicted to opioids and therefore, all of his actions should be thrown out. They didn't buy it for a minute," Hemmer said.
"This is pretty extraordinary stuff when you consider the history of this family — Alex Murdaugh's grandfather had a portrait hanging in that courthouse. It had to be removed before the trial began," Hemmer said.
Hemmer also credited Colleton County Judge Clifton Newman as "impressive" in how he comported himself and spoke about victims' rights — pointing out how, after Murdaugh's counsel made a mistrial motion, Newman rejected it "immediately."