CITIES
Amul vs Nandini debate takes centrestage in Karanataka poll campaign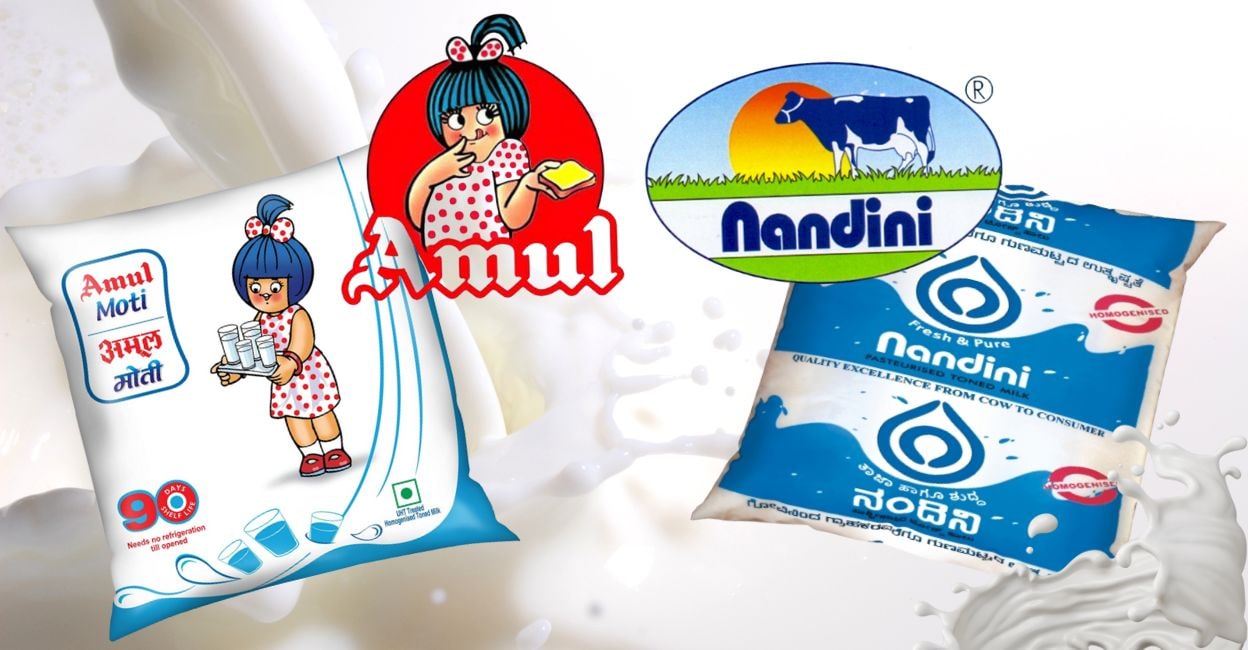 Bengaluru: The Gujarat Cooperative Milk Marketing Federation's announcement that it plans to sell Amul milk and curd through quick commerce platforms in Bengaluru seems to have opened a Pandora's box in the election-bound state of Karnataka.
The ruling BJP in the State and the opposition Congress and the Janata Dal (Secular) have been engaged in a war of words in recent days with the latter criticising the move saying it would hurt the interests of the Karnataka Milk Federation (KMF), which owns Nandini brand.
Allegations are also rife that an artificial scarcity of Nandini products have been created in the state to create a path for Amul products.
Congress leader Siddaramaiah on Sunday said: "It was Gujarat's Baroda Bank that subsumed our Vijaya Bank. Ports and Airports were handed over to Gujarat's Adani. Now, Amul from Gujarat is planning to eat our KMF (Nandini). Mr Narendra Modi, are we the enemies for Gujaratis?"
Five days ago, Gujarat-based cooperative society Amul tweeted: "A new wave of freshness with milk and curd is coming to Bengaluru. More information coming soon. #LaunchAlert. From Kengeri to Whitefield, wishing everyone a Taaza day."
In another tweet, the dairy brand said, "The #Amul family is bringing in some Taaza into #Bengaluru city. More updates coming in soon. #LaunchAlert. Taaza arriving soon in Bengaluru."
Hitting back at the Congress, the BJP's IT Cell in-charge Amit Malviya said Amul and the KMF are neither merging, nor Amul is entering Karnataka.
"KMF is nation's second largest milk cooperative. KMF has depots in Maharashtra, Goa, Andhra Pradesh, Telangana and Tamil Nadu. 15% of KMF's total sales is outside Karnataka. Nandini is exported to Singapore, UAE and many other countries. Amul and KMF are NOT merging, Malviya tweeted on Sunday.
He slammed the Congress for "spreading lies" against his party's government in Karnataka.
On Monday, in an apparent gesture to express solidarity with the KMF, Karnataka Congress chief D K Shivakumar visited a Nandini Milk parlour in Hassan and bought some of its products.
Meanwhile, the Bangalore Milk Union Limited (BAMUL), part of KMF, said milk production has come down in the State due to the onset of summer. However, the Karnataka State Hotels' Association (KSHA) alleged that an "artificial scarcity" of Nandini products has been created to "favour" Amul in Karnataka.
"There is a reduction in milk production in the State from about 90 lakh litres a day to about 75 lakh litres a day due to which some people may be facing scarcity. There is nothing unusual about it," P Nagaraju, Director, BAMUL, told PTI.
Nagaraju said Nandini sends 2.5 lakh litres of milk to Mumbai, 1.5 lakh litres to Hyderabad and another batch of milk to Andhra Pradesh every day for supply to school children of those States. The milk production is now improving, he added.
KSHA president Chandrashekhar Hebbar alleged: "There is an attempt to create scarcity of Nandini in favour of Amul. We get to know this. Nandini Ghee, which is of superior quality, is not available these days".
He claimed that he was buying Nandini Ghee in the "black market".
Around 10 days ago, another controversy broke out when the Food Safety and Standards Authority of India (FSSAI) had directed the KMF to print 'Dahi' on curd packets along with the local nomenclature. The opposition, especially the JD(S), termed it an attempt to 'impose' Hindi on the people of the state
Protests
Amid a political row over Amul versus Karnataka's Nandini brand, members of a pro-Kannada organisation on Monday staged a demonstration against the Gujarat based dairy cooperative.
Police detained the members of the Karnataka Rakshana Vedike and took them into preventive custody.
(With PTI inputs.)