LIFESTYLE
Anti-cholesterol medicine reduces COVID-19 infection by up to 70%, says study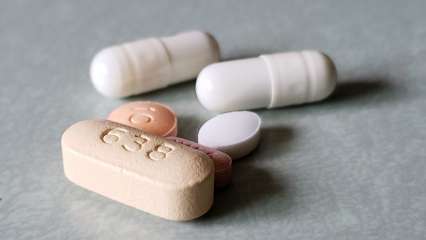 As per a new study led by scientists from the UK, an already available and licensed drug that is given to patients with high cholesterol cuts COVID-19 infections by 70 percent.
The drug which the study claims "significantly reduced" the Covid-19 infection is usually given in cases where there are "abnormal levels of fatty substances in the blood".
The drug is called fenofibrate. The research team from University of Birmingham and Keele University scientists claims that lap tests show significant reduction in SARS-COV-2 infection in human cells through fenofibrate and the drug's active form, fenofibric acid.
More importantly, the study found infections levels could be reduced by fenofibrate dosage amounts deemed "safe and achievable" as per the standard clinical dose that is administered.
Fenofibrate is widely approved and available around the globe. In India, the cholesterol drug is sold under multiple brand names Fenocor, Fenolip, Finate, Lipicard and Tififib, to name a few as per medlineindia.com.
The research team that led to the findings want clinical trials of the drug in cases where patients are hospitalized due to COVID-19.
Two such trials also reportedly in progress led by Hebrew University of Jerusalem in Israel and the Hospital of the University of Pennsylvania in the United States.
In the new study, the research team tested a panel of already licensed drugs – including fenofibrate – to identify candidates that disrupt ACE2 and Spike interactions.
As per a co-author of the study, Dr Elisa Vicenzi, who is based out of the San Raffaele Scientific Institute in Italy, "Our data indicates that fenofibrate may have the potential to reduce the severity of Covid-19 symptoms and also virus spread. Given that fenofibrate is an oral drug which is very cheap and available worldwide, together with its extensive history of clinical use and its good safety profile, our data has global implications – especially in low-middle income countries and in those individuals for whom vaccines are not recommended or suitable such as children, those with hyper-immune disorders and those using immune-suppressants."
Dr Scott Davies of the University of Birmingham who is the study's first author, said, "We now urgently need further clinical studies to establish whether fenofibrate is a potential therapeutic agent to treat SARS-CoV-2 infection."