WORLD
Here's how we avoid another East Palestine train wreck before it's too late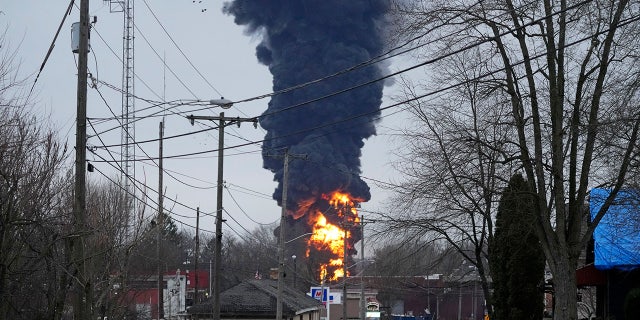 NEWYou can now listen to Fox News articles!
More than six weeks have passed since a Norfolk Southern train derailed in the small Ohio town of East Palestine. Toxic chemicals were released into the area, and the lives of more than 5,000 Americans were forever changed. 
The American people have been justifiably terrified by images of a massive black plume of smoke and toxic chemicals in creeks nearby. There are over 1,000 train derailments, and they are right to worry that their hometowns could be next.
The U.S. government must provide the American people with the security of knowing that what happened to East Palestine will not happen again. We have worked across the aisle with our Democratic colleagues to introduce the Railway Safety Act, a targeted piece of bipartisan legislation aimed at elevating the standards to which the railroad industry is held.
The American public supports our proposal. The overwhelming majority, seventy-six percent, of Americans believe the railroad industry should be subject to additional safety guidelines, and fifty-three percent of them accurately believe the derailment in East Palestine could have been prevented by more stringent safety protocols.
NTSB CALLS OHIO TRAIN DERAILMENT '100% PREVENTABLE,' SAYS OPERATORS WERE WARNED OF OVERHEATED AXLE
While cleaning up the remaining hazardous materials in East Palestine must be the focus of the Biden administration, the Congress can take immediate action to significantly reduce the chances of a similarly catastrophic event by passing our legislation.
First, the Railway Safety Act would require that trains carrying hazardous materials be scanned by wayside defect detectors, or "hotbox detectors," every ten miles to prevent future derailments caused by faulty wheel bearings. The preliminary National Transportation Safety Board report on the derailment in East Palestine makes it clear that the accident was caused by a catastrophic failure in a wheel bearing that would have been caught by more frequent placement of hotbox detectors.
NORFOLK SOUTHERN CEO 'DEEPLY SORRY' FOR EAST PALESTINE DISASTER, SAYS COMPANY WILL 'MAKE THIS RIGHT'
Second, our legislation stipulates that railroad companies must provide advance notification to state emergency response commissions when transporting hazardous materials. Without this critical protocol, firefighters can end up responding to train derailments without knowledge of the potentially hazardous materials they contain. Under no circumstances should our firefighters be risking their lives on limited information.
Third, the bill further discourages the railroads from reckless practices. It increases the maximum fine for safety violations from $225,000 to 1% of a railroad's operating income. Norfolk Southern recorded $4.8 billion in operating income last year.
To a company of their size, a quarter-million-dollar penalty is just the cost of doing business. With this provision, they would face a fine of nearly $50 million for the derailment in East Palestine – a justifiable penalty considering the public resources and taxpayer dollars dedicated to the emergency response and clean-up following their mistake.
CLICK HERE TO GET THE OPINION NEWSLETTER
The Railway Safety Act would also require railroads to operate with at least two-person crews and increase HAZMAT registration fees to fund training for emergency responders. The bill also makes research investments to develop cutting-edge safety designs for freight railcars of the future.
Railroads have been a key circulatory system of American industry for more than a century and a half. They connected our coasts and brought prosperity to our heartland. They will be integral to American economic renewal in the years to come—from reshoring our nation's supply chains to reviving our manufacturing base. But first, they must be made safe and secure. Railroads cannot help to rebuild America if they can destroy its small towns without consequence. 
The path forward for this bill is clear. The Senate Majority Leader and the president have pledged to do what it takes to make it law, and a bipartisan group from the Ohio delegation has introduced similar legislation in the House of Representatives.
CLICK HERE TO GET THE FOX NEWS APP
This legislation should be of special interest to our Republican colleagues. America's railroads run through their rural districts and red communities. When derailments occur, it is predominantly Republican voters—their voters—who bear the brunt and who rush to put out the fires.
We owe it to them to hold the railroad industry to a higher standard, and that's exactly what the Railway Safety Act will do.
Republican Marco Rubio represents Florida in the United States Senate.
Republican Josh Hawley represents Missouri in the United States Senate.