India
Baba Ramdev and Foot-in-the-Mouth Asana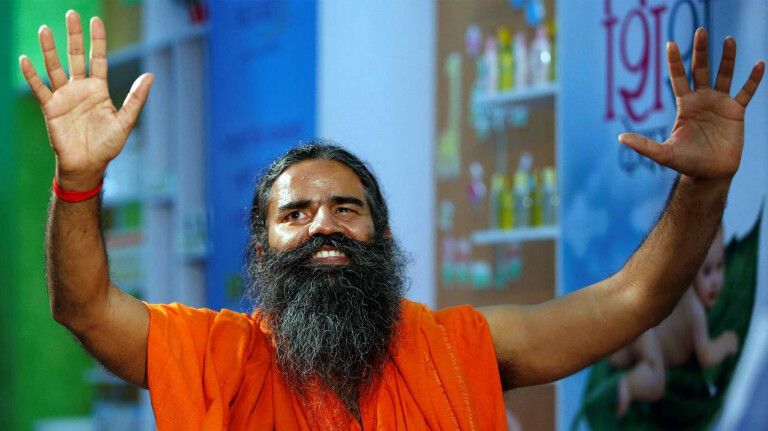 Born in 1965, Ram Kisan Yadav is better known as Yogi Baba Ramdev. Co-founder of the Patanjali Ayurveda brand, this Haryanvi is a yoga teacher whose flexibility and convoluted yoga positions have left the world in awe. If there is one thing that he is known for better than Patanjali, it is his foot-in-the-mouth asanas, particularly when it comes to his views on medicine.
Allopathy is a 'stupid science'—tamasha, bekaar, diwaliya! 
While the country is being beaten down by wave after wave of COVID-19, Baba Ramdev proclaimed that life-saving allopathy is a "stupid science" and DGCI-approved medicines such as Fabiflu and Remdesivir have failed to treat the COVID-19 infection. Ramdev went on to say that "lakhs of patients have died after taking allopathic medicines."
In response to a strongly-worded note from the Union Health Minister Harsh Vardhan, who called for an unconditional apology for making misleading and "unlearned" statements, Ramdev backtracked quickly enough. In his tweet to the minister, Ramdev clarified that he respects all forms of medicine and accepts "that allopathy has shown remarkable progress in life-saving system and surgery and has served humanity."
Who can forget Ramdev touting Patanjali Ayurved's Coronil as a WHO-approved drug to treat Coronavirus? It is not. This saga of misinformation and false claims is not limited only to COVID-19.
Curing diabetes with Yoga; no insulin required. 
Indian medical systems like Ayurveda, Naturopathy, and Yoga offer certain advantages and have been found to be complementary to allopathic treatment for some diseases. Claiming that diabetics can get off insulin, one of the top 100 medical discoveries in the world, is a gross misrepresentation. It is also extremely dangerous advice that has been debunked by medical professionals.
In a country like India, godmen like Ramdev are revered and their opinions hold value. However, Ramdev's medical opinion on curing diabetes without insulin is not validated or tested. Without large-scale clinical trials, making such sweeping statements is irresponsible and likely to have severe effects if diabetics and parents of diabetic children believe in these unsubstantiated claims.
"Curing" homosexuality with Yoga
Back in 2015, a Supreme Court judgment labelled consensual sex between adults of the same gender an offence. Jumping onto that misinformed bandwagon, Baba Ramdev declared homosexuality a "bad addiction" that can be cured by Yoga and Ayurveda. Several Patanjali centres also sold medication and energy pills to "cure" homosexuality. Ramdev even invited people from the LGBTQIA+ community to his Yoga ashram claiming, "I guarantee to cure them of homosexuality."
"Till now why any Sanyasi has not got Bharat Ratna? They have given Mother Teresa this award as she was a Christian, but they will not give to other seers as they are Hindus."
Counting himself in the league of great sanyasis like Maharishi Dayanand Saraswati and Swami Vivekananda, Ramdev was quite peeved at the Centre for not recognising the work of Hindu seers. There is no doubt that, had she been alive during the pandemic, Mother Teresa would have continued her humanitarian work for COVID-19 patients. Dragging Nobel Peace Prize winner Mother Teresa through the mud in his statement, he defied all logic and evidence to conclude that the only reason she received the acclamation was her religion.
"There should be no voting rights, no right to contest polls for people having more than two children. They should not be given admission in government schools or government hospitals. They should not be given any government job…"
Speaking with great conviction and a complete lack of social awareness, Ramdev believes that these are the "corrective measures" that will help India become a superpower. Imagine an India where a third child would not be admitted to a government hospital during COVID-19!
At it again
After withdrawing his latest allopathy-related gaffe, Ramdev wrote to Harsh Vardhan saying he wanted to put the matter to rest. However, Ramdev has been found claiming that more than 10,000 Indian doctors have died even after receiving both coronavirus vaccine doses in a new viral video.
The Indian Medical Association (IMA) is already seeking action against Ramdev's "vitriolic accusation" under the Epidemic Diseases Act. This new video only adds more fuel to the righteous fire. While it is true that there is no such thing as bad publicity, Ramdev's repeated illogical statements serve to chip away what little credibility he has.