LATEST
Biden 'fine' after fall on stage at U.S. Air Force Academy graduation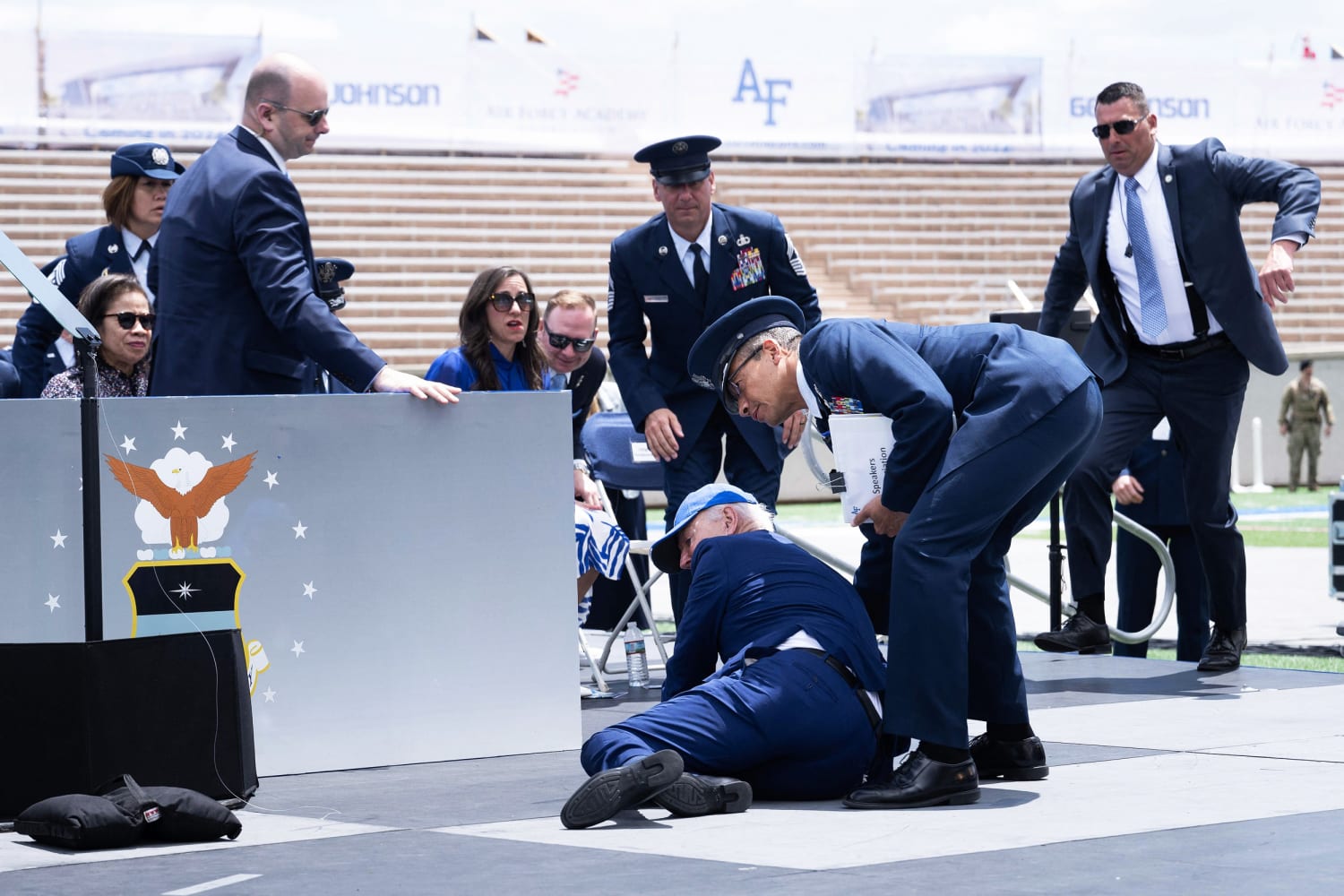 President Joe Biden fell on stage at the graduation ceremony on Thursday for the U.S. Air Force Academy and is "fine," a White House aide said.
After Biden shook the hands of more than 900 graduates, the president turned to head back to his seat and started to motion as if he was going to jog. He then appeared to trip and fell down on the stage.
Biden, 80, was helped up by two U.S. Secret Service agents and one Air Force official, and then turned and pointed to something on stage that he may have tripped over.
Ben LaBolt, White House communications director, retweeted a reporter who posted about the incident and said Biden was OK.
After Biden returned to his seat, he continued to talk with graduates, taking photos and selfies. As he was leaving the event, he started to jog several times.
Last year, Biden fell off his bike during a weekend trip to his home in Rehoboth Beach, Delaware.
Biden's re-election bid has faced questions about whether he is fit to seek another four-year term. A recent Washington Post-ABC News poll found that 33% of adults in the U.S. think Biden is in good enough physical shape to serve effectively as president, while 64% said that about former President Donald Trump, who is 76 and also running for a second term in the White House.
The president's physician said in February, however, that Biden remains "fit" to conduct his duties as president.
"President Biden remains a healthy, vigorous 80-year-old male, who is fit to successfully execute the duties of the Presidency," the White House physician, Dr. Kevin O'Connor, said in a five-page memo.
O'Connor said his assessment was based on a "comprehensive review" of Biden's medical history and a detailed physical examination that included specialty consultations at Walter Reed National Military Medical Center in Bethesda, Maryland.