LIFESTYLE
Buddha Purnima 2023: Date, Significance, auspicious time and worship method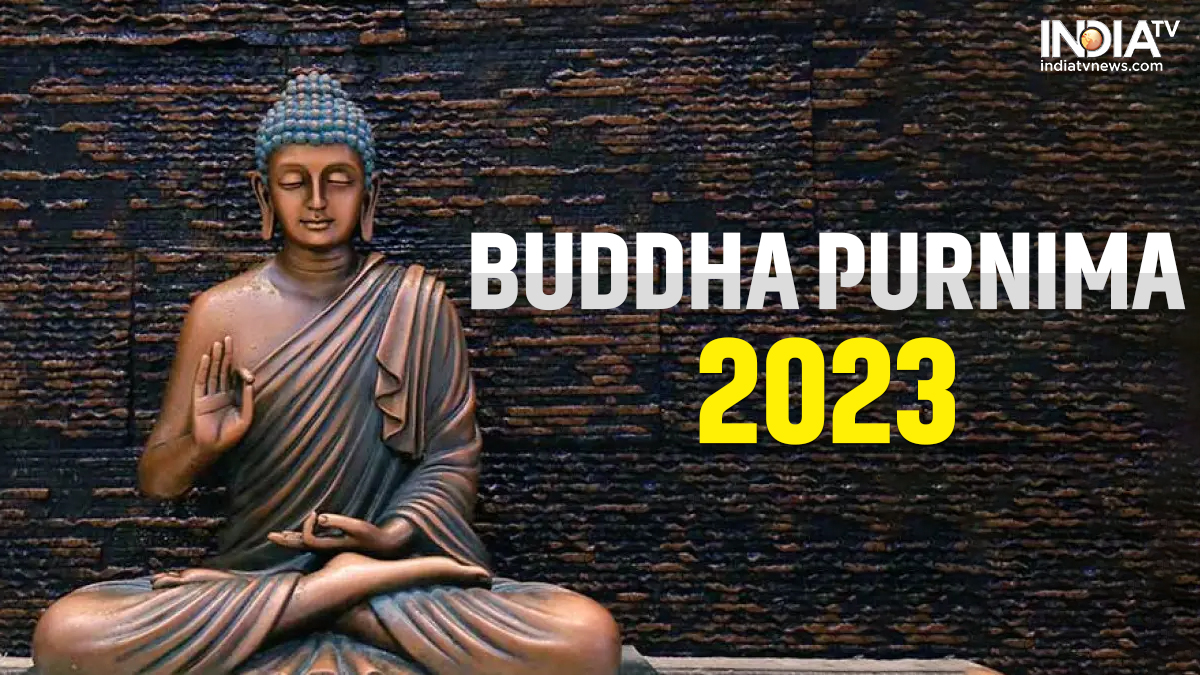 Buddha Purnima 2023: Vaishakh Purnima is specially celebrated as Buddha Purnima. It has special importance in Buddhism. It is believed that Lord Gautam Buddha was born on the day of Vaishakh Purnima. Apart from this, after seven years of hard penance, Lord Gautam Buddha attained enlightenment under the Bodhi tree of Bodhgaya in Bihar on this day and according to beliefs, Mahanirvana of Buddha also took place in Kushinagar, Uttar Pradesh on the same day of Buddha Purnima. Know the worship method, auspicious time, and importance of  Buddha Purnima here.
Buddha Purnima 2023: Date and auspicious time
Vaishakh Purnima or Buddha Purnima date starts – May 4, Thursday from 11.44 pm. 
Buddha Purnima will end on May 5, Friday, at 11.03 pm
According to Udaya Tithi, this year Buddha Purnima will be celebrated on 5 May 2023 and fasting will be observed on this day. 
Buddha Purnima 2023: Puja Vidhi
First of all wake up early in the morning and take a bath.
After this, wear clean clothes and offer water to Lord Vishnu.
After this, light a lamp of ghee. Then offer prasad to God and perform aarti.
It would be better if Tusli is used in Prasad.
Eat only satvik food on this day.
Buddha Purnima 2023: Shubh Yog
The first lunar eclipse of the year is going to take place on Buddha Purnima. According to astrological calculations, the lunar eclipse that starts from 8:45 pm on the night of Buddha Purnima will last till 1:00 am. On this day after sunrise, Siddhi Yoga is being formed which is said to be auspicious. Not only this, there will also be Swati Nakshatra on this day, which is said to be beneficial and virtuous.
Importance of Vaishakh Purnima or Buddha Purnima
On the day of Buddha Purnima, bathing in holy rivers, charity, and worship have special significance. This helps a person progress in life and move forward. On this day, if due to some reason you are not able to bathe in the river, then you should bathe by adding a little Gangajal to the water. Along with this, one should definitely donate something on this day as per one's capacity. Apart from this, if you have unknowingly committed any sin, then donating sugar and sesame on this day gets rid of this sin. 
(Disclaimer: The information given here is based on general beliefs and information) 
function loadFacebookScript(){
!function(f,b,e,v,n,t,s){if(f.fbq)return;n=f.fbq=function(){n.callMethod?
n.callMethod.apply(n,arguments):n.queue.push(arguments)};if(!f._fbq)f._fbq=n;
n.push=n;n.loaded=!0;n.version='2.0′;n.queue=[];t=b.createElement(e);t.async=!0;
t.src=v;s=b.getElementsByTagName(e)[0];s.parentNode.insertBefore(t,s)}(window,
document,'script','https://connect.facebook.net/en_US/fbevents.js');
fbq('init', '529056027274737');
fbq('track', 'PageView');
}
window.addEventListener('load', (event) => {
setTimeout(function(){
loadFacebookScript();
}, 5000);
});