WORLD
'Silence' dancers' Treaty message at Darwin Festival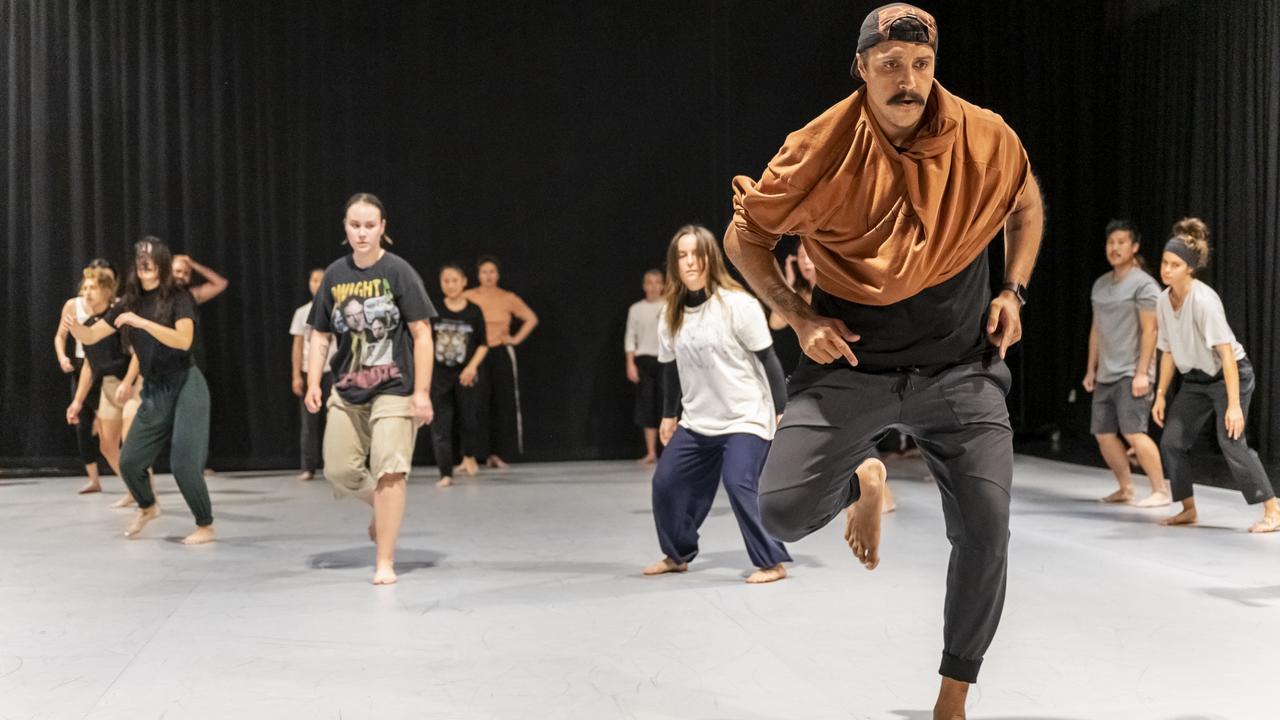 The percussive rhythm of the drums will carry the conversation of Treaty forward as a dance troupe prepares for their finale performance in Darwin.
Karul Projects artistic director Thomas E.S. Kelly said he hoped Silence would leave people with "a couple of little nuggets" of Treaty knowledge.
"I just want to provide opportunities for people to learn and understand to make an informed decision for themselves," he said.
"I have no angst over anybody who does or doesn't want Treaty, I have no angst over people who do or do not want the Voice, but what I want people to know is they're making a decision based on information."
The Minjungbal-Yuagmbeh, Wiradjuri and Ni-Vanuatu storyteller said he hoped to create a space for his audience to open their minds to new ideas.
Mr Kelly said Silence would be free of the political jargon and repetitive rhetoric that many people close their minds to.
"One of my favourite things about being an artist is I can create a world – I use my imagination and create the world to provide an opportunity for everyone to come into this place of what could be," he said.
"You're seeing and understanding in a different way to just hearing a bunch of people talking to you.
"That's not what this is. This has got humour, this has got emotion involved, this has got storytelling at its finest there."
Mr Kelly said the closest Australia had come to a Treaty agreement was a draft in Melbourne that was sent to government to "make it official" but was declined.
"They said as soon as we do that, we're going to have to do it with everyone because we're acknowledging they exist," he said.
"There's this idea that the British have already learned their mistakes from dealing with other Indigenous communities, that's why it never was imposed here.
"But it's not a way you live. You don't just rock up to someone's house and move in, if you move into someone's house you have a rental agreement, you have a listing agreement, you have terms and conditions about how you're going to live together."
Mr Kelly said the Darwin Festival performance was the final stage of a 14-stop tour across Australia.
"It's a full First Nations cast, we're really proud of this work," he said.
"It's our most-presented work, it's an incredibly powerful work that I'm really proud of and it's been used in a lot of communities in Australia by a lot of people and for the most part it's been received very well."
Darwin Festival goers can watch Silence on August 17 and 18 at the Darwin Entertainment Centre.
Tasmanian tumblers take on Top End
Tasmanian circus company ROOKE joins a host of stunning performances set to descend on the Top End for the Darwin Festival.
Artistic director, CEO, and hula hoop specialist Freyja Wild said Darwinians can expect to see a blend of tumbling, contemporary dance, and circus specialties in their show, Interloper.
"We've got acrobatics, and clowning, and hula hooping and just funny gags all the way through it," she said.
"It's all built around the process of making a cup of tea."
"But at the same time it's really kind of interlaced with much more almost worldly ideas of humanity and connection, and what it's like to interrupt, or be interrupted."
Mrs Wild said there was something for everyone in Interloper.
"It is very much a show that's appropriate for all ages. It's engaging and exciting and it has lots of funny moments that are great for young kids, but it's also quite sophisticated and contemporary in its composition," she said.
Mrs Wild said she had been uncertain if she would continue in acrobatics following the birth of her first child and navigating the pandemic.
She said creating Interloper reinvigorated her love for the art form.
"It just reminded me how much I loved it and made me realise that my year away from circus had been the saddest year of my life, and I missed it, and I needed it back in my life," she said.
"(This show) has really brought us back in to this world and work that we love so much."
She said ROOKE, which just finished a tour in which they performed to sold-out shows in their home state of Tasmania, had an exciting future ahead.
"We're a full not-for-profit arts organization and we're developing a number of different works and outreach programs," she said.
Interloper will be performed at the Darwin Festival on 15 and 16 August.
Local talent bring powerful stories to life in I'm With Her
Sexism, the patriarchy, and women fighting back set the stage for what promises to be one of the most thought-provoking shows on the Darwin Festival line-up.
I'm With Her takes intimate conversations between the playwright, Walkley Award winner Victoria Midwinter Pitt, and eight extraordinary Australians finding strength in the time of #MeToo.
Local talent brings to life the stories of counter-terrorism expert Anne Aly MP, sex worker activist Julie Bates, botanist Marion Blackwell, world champion surfer Pam Burridge, bartender Nikki Keating, anthropologist and Indigenous leader Marcia Langton, Australia's first female prime minister Julia Gillard, and Catholic nun Patricia Madigan.
When Reverend Vicki Aitken was approached to play Madigan she jumped at the chance.
"It's such a powerful script," she said.
"The message and its ability to connect with people – particularly women – is huge. Those that come aren't going to leave without being unchanged."
Aside from delivering sermons to the hundreds-strong congregation at Darwin Memorial Uniting Church each week, Ms Aitken had not performed since she was a child.
But the connection she felt to the play and Madigan's story ran deep – the nun has long advocated for women to be able to become priests in the Catholic Church.
"We're a different generation and a different denomination but her passion for helping women in the church and growing interfaith spaces is the same," Ms Aitken said.
Ms Aitken said there were places within the church that remained "really hard" for women – something she had experienced first hand.
"I moved from the Anglican Church to the Uniting Church partly for that reason," she said.
"The church I started at in Darwin believed women shouldn't preach to mixed audiences.
"My story gets more complicated because I started dating a woman, and I knew that would cause problems in the Anglican Church.
"Now I can be openly queer as I am, I can be a woman and I can be in leadership, and that's accepted."
Ms Aitken will be joined on stage by Environment Minister Lauren Moss, radio personality Jo Laverty, Former Anti-Discrimination Commissioner Sally Sievers, actor Nicky Fearn, poet Kaye Aldenhoven, hospitality personality Katharina Draude and Yes campaigner Jade Ritchie to bring I'm With Her to life.
It promises to be a confronting and uplifting celebration of women fighting back, surviving and never giving up.
I'm With Her makes its Territory premiere on August 12 at the Darwin Entertainment Centre.
'More party, more champagne': Inside Blanc de Blanc's Encore tour
For hula hoop artist Jess Mews, travelling with an international circus troupe to perform for buzzing crowds across Australia is "not your average nine-to-five".
Having trained in circus artistry for 15 years, Ms Mews will perform in Blanc de Blanc Encore's risque comedy and high-flying cabaret.
"(I've) been doing the show for quite a few years but it takes at least two weeks, if you're brand new, to learn all the choreography," she said.
"It's a two hour show, it's a lot to learn."
Blanc de Blanc Encore marks the troupe's first return to Darwin since 2019 and is best described as "episode two" of the world-famous cabaret show.
"You never know what to expect," she said.
"If you saw the original show, get ready for more party, more champagne and more fun."
Ukrainian contortionist Misha Makarov said it was an honour to perform in Australia alongside elite performers from Mexico City, Montreal, Los Angeles and London.
He said working on a major production such as Blanc de Blanc Encore was "very fun" and an emotional experience in some cases.
Mr Makarov said it was his first time visiting Darwin.
"I love it, there's a lot of crocodiles and nice people," he said.
Darwin Festival artistic director Kate Fell said performers in the Blanc de Blanc Encore act were among 850 artists in this year's Darwin Festival line-up.
She said this year's festival would be full of joy, connection and a "beautiful sense of optimism".
With artists from the NT as well as a pool of global talent flying to Darwin to entertain, Ms Fell said she was thrilled to have created a festival that was just as much "about this place" as it was for it.
"It's a celebration and everyone who lives here in this place knows how special it is," she said.
"There's so many people that come here as well – they come for the festival, we saw that last night at Country to Couture, you will see that in the Aboriginal Art Fair over the weekend, and then the music awards.
"People are coming from all around Australia to experience Darwin at its absolute best."
More information can be found on the Darwin Festival website.