LIFESTYLE
Couple boards flight, abuse flight attendant when asked to wear mask – THIS is what cabin crew did next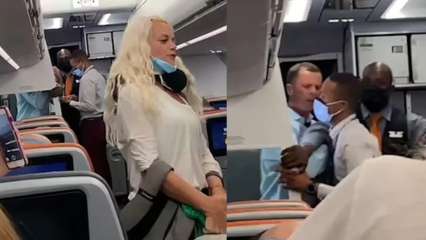 The coronavirus is wreaking havoc in the world and doctors and experts have all warned citizens to wear a mask and follow all social distancing protocols, however, there are still a few people who do not follow these instructions and behave immaturely towards them.
A similar case happened in Florida, USA, where a couple boarded a flight without a mask, and when the cabin crew members asked them to put their face masks on, they started abusing the flight attendant.
The video of the incident went viral on social media as well where the couple created a ruckus on a JetBlue flight from Florida's Fort Lauderdale Airport to San Diego, California. However, keeping all the other people's safety in mind, the cabin crew took action against them and thrown them out of the plane.
The video of the incident was made by another passenger on the flight who shared it on Instagram as well. In the video, the male passenger is seen shouting and abusing the flight attendant. At the same time, the female passenger is appealing to make the video viral, while her 5-year-old child is crying.
In her argument, the woman said that the argument started after her five-year-old son's face mask was removed. The woman said, "My son accidentally took off his face mask. I tried to put it back, but it was not working. After this, the flight attendant asked us to get down with our luggage. That's all that happened."
After the incident, JetBlue has reportedly told DailyMail that the couple was asked several times to wear masks for air travel, but when they refused to do it, they were asked to leave the plane. In a statement, the airline said, "The safety of other passengers and crew is our first priority. The couple has also been banned from traveling in the future."