LIFESTYLE
Couple Goals! Groom takes aashirwaad from bride at wedding, netizens applaud couple – WATCH viral video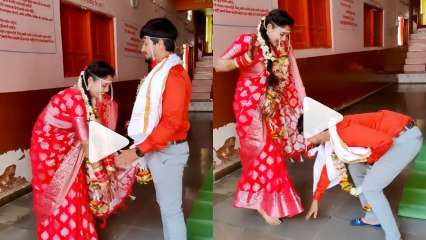 India weddings have a ritual where after the wedding is completed the bride has to touch the groom's feet. This ritual is a part of the wedding since ancient times and is considered backward or sexist by many in today's day and age. Many believe that why it should be just a woman who touches the groom's feet, why can't the groom do the same? But it's the 21st century and as we are evolving as a society, many couples don't feel strongly about the age-old customs and rituals and prefer not doing it altogether or doing it equally. 
In the latest trend of wedding videos, this one is special because the groom sets a perfect example of how a couple and marriage as a whole should be equal. 
The video shows a newlywed couple standing facing each other after all the other rituals are completed. The bride bends over to touch her groom's feet as a part of the wedding ritual but what happens is surprisingly refreshing. As the bride bends over, the groom stops her and in fact bends over as well to touch his bride's feet. This video can be an example of what an equal marriage can look like and how it should be. 
Take a look at the video:
The video was uploaded by an Instagram user Piyush Avchar. The video has been viewed and liked by more than 20 lakh people. People are congratulating the couple, applauding the groom's move in the comments section.