INDIA
'What people want': Norman drops LIV Masters bomb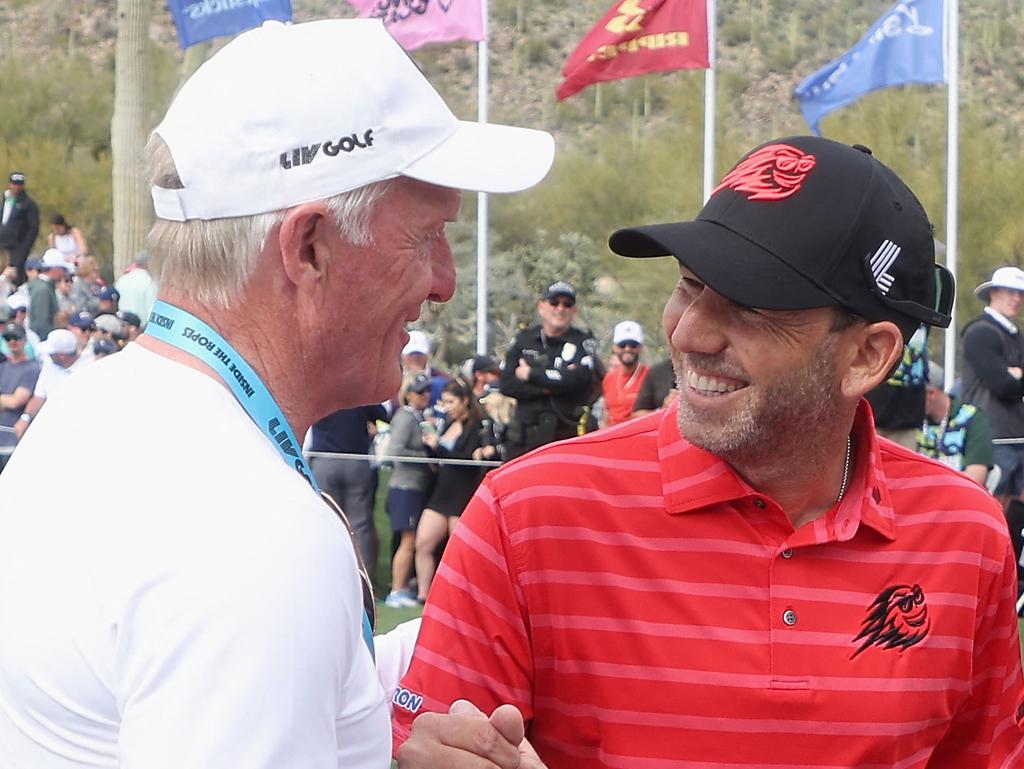 Should Brooks Koepka take his red-hot LIV form to the Masters this week he could have 17 of his fellow converts cheering him on at the 18th hole at Augusta next Sunday.
LIV Golf Commissioner Greg Norman has declared that's what his players were telling him they were going to do should one of their cohort, which includes Australian star Cameron Smith and former champions including Dustin Johnson, win the green jacket.
The presence of the 18 LIV players, who have been banned by the PGA Tour, at Augusta has dominated the lead-in and Norman, in Orlando where Koepka will take a three-shot lead in to the final day, declared the TV ratings of a showdown on Sunday between Rory McIlroy and "one of my guys" would be unlike anything golf had seen.
Read Next
Creating an us-against-them mentality at the majors was never part of the LIV plan for Norman, who said organisers of the four major championships should have "always been Switzerland" and remained neutral amid ongoing lawsuits between LIV players and the PGA Tour and a world rankings blackout which could hit their ongoing qualification.
But having created disruption in the game, Norman said there was no denying the energy a Sunday showdown could create.
"I complement the Masters on letting the players play because now they have got the best field and they are actually now the true Super Bowl," Norman told NewsCorp on Saturday.
"But if I'm the Masters right now, I would want, on Sunday, DJ or Brooks or Cam, any of the guys against Rory (McIlroy) and Jon Rahm. Can you imagine what the TV ratings would be like?
"It's what people want, It's what the TV wants. The ratings will be far higher than any other ratings if you've got Rory playing any one of our top guys."
Norman is adamant his "guys" will be vying for the green jacket too, having tricked up the greens at Orange County National golf club to help their preparation.
But he pointed to predicted wet weather at Augusta as also potentially playing into the hands of guys like Smith, Johnson and Koepka.
"They are so focused. We got these green speeds up around 13 right now, they'll be a little bit quicker tomorrow, so they're working their way into next week, but next week, it's going to be a washout," Norman said.
"The golf course is going to soften, and suit a couple of my boys. It's going to be a big, long carry golf course. You know, Cam carries the ball a long way, DJ, Brooks too."
And should that convert to a win, Norman said whichever one is standing on the 18th green could have a LIV cheer squad there to support them, an image the Australian legend said "gives me goosebumps".
"There's talk in our teams all around here, there are 18 or us LIV guys at Augusta and if one of the guys, no matter who it is, they are all going to be there on the 18th green, they are all going to be there, and that just gives me goosebumps to think about," he said.
"When you walk up 18, your caddy hugs you then you see your wife or your mum and dad. Now to have those 17 other guys there, that's the spirit we want," he said.
"That's what these guys talk about. They are saying no matter who wins, no matter who is in that position, we are going to be there.
"And that just gives me goosebumps to think about."
Read Next