WORLD
Melbourne Royal All Breeds Championship Show competitors reveal why they exhibit their dogs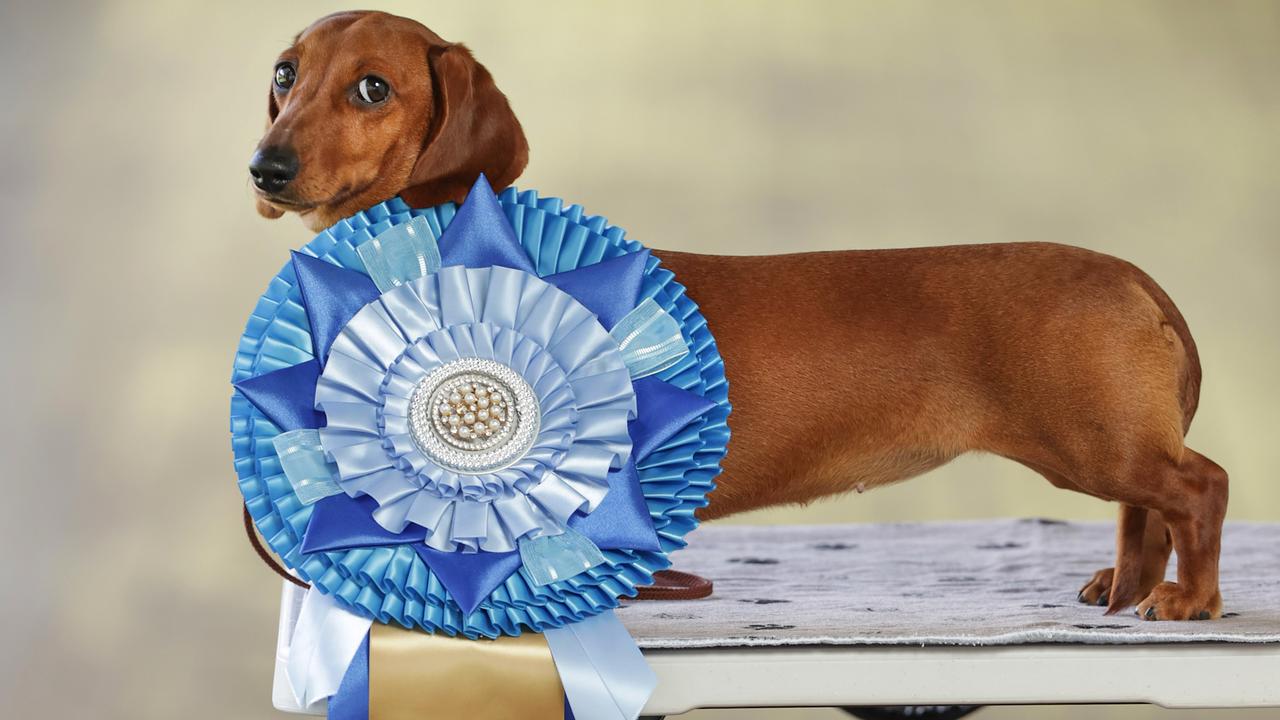 Regular 4am starts. Driving thousands of kilometres across the country. Spending hours bathing and grooming prized pooches only to have to exhibit them in ankle-deep mud. All in pursuit of the coveted Best in Show blue ribbon.
This is the reality of life for a dog show exhibitor – but the people who have taken on this "obsession" wouldn't trade it for the world.
"We've all got our quirks – you have to be a bit crazy to show dogs," says miniature smooth-hair dachshunds exhibitor Corrienne Irvin.
"We get up at ridiculous hours of the morning, we drive thousands of kilometres, we spend thousands of dollars on competing – on accommodation, equipment, and so on – for pretty much a 60 cent ribbon.
"But it's what that ribbon represents. Whether it be for best of breed or Best in Show, you take huge pride in breeding that puppy and seeing that puppy develop into a competitive show dog."
Sue Moore, who has been exhibiting and breeding Old English sheepdogs with husband Chris for decades, adds: "The dog world is highly competitive. But at the end of the day … showing is something that bonds us to our dogs."
Linda Dempsey agrees, adding she started off exhibiting one of her pet British bulldogs, Matilda, 25 years ago and "got hooked".
Linda, Corrienne and the Moores are gearing up to contest one of the Southern Hemisphere's most prestigious dog events: the 151st annual Melbourne Royal All Breeds Championship Show.
More than 2600 dogs across 194 breeds will compete over the course of the Melbourne Royal Show, vying to be crowned the best of their breed, then best in group and ultimately, Best in Show as the competition's overall top dog on September 30.
Chris considers Melbourne Royal "the pinnacle" as "the largest show in Australia to come and see dogs of all shapes and sizes".
"Our first was in 1972, and we've shown at almost every Melbourne Royal Show since," he says. "We've won best of breed many times, but we've never won Best in Show there. That's the aim."
Chris inherited his passion for showing dogs from his mother, Effie, and has competed continually, in every state of Australia, for half a century. His wife, Sue, and their son, Jason, are now part of the team exhibiting under the prefix Perfu, which has been the nation's leading Old English sheepdog breeder since 2013 and produced 56 champion show dogs.
Among them was Roger, a US import who notched a remarkable 87 Best in Show titles at various events throughout his career – a record for a sheepdog in Australia.
The Moores are exhibiting three of Roger's descendants – Sugar, 2, Felix, 18 months, and Mr Biggles, 4 – at this year's Melbourne Royal Show. They're hoping the dogs' blue-ribbon pedigree, coupled with a recent run of good form, will land them that elusive Melbourne Royal Best in Show victory.
"Mr Biggles is the top Old English sheepdog in Australia for best-in-group wins, and Sugar is the top sheepdog in Australia for best-of-breed wins," says Chris, who is based in Beaconsfield. "So we have two of the top dogs showing in Australia at the moment."
Sue adds: "But ultimately, we can have them trained, presented to the best of our ability, and it all depends on what the judges like."
The Moores have also entered four-month-old puppies Gracie and Kanga.
Corrienne "knew nothing about show dogs" when the breeder she bought her first dachshund from encouraged her to exhibit 22 years ago.
"I attended my very first show with my little black and tan, Trudy, and came third in a class of three," she recalls. "But I absolutely had a ball and the fellow exhibitors were really encouraging. (Getting) a second dog didn't take much encouragement. It just grew from there. I was bitten by the show bug."
A few years later, Corrienne bred her own litter of miniature smooth-haired dachshunds – a tiny variety that is not expected to exceed 5kg in weight. Her Yea-based kennel, Berghutte, has since produced 34 champions, including multiple Melbourne Royal best of breed winners and the Dachshund Club of Victoria's 2017 Best in Show victor.
Her latest champion is 21-month-old Grace – also known by her show name "Gold for You N Me" – who beat more than 500 other dogs to claim Best in Show at an East Gippsland contest earlier this month. Grace will be sitting out the Melbourne Royal Show, but her sister Sophie, aka "Golden Girl", will compete alongside two-year-old Barney, or "Dream Time".
Corrienne says it has been "a long time" since a dachshund has won Best in Show in Melbourne – and she's hoping 2023 will be the year that changes.
For Linda, showing quickly became "an obsession". A quarter of a century after she began, the Skye woman is president of the British bulldog Club of Victoria and has exhibited about 30 champions across Victoria, NSW and South Australia under the prefix Janayin.
One of the champs to come out of her kennel is Arthur – a three-year-old "mummy's boy" who Linda feared may never see the show ring since he was born during Covid. Linda and her partner, Jeff Jansz, will show Arthur and another young bulldog, Rosie, in Melbourne.
"I worked very hard with him on socialising and training, and now he's probably the most obedient of all my dogs," he says. "His father, Harry, was a brilliant show dog and he's passed that on to Arthur."
For each of these competitors, showing at Melbourne Royal begins with a 4am alarm and hitting the road to the Showgrounds before the sun comes up. But they are essentially always preparing for competitions, by making a quality diet, training, and regular exercise and grooming part of their dogs' day-to-day lives.
The final pre-show bath is key for the Moores' fluff balls. Given they'll be taking five sheepdogs into the ring this Melbourne Royal Show, they'll need to set aside "five to six hours".
"We have a dedicated room for bathing the dogs, with four blowdryers imported from the US," Chris says. "It's like a day spa."
Sue adds: "They also get their feet trimmed, and their ears and teeth cleaned."
On competition day, the Moores will then spend "an hour per dog" brushing them to ensure "everything's fluffed up".
"(Getting them ready) takes several hours, then they're in the ring for about two minutes," Sue says.
Chris adds: "We run them in the ring, judges who've come from all over the world have a look at their teeth, ears, eyes, and sometimes they walk them around a bit faster."
Chris says after competition, "the dogs are like magnets to the crowd". "We get lots of inquiries – we're talking about the Dulux dogs here," he says.
Corrienne keeps her dachshunds on "a really strict food regime" comprising raw meat and vegetables, egg yolks, sardines and kibble, plus three bones a week for their teeth. It's important she "(gives) them variety, and (makes) sure they're getting amino acids and the right oils for a shiny coat". Linda has a similar diet for her bulldogs, for whom daily exercise and "a little bit of training, but not too much to the point where they become bored" are also important elements of preparation.
Grooming these short-haired pooches pre-show is also vital, but much less time consuming than the Moores' routine. "I call them my 'wash and wear' dogs," Corrienne says of her sausages. "Bathing, drying and putting coat conditioner though takes 20 minutes."
Linda adds: "Daily maintenance takes no more than five mins – a quick clean of the wrinkles and baby powder to get them dry. We groom and powder them on show days, mostly to settle the nerves."
The views that show dogs are wrapped up in cotton wool or worse, mistreated, are total misconceptions.
"They have a very normal dog life – they don't just get primped and preened and put on display," Corrienne says of her dachshunds. "Our dogs love to run in our large backyard, we have a dam where they chase ducks. They go for walks (and) love nothing more than to sit on our laps at night."
Her pooches have distinct personalities – Sophie is "a talker" who "makes a funny little 'grr' to get my attention (and) a tummy rub", while Barney is "quite courageous for a small dog" and always happy.
"Even in the show ring, while we're waiting for other dogs to be judged, he'll do a little dance," she says. "He's a real showman."
Arthur is "devoted" to Linda, while Rosie is a "free spirit".
"People who meet them at shows, when they're on their very best behaviour, get an absolute surprise when they come here (to our home) – they get mobbed by bulldogs at the gate," she says.
At the Moore household, Sugar was named for the fact she is "sweet as sugar" and follows Sue everywhere, while Mr Biggles "is everyone's friend". "We've never heard him growl," Sue says.
Felix weighs 40kg but sees himself as "a lapdog". "(Traditionally) sheepdogs would sleep in huts with their shepherds," Chris says. "So they very much bond with people."
The exhibitors do agree the 2000 film that catapulted dog shows into popular culture – Best in Show, starring Christopher Guest, Eugene Levy and Catherine O'Hara – is pretty spot on.
"Parts of it are really surprisingly accurate," Linda says. "The Busy Bee scene, where (Parker Posey's character) loses the dog's squeaky toy, I've been guilty of that."
Sue adds: "Some people (in show circles) were offended by it, but you have to be able to laugh at yourself."
They also all say while it's a competitive community, there is genuine "sportsmanship and camaraderie within the dog world".
"Like any competition, you've got your rivals and it's not always friendly," Corrienne says.
"We all go out to win. We've all competed in lightning and thunder. One of the funniest things I can remember was up in Albury Wodonga, we were showing in ankle-deep mud and one of my fellow exhibitors' shoes got stuck while she was running around the ring with her dog. She was so focused on her dog, she did not skip a beat and kept running bare foot.
"But it's not just about winning. It's about being able to speak with like-minded people, hearing the knowledge they have about their breed, learning from them. (Dog shows) are quite a social scene, and it's something all ages and abilities can do.
"I've made lifelong friends. And your dogs, they give 100 per cent because they just want to please you. They love you no matter what."
Melbourne Royal Show runs until October 1. royalshow.com.au
Originally published as 'You have to be a bit crazy': dog lovers on their pursuit of the Best in Show blue ribbon