WORLD
Emperor's Garden cream puffs are Sydney's cost of living index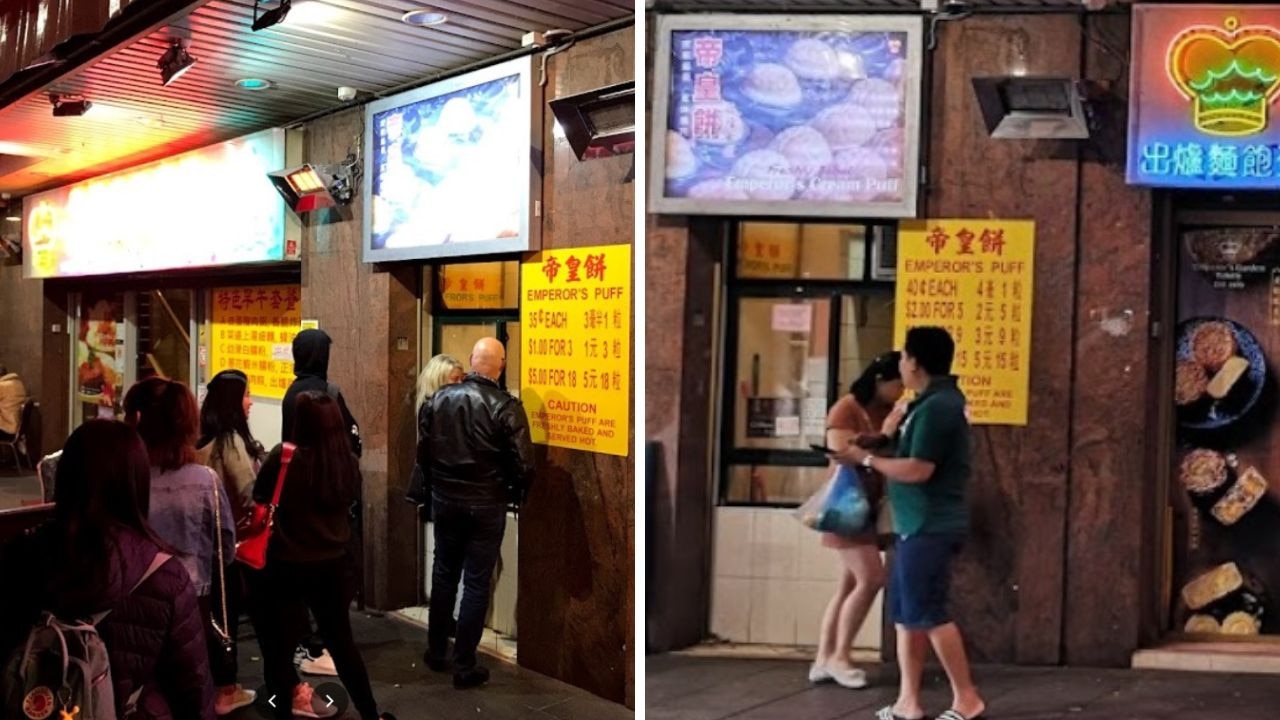 In the heart of Sydney's Chinatown exists a local institution, with clientele made up of loyal consumers with no issue travelling from far and wide for its array of delicacies.
On a gloomy Monday morning, eager customers filtered through the doors of Emperor's Garden in Haymarket, leaving a few minutes later with buns, pastries, and its famous specialty cream puffs.
The puffs have made a name for themselves as some of the best in the city, and aptly come with a temperature warning on the pricing menu displayed at the store's entrance.
"Emperor's puff are freshly baked and served hot," the message of caution reads.
Throughout the years, the popular item has oddly become somewhat of a symbol of Sydney's cost of living index.
In the business's earlier days, the bite-sized pastries could be purchased for just 30 cents each, or in a bundle of four for $1.
Later on, they increased to 35 cents, and climbed steadily over time in line with inflation.
They remained at 35 cents for several years until pressing up to 40 cents in 2019 and they stayed that price until December 2021, when they jumped to 45 cents.
The buns were sold at 50 cents for a few months until jumping once more to 55 cents in mid-2022, before climbing to their current price of 60 cents later in the year.
The steady incline in price and its relativity to the soaring cost of living has prompted locals to describe it as the "true cost of living index for Sydney".
Despite the gradual price hike, most shoppers who passed through on Monday told news.com.au it would essentially take the business closing down to stop them spending their money there.
A man who picked up a few buns said he frequented Emperor's Garden about twice a month, and would continue to do so unless it closed down.
"The price is going up but I will still keep coming, as long as they don't close," he said.
The shop, which can often be seen with a trail of customers down the street, was also visited regularly by a woman who found it impossible not to stop if she was passing by on her way to work.
She had been doing so for about six months, but admitted she was nervous about prices going up.
"I think I would still come if there was a 10 or 20 cent price increase, but maybe not if it's $1," she explained.
For a woman living in Hornsby, more than 30 kilometres out of the CBD, Emperor's Garden was the only place she had been able to find quality traditional Chinese food.
She joked it would be impossible for her to stop buying from the shop even if the prices lifted further because her kids were obsessed with its sweets and cakes.
"We come a few times a year, usually on school holidays and after we've gone to Luna Park," she said.
Another shopper had a similar perspective, telling news.com.au the business would be likely to survive through anything given how loyal its regulars were.
"I come once a week and get buns and pastries. It's the only place you can buy things like this," she said.
"Regular customers will keep coming back because they've already increased the prices a bit."
For several years, the business had been a weekly visit for a mum who typically purchased the bread, sweet buns and curry puffs, but she conceded price increases could disrupt her routine if they were too significant.
"I'll still come if the prices go up a little bit, but two or three dollars per bun would be too much," she said.
Inflation forces businesses closed
Operating costs, staff shortages, soaring rent prices and ongoing after-effects of the Covid pandemic have forced the closures of several formerly bustling businesses across the country.
Owners have had no choice but to jack prices up in attempts to stay afloat, but many have still been unable to get out of the red.
The upsetting streak of closures, which included popular Sydney Italian restaurant Caruso's and South Australian eatery Seed Clare Valley, comes after a devastating analysis from The Australia Institute last month found excessive corporate profits – and not Australian wages – were behind Australia's skyrocketing cost of living, described as the "profit-price spiral".
It found inflation would have stayed within the RBA's target if companies had not squeezed consumers through the pandemic with excess price hikes and "gouging".
But instead, the RBA has focused on a "wage-price spiral" which director Dr Jim Stanford said did not actually exist, arguing that the pressure placed on Australians to have their essentially have their wages reduced was "misplaced and unfair".
Citing a recent Finder survey which found 51 per cent of Aussies attempting to cut back on spending were reducing their dining and drinking out habits, while 36 per cent were limiting how often they go to events such as to the movies, sporting games and concerts, CreditorWatch chief economist Anneke Thompson said it "emphasises the risk of this sector, as business owners will now not only be grappling with high costs, wages, interest payments and rents, but also lower demand".
Keep the conversation going, email brooke.rolfe@news.com.au