WORLD
Quad Series Netball 2023: Australia Diamonds vs New Zealand Silver Ferns, umpiring controversy, score, result, video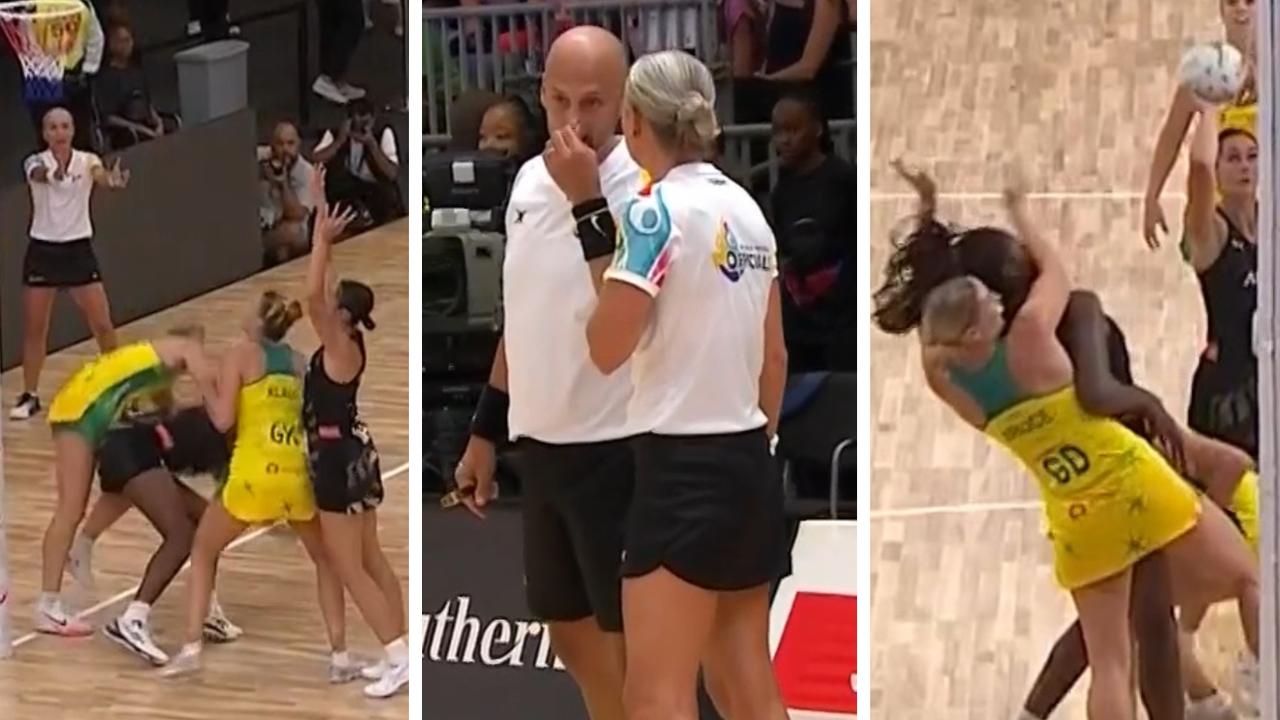 Australia has won another Quad Series title after a defeating arch rivals New Zealand in a final marred by one of the most controversial moments of umpiring in recent netball history.
The Diamonds overcame an early deficit in Cape Town to claim a 56-50 win over the Silver Ferns, but it was an incident in the fourth quarter that had players and commentators in disbelief.
Watch the 2023 Quad Series, Live & Free or catch up with Kayo Minis. Join now and start streaming instantly >
As New Zealand captain Ameliaranne Ekenasio nailed a goal, her teammate Grace Nweke and Diamonds defender Courtney Bruce tangled off the ball in a scuffle that sent them both fall to the court sprawling.
But distracted by the argy bargy, umpire Anso Kemp said she didn't see the goal, even though she started to signal it had gone in.
Fellow umpire Gary Burgress said he missed the goal as well because he was watching downcourt instead.
The two umpires conferred and decided that because neither of them had watched the ball go in the hoop with their own eyes and without access to a VAR-style replay system, Ekenasio's goal couldn't count.
In bizarre scenes out of a basketball game, the umpires decided to have a toss up, which is rarely ever seen in netball.
Commentator Jenny Woods said: "How is it you have a situation where neither umpire sees whether or not the goal is scored. It's extraordinary.
"This is nuts! We have proof of the goal being scored.
"Surely they could have gone to the bench!
"We have seen everything now in this game."
Australian legend Cath Cox was left stunned by the umpiring controversy.
"I cannot believe my eyes!" she said on Fox Netball
"We'll have to make sure that doesn't happen again. Wow, wow, wow.
"I haven't seen that happen in any game I can remember."
Remarkably, Kemp told Burgess the goal "wasn't scored" so he declared it should be a "throw in Australia".
"I don't know what to suggest if I'm honest," Burgess said in words you never hear out of a sporting official's mouth."
The incident overshadowed an excellent comeback by the Diamonds after they conceded 19 goals in the first quarter.
Neither team made a substitution throughout the game as both coaches opted to keep their starting line-up on court for the full 60 minutes.
Nweke was one of New Zealand's best with 39 goals at 87 per cent accuracy, while Australian goal attack Steph Wood once again put on a clinic in the front third alongside Cara Koenen.
Veteran wing defence Ash Brazill, recalled into Australia's squad after missing the second half of last year, staked her claim for a spot at the World Cup with several intercepts and deflections.
The victory sealed Australia's seventh Quad Series title and is a welcome confidence boost for the Diamonds ahead of the Netball World Cup in South Africa in July.
The World Cup, held by New Zealand, is the only major trophy missing from Australia's cabinet after a successful 2022.
Watch Quad Series final replay on Kayo Freebies or catch the highlights on the Kayo Mini.