WORLD
Super-light shoes help Ethiopian runner Tigist Assefa into record book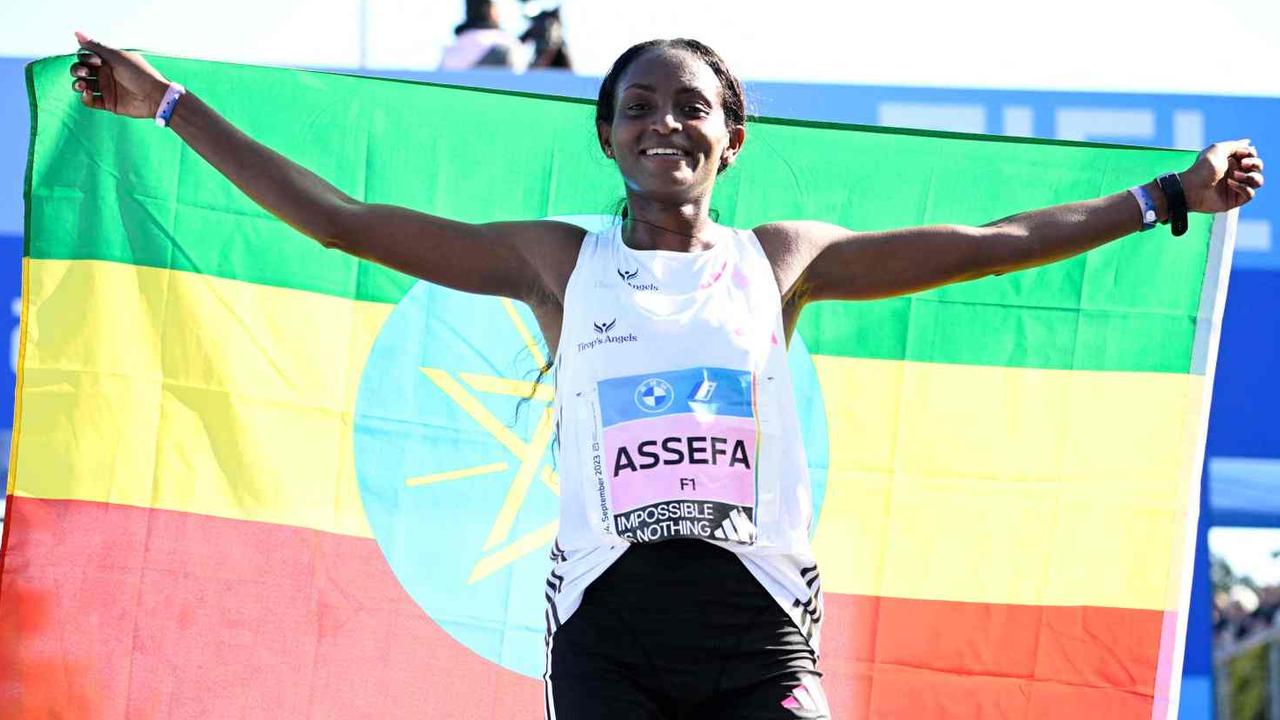 A performance on the streets of Berlin obliterated the women's world marathon record on Sunday – thanks in part to a pair of super-light £400 shoes ($760).
Tigist Assefa crossed the finish line seven seconds inside 2hr 12min, beating the previous record by more than two minutes. She ran the second half of the 42km race faster than the first, with a closing 65:33 that would have eclipsed the world record for that distance less than a decade ago.
Assefa, 29, covered the final 200 metres as if she was racing over a mile, passing Jared Ward, an American who finished sixth in the men's Olympic marathon in 2016. Charlotte Purdue finished more than 10 minutes behind her but still became the second-fastest British woman in history, behind Paula Radcliffe, with 2:22:14. When Assefa stopped the clock, at 2:11.53, Purdue was the best part of two miles behind.
Read Next
Had Brigid Kosgei been running at the pace she maintained when setting the previous record of 2:14:04, she would have been nearly half a mile back. The mark of 2:15:25 set by Radcliffe – which stood for 16 years until Kosgei's effort in Chicago in 2019 – is now exposed as distance running from a different era.
Radcliffe competed in standard Nike road racing shoes with none of the technology that has revolutionised the sport. Assefa was running in £400 Adidas Adizero Adios Pro Evo 1 shoes, which boast carbon rods and weigh less than 138g.
Her winning time is sure to reopen the debate around shoe technology. But her shoes comply with World Athletics regulations and the sport is simply going to have to accept that distance running is being redefined.
Like Eliud Kipchoge, who clocked the fifth-fastest time of his career to win the men's race with 2:02:42, Assefa is a phenomenon. The Ethiopian competed over 800m at the 2016 Olympics, only switching to road running in 2018. Her debut at the marathon came last year, in March 2022, when she finished seventh in Riyadh with 2:34:01 but she won in Berlin a year ago with the third-fastest time in history; 2:15:37 – again with a second half better than her previous best for the half-marathon distance.
By midway yesterday (Sunday), reached in 1:06:20, Assefa was on course to smash Kosgei's record by more than a minute. But she got faster – briefly faster, even, than Kipchoge's world record pace of 2:52 – by running the next kilometre in 2:48. She covered the next 10km in 31:02; good enough to claim bronze in the Commonwealth Games 10,000m final won by Eilish McColgan in Birmingham last year. Assefa reached 40km with a 5km split of 15:32 and accelerated again to finish almost six minutes clear of the next woman.
"That I broke the record with such a result was not expected for me," she said. "But in some form I wanted to break the record." Seemingly it was beyond even her imagination.
The Times
Read Next
Comments