Lifestyle
Dulhan to 'chaat' pasand hai! Bride eats chaat and golgappas in front of guests during wedding, WATCH viral video here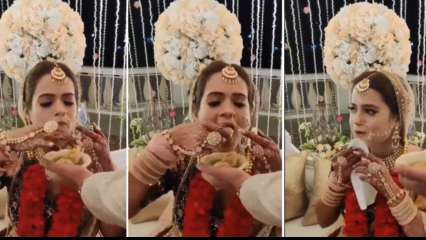 Indian weddings are full of drama, colours and cute moments and Indian wedding videos often make for a wonderful watch. Since the wedding season is on in full swing in India, social media is full of funny Indian wedding videos which are getting viral.
One such video that has now gone viral on social media shows a bride eating 'chaat' and 'golgappas' in front of the wedding guests. The video is a proof of Indian girls love for golgappas.
In the viral video, the bride can be seen sitting on the stage dressed in full makeup and bridal outfit and enjoying 'golgappas' and 'chaat'. A man can be seen holding a bowl of 'golgappa' and 'chaat' in his hand and the bride is eating it without thinking about anyone present at the wedding.
Now you must be thinking that where was the groom when the bride was enjoying 'golgappas' and 'chaat'. According to the caption shared with the wedding video, the groom was busy with his prayer at that time and the bride took advantage of this to fulfill her desires.
Earlier in a video, the bride can be seen puffing out rings of smoke in front of the guests while sitting with the groom and other family members at the dinner table. Though the smoke coming out from her mouth looks like she is smoking a cigarette or something like that but there is no cigarette in her hands. It seems that the bride is eating some dish from which smoke is coming out.