LIFESTYLE
Dulhe ka dance! Groom surprises wedding guests with 'desi dance' as bride enters wedding venue – WATCH viral video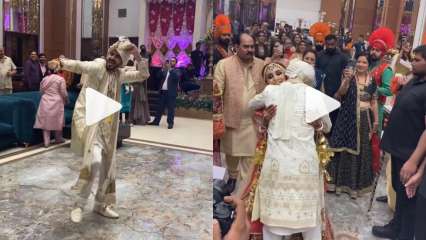 Indian weddings are incomplete without the bride and groom and their star-studded glamorous entourage. When a bride enters a wedding venue with her brothers and friends in tow, it is one of the most beautiful sights for any wedding guest. However, the most excited to see his bride is arguably the groom, who looks at his better half all dolled up for their big day. 
In a video that is going viral on social media, the groom seems so excited to marry his to-be-wife that he can't help but dance to welcome her to the 'mandap' for the festivities to begin. 
In the video that is going viral on Instagram, the bride can be seen entering the wedding venue with her brothers and friends following her, however, what is exciting to see is that as soon as the bride enters the venue, the groom can't help but dance with sheer excitement. 
In the video, the groom can be seen dancing his heart out and welcoming his bride to the wedding venue. The groom also later, while dancing, walks up to the beautiful bride, dressed in Indian wedding attire, and hugs her lovingly. The wedding guests are so impressed with the groom's gesture that they scream and encourage the couple for their cute display of love.
The video was shared on Instagram by a user named 'The Chopra Event'. The page captioned the video saying, "Watch it till the end, the groom welcomed the most beautiful bride like this." 
So far, the video has more than 1,00,000 likes on Instagram with people praising the groom for his sweet gesture towards the bride.