WORLD
World Cup final: Kylian Mbappe wins golden boot, breaks records before cruel photo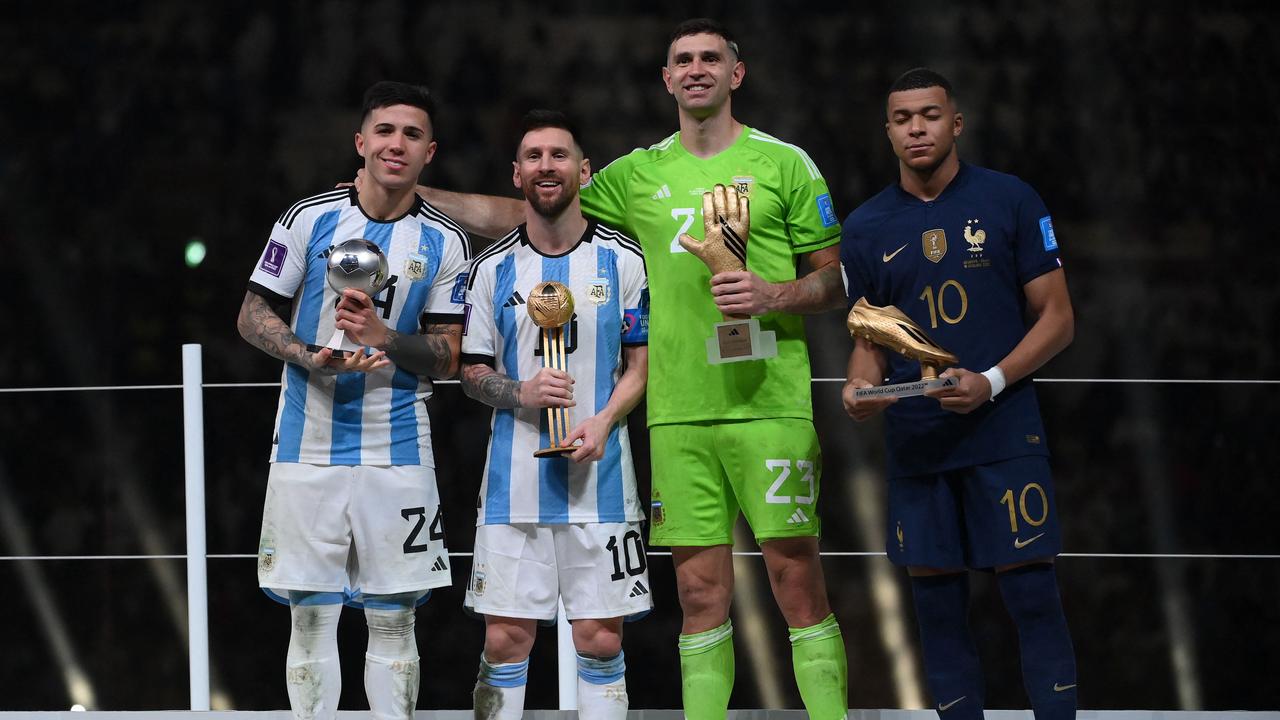 Of all Kylian Mbappe's moments of magic it seems cruel that the most iconic image of his campaign in Qatar is one of absolute misery.
The French freak was simply astonishing as he completed the first World Cup final hat-trick in 56 years, twice bringing France back from the dead.
He also slotted his kick in the gripping penalty shoot-out that saw Lionel Messi's Argentina crowned world champions, completing one of the greatest football matches ever played.
Mbappe was the central antagonist in the script written for Messi's World Cup fairytale — having come so close to cementing his own place among the greatest the game has ever seen — all at the age of just 23.
His list of records in the thrilling final included:
— His eighth goal saw him pass Messi to win the Golden Boot
— His hat-trick was just the second ever recorded in a World Cup final, following England's Geoff Hurst at the 1966 tournament.
— Having also scored during the 2018 World Cup final he became the only player to ever score four goals in World Cup finals
— Mbappe, who turns 24 on Tuesday, is just the second man to score in back-to-back World Cup finals
— He is already up to sixth on France's list of all-time top scorers with 36 goals, one behind Karim Benzema.
— Only Brazil's Ronaldo has scored as many times at a single World Cup over the past half-century. His 12 goals at the finals before the age of 24 have shattered Pele's previous record of seven.
— His 97 second brace was the first time a player had scored two goals in a World Cup final since Brazil's Ronaldo in 2002.
Sky Sports host Melissa Reddy described the battle as: "We are fortunate enough to be watching the best in the world and the heir to that throne trying to wrestle a World Cup for their nation. A historic match".
Mbappe, 23, went into the showpiece in Qatar level with Paris Saint-Germain, and Argentina talisman, Lionel Messi, on five goals in the tournament.
Messi himself had netted twice in the breathtaking final – making it seven goals a piece – when Mbappe was presented an opportunity to level things up in the 118th minute.
And he held his nerve under the highest of pressure to clinch the Golden Boot, and keep his nation's dreams alive.
Firstly, he scored a penalty of his own to get his side back into the game before restoring parity moments later with a fine volley. Those two goals came within 97 seconds of each other.
Mbappe wasn't finished there, scoring another spot-kick in the 118th minute to take the game to the tiebreaker.
"You cannot question the quality in the biggest of moments from one of the biggest players in the world to get his country back into the game," former England midfielder Jermaine Jenas said on the BBC.
"He's an absolute superstar. He was just waiting."
English legend Gary Lineker summed it up on Twitter: "Mbappe. Wow".
English great Gary Neville said on ITV: "Mbappe was absolutely amazing. Absolutely unbelievable how he brought France to life. Mbappe was terrifying for those last 15 minutes of normal time".
It's why the images of him looking devastated at full time seem unfair.
One image was particularly cruel as he was forced to pose with the golden boot alongside three celebrating Argentinian players.
His Golden Boot looked more like a slap in the face alongside Enzo Fernandez's award as the best young player at the tournament, keeper Emiliano Martinez's gong as the best shot-stopper of the tournament and Messi's Golden Ball award as the best player of the tournament.
He had to walk directly past the Jules Rimet Trophy as another reminder of what his team had lost.
He was earlier seen covering his face by lifting his shirt over his head before putting his head in his hands and was all alone slouched down on the team's bench before the official trophy presentations.
He was consoled by French President Emmanuel Macron, but it didn't appear to make any difference.
Sky Sports' Adam Bates said: "He looks a broken man".
He was.
"Many players broke records at this World Cup and Kylian has really left his mark," said France coach Didier Deschamps.
"Unfortunately he didn't leave it the way he would have wanted to and that's why he was disappointed at the end."
Mbappe will still be just 27 at the next World Cup in 2026.