WORLD
Education Secretary Cardona rips 'misbehaving' parents 'acting like they know what's right for kids'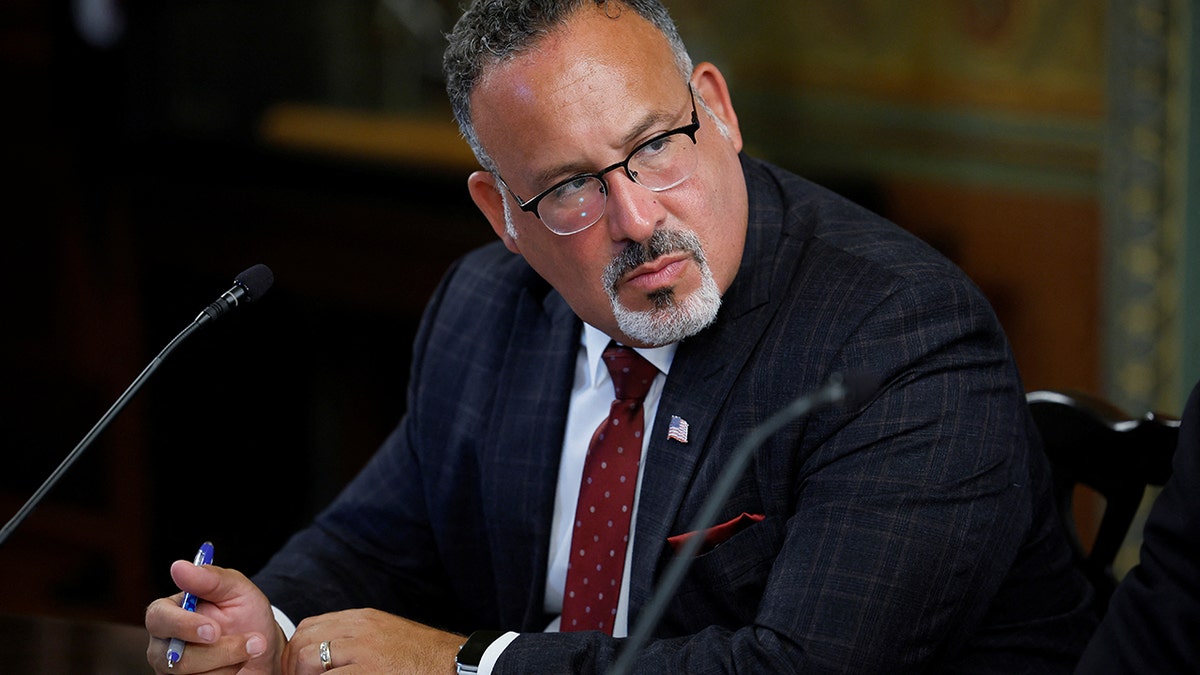 Secretary of Education Miguel Cardona said on Friday that he does not "respect" people who are "misbehaving in public and acting like they know what's right for kids."
Cardona gave a video interview with the Associated Press discussing the state of education in the U.S., including the recent Supreme Court decisions on race-based admissions and President Biden's attempt to relieve student debt.
Cardona was also prompted to address his past comments saying that public education was "under attack."
"I wonder whether this is something other education secretaries have had to grapple with," AP reporter Collin Binkley asked Cardona.
MINNESOTA UNIVERSITY TEACHES STRUCTURAL RACISM IS PUBLIC HEALTH CRISIS, PHYSICIANS 'MUST' BE ANTIRACIST
"I [sic] been in education, you know, about 25 years. Not including the time I was in higher ed as a student. I've never seen it where it is now," Cardona replied.
The education secretary explained further that while he doesn't have a problem with differences of opinion, and it was possible to discuss things in the past, he doesn't "respect" people who he claims behave badly in public.
"There was civility. We could disagree. We could have healthy conversations around what's best for kids," he said. "I respect differences of opinion. I don't have too much respect for people that are misbehaving in public and then acting like they know what's right for kids."
Cardona went on to say, "Or people that have a problem when we're trying to provide some support for those who are buried in debt complain about a 10 thousand dollar support for thousands of their constituents but are Ok taking over a million dollars in loan forgiveness themselves as an elected official."
"That hypocrisy–I want to call it out at the top of this conversation because there is a team that is fighting for kids and a team that is fighting against kids."
Cardona's comments caused a major backlash on social media, where they were interpreted as a swipe at outraged parents who have spoken out at school board meetings across the U.S. against COVID mandates, books they deemed inappropriate for children and critical race theory. 
Parents Defending Education President Nicole Neily posted his remarks on X to criticize the education secretary, saying he "openly dismissed thousands of American parents who have been speaking out at school board meetings."
GARLAND SAYS INCENDIARY MEMO DIRECTING FBI TO USE COUNTERTERRORISM TOOLS ON PARENTS NEVER RESCINDED
Neily sent FOX News Digital a statement saying Cardona's words show that he does not respect differences of opinion.
"Actions speak louder than words – and they reveal that Secretary Cardona does not, in fact, respect differences of opinion," she said.
"Look no further than the fact that in 2022, Cardona's Education Department chose to shut down its faux 'parents council' stacked with rubber-stamping elites rather than add any members who would provide viewpoint diversity, and was named by a board member of the NSBA [National School Boards Association] as the instigator of its now-infamous letter."
NEA SOCIAL JUSTICE TRAINER ADMITS CRITICAL RACE THEORY IN K-12 DESPITE CLAIMS BY UNION BOSS BECKY PRINGLE
The NSBA is the organization that sent a letter to Biden in September 2021 asking for parents protesting at school board meetings to be federally investigated, claiming school officials were facing threats and violence at meetings. 
Most significantly, the NSBA requested in its original letter that parents' actions should be examined under the PATRIOT Act as "domestic terrorists." The PATRIOT Act was signed into law in 2001 by President George Bush after the Sept. 11 terror attacks to combat terrorism and expand the boundaries of surveillance. 
CLICK HERE TO GET THE FOX NEWS APP
After the NSBA sent the letter, Attorney General Merrick Garland issued a memorandum that instructed the FBI to take the lead on a task force to address threats against school officials, including creating a centralized way to report such threats.
The NSBA eventually apologized for sending the letter and stated that such a move won't happen again. Moreover, the House Judiciary Committee released a report revealing that the Biden administration, in collusion with the NSBA, "misused" authorities to investigate parents at school board meetings.
The Department of Education did not immediately respond to FOX News Digital's request for comment.
For more Culture, Media, Education, Opinion and channel coverage, visit foxnews.com/media
FOX News' Hannah Grossman contributed to this report.