WORLD
Ex-California school resource officer charged after allegedly showing porn to teen girls on campus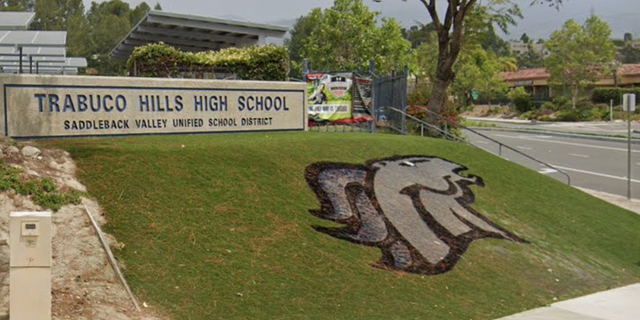 A former Orange County Sheriff's Office deputy was charged after allegedly showing teenage girls at a high school violent pornography that depicted a woman getting stabbed. 
Former Deputy Justin Ramirez is accused of showing four girls, who were 15 and 16 years old at the time, a pornographic video in September while the former deputy was working as a school resource officer, according to a press release from the Orange County District Attorney's Office. 
Two of the girls reportedly approached Ramirez's deputy car on Sept. 2 during lunch at Trabuco Hills High School in Mission Viejo, where the deputy showed the two girls "a pornographic video that included a woman being stabbed to death," according to the DA. Ramirez also allegedly showed the two girls another video that depicted "graphic drug use."
The two girls then allegedly called two other teen girls over to the car, where the former deputy allegedly showed all four girls the videos. 
FLORIDA SCHOOL RESOURCE OFFICER FIRED AFTER TAKING SEXUALLY EXPLICIT VIDEO, PHOTOS WHILE ON DUTY
"School resource officers are in our children's schools to ensure a safe learning environment and help build trust between law enforcement and our community," Orange County District Attorney Todd Spitzer said in the press release. 
"Ramirez had no business being in a position of trust around children – and he abused that position of trust in a truly disgusting way. Thankfully, the Sheriff's Department took swift action to investigate this criminal behavior and refer it to our office so that we can properly prosecute this deputy."
"I want him off the street. … [H]e abused his power and authority in the worst possible way."
An attorney for one of the girls, Michael Guisti, added that his client was called over to the car by a group of boys who were gathered to allegedly watch the pornographic video, CBS News reported. Guisti said the video "was described as two people humping." The DA's office, however, did not cite that male students had also seen the videos. 
SCHOOL RESOURCE OFFICER FIRED FOR IMPROPER CONDUCT WITH CHILD WITH AUTISM
Authorities were alerted to the incident after the mother of one of the students called the sheriff's office and complained. 
Guisti said Ramirez was actually dispatched to address the mother's concerns, but the mom had no idea he was the deputy she was complaining about.
"She poured her heart out to the guy," Guisti said, according to CBS News.
Sheriff Don Barnes called the mom soon after to apologize, and an internal probe was launched, the lawyer said.
SCHOOLS AROUND THE NATION CAN'T FIND ENOUGH RESOURCE OFFICERS
Ramirez has since resigned from the sheriff's office. 
"This pervert is targeting minors and showing them pornography that is both sexual and violent in nature," the mom said in a statement released by Guisti. 
"I want him off the street," she added. "He was in a position of trust so that he could protect people in Orange County. But he abused his power and authority in the worst possible way. No child should ever see what this sheriff's deputy showed my daughter."
CLICK HERE TO GET THE FOX NEWS APP
Ramirez was charged with one misdemeanor count of distributing harmful material to a minor. He is set to be arraigned on March 7 and faces a maximum sentence of one year in prison if found guilty.