LIFESTYLE
Fan asks Diya Mirza how much she charged for Global Citizen event, check out actor's reply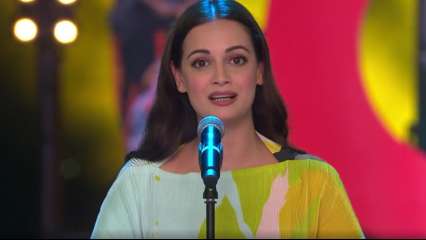 Actor Dia Mirza was a part of the Global Citizen Live event in Mumbai on Saturday. She took to Instagram to share a video from the event but had to field a rude question.
 In the comments section of her post, a person asked Dia, "How much did u charge for this event?" Dia responded, "Nothing." The person left a second comment: "Finally someone replied ..thanks."
Dia had thanked Priyanka Chopra for bringing Indian artistes together for the event. "Thank you Global Citizen for bringing us all together to #DefendOurPlanet for ALL people!!! What an extraordinary display of humanity. As always it was an honour and privilege. Thank you @priyankachopra for bringing us together," she wrote. "When we come together united as one people can we truly bring about the change we need to combat man made #ClimateChange! Let's all take steps to compel our governments, industry and institutions to #ActNow," she added.
Anil Kapoor, Kiara Advani, Sara Ali Khan, Ananya Panday, Janhvi Kapoor, and other celebrities attended the event. At the live event, rapper Badshah and other musicians performed.
Recently, her son came back home after spending a few months in the hospital.Talking about the same she posted a photo on instagrama and a part of her caption read, Dia shared an edited photo where she can be seen holding Avyaaan in her arms. While sharing the picture, she wrote, "Our story has only just begun Avyaan 15.09.2021 We are deeply grateful to many good people who took very good care of you Avyaan in the first 4 months of your life. Dr. Hari, Dr.Jui, Dr. Pradeep, Dr.Anish and all the nurses and @suryahospitals under the able leadership of Dr.Awasthi and Dr.Kabra We will be forever grateful for the care and love you received from all of them."
She added, "Dr. Nozer and Rajneet our baby is finally home And this would not have been possible without your response and timely care. A lifetime of gratitude to you Avyaan, you have taught us humility, grace, and the power of prayer  Stay blessed baby. You complete us in every way."
In the year 2020, Dia was last seen in Anubhav Sinha's 'Thappad'. She had a busy year in 2021, though, as she married Vaibhav Rekhi in February and welcomed their baby Avyaan in May.