LIFESTYLE
Farmer's son to Chairman of Rs 10 lakh crore Tata Sons: Read the inspiring story of Natarajan Chandrasekaran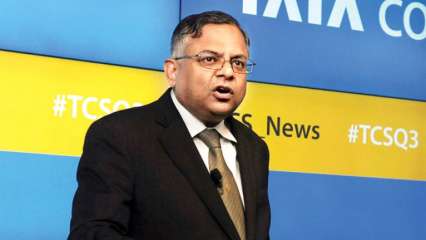 Ending up working in the family's farm would have been the natural trajectory for Natarajan Chandrasekaran, but his love for computers and programming took him towards a different fate. Chandrasekaran's father left his career as a lawyer to return to the family farm. Chandrasekharan gave farming a try but soon realized that would not be his career's direction. After completing his graduation with a degree in applied sciences, he was encouraged by his father to move in the direction of his passion for computers.
Leaving the family farm in Namakkal District of Tamil Nadu to choose computer programming over farming, Chandra, as the Tata Group chairman is fondly called in business circles, joing a post graduate course in computer science from the Regional Engineering College in Tiruchirappalli.  
He joined the Tata group in 1986 as an intern with Tata Consultancy Services (TCS). He joined the company full-time after 2 months as an engineer in 1987. Chandrasekaran has stayed a Tata employee ever since. In 35 years at the group, Chandrasekaran rose gradually, going into management in the 90s. Helping TCS become a household name across the world, he became the CEO of the company in 2009.
In 2017, he became the chairman of Tata Sons, the Tata Group's holding company, with interests in over 30 businesses including chemicals, automotive, consultancy services, hospitality and steel.
Today, he leads the group which has over 750,000 employees globally and was worth in excess of Rs 10 lakh crore, as reported in May 2021.
Chandrasekaran's widespread expertise comes from on-the-job learning and experience of successfully undertaking different projects. An impact leader not just for the corporate giant but also for the society, Chandrasekaran has taken forward the legacy of Tata chairmans like JRD and Ratan Tata of doing good for the society.
Under his leadership, Tata Group has emerged a leading corporate entity in the fight against COVID-19, committing over Rs 14,000 crore for activities related to COVID-19, ranging from setting-up hospitals and enhancing capacities of existing facilities with intensive-care units (ICUs) and COVID-19 wards. At one point of time, the group was responsible for providing 10 percent of India's demand for medical oxygen (LMO) during the pandemic.
As advice to others just starting out in their careers, Chandrasekaran says that people should follow their passion and go after what excites them. As quoted by a professional association where he holds a membership, he explains, "people will probably have two, three, or four careers in their lifetime, so it's a long game. If you're going to work 30, 40, 50 years or even longer, you should enjoy the process."