INDIA
First foreign commercial flight lands in Kabul post-Taliban takeover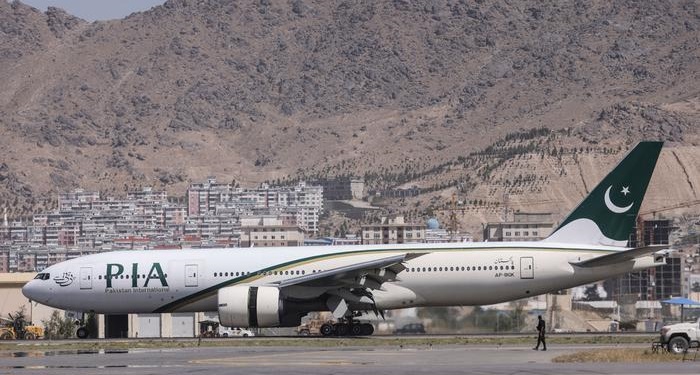 Kabul: Resuming flight operations after the Taliban takeover in Afghanistan, a Pakistan International Airlines (PIA) passenger plane from Islamabad touched down in Kabul on Monday morning.
PIA spokesman Abdullah Khan said in a statement that the service was a "special flight" to create "goodwill" with the people of Afghanistan and to "strengthen humanitarian efforts". The spokesman clarified to CNN that this was "not an aid flight".
PIA said the Boeing 777 aircraft departed Islamabad, Pakistan's capital city, at 6:45 am local time after special arrangements had been made by Afghanistan's civil aviation authorities and PIA's staff.
Foreign journalists travelled into the Afghan capital on the flight while employees of the World Bank were brought back to Islamabad on the return leg, the spokesman told CNN.
Last week, two Qatar Airways passenger planes, both carrying more than 100 foreign nationals, departed from Kabul and landed in Doha.
Kabul's international airport was severely damaged during a chaotic emergency evacuation of more than 120,000 people, including American and Western nationals, that ended with the withdrawal of US forces just before midnight local time on August 30.
The Taliban, who regained power in Kabul on August 15, was scrambling to get the airport operating again with technical assistance from Qatar and the UAE.
Afghan police return to jobs at Kabul Airport

A number of the former border police were seen on their jobs at Kabul International Airport in Afghanistan alongside armed members of the Taliban on Sunday.
The Taliban has asked the border police of the former government of Afghanistan to return to their jobs at the airport to work alongside them, reported Khaama Press. Earlier, the Taliban-led government had asked civil servants including those working in customs to work with them. However, it has not bothered traffic personnel, municipality staff and school teachers till now.
Earlier, the Finance Ministry had called on the staff of all customs to return to jobs, or they will be considered absent and will not be paid. Meanwhile, officials said that the finance ministry is working to pay the salaries of the staff of some ministries, reported Khaama Press.
People of Afghanistan have been asking the Taliban to recall former government employees, as they are familiar with the governance system of the country.