WORLD
Florida deputy shot 3 times during ambush walks out of hospital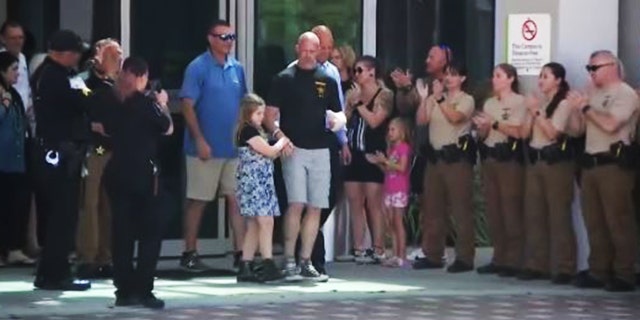 The Florida deputy shot three times by a suspect who "waited" before opening fire on officers last week has been released from the hospital.
Pinellas County Sheriff's Office Corporal Matthew Aitken, 40, was shot in the neck, hand and leg while responding to a vehicle burglary report on March 12, FOX 13 Tampa Bay reports. 
"He's a tough guy," Sheriff Bob Gualtieri told the TV station after the deputy left the hospital Friday afternoon. "But he needs to take it easy. He's got a bullet in his neck, his leg is OK, he's got problems with his wrist, but I have no doubt that he'll come back, and he'll come back strong because that's who he is."
The man accused of shooting Cpl. Aitken, 23-year-old Zion Bostick, was allegedly trying to break into cars just before 7 p.m. in unincorporated St. Petersburg when deputies were alerted and began to pursue the suspect, the Pinellas County Sheriff's Office said.
FLORIDA SUSPECT KILLED IN SHOOTING WAS 'WAITING' FOR DEPUTIES BEFORE OPENING FIRE, WOUNDING OFFICER: POLICE
Cpl. Aitken, 40, and his K-9, Taco, were accompanied by Sgt. Jake Viano, 49, as they tracked Bostick into a fenced backyard, where officials say the suspect was "waiting."
Police said the deputies followed the suspect and spotted him trying to hide behind a corner of a house.
Bostick opened fire, striking Aitken three times before shooting at Viano, officials said. Viano dodged the bullets and returned fire, killing the suspect.
MIAMI BEACH SPRING BREAK SHOOTING LEAVES 1 DEAD, SENDS CROWD SCRAMBLING
Viano and Taco were not injured in the shooting.
Bostick had a second gun in his right pocket, according to police, which had been reported stolen out of Manatee County.
He had an "extensive criminal history," the St. Petersburg Police Department said. 
Bostick's previous arrests include DUI, vehicle burglaries, drug possession and tampering with evidence, the station reported, citing jail records.
Fox News' Stephen Sorace contributed to this report.