INDIA
France unrest: Rioters Torch French Mayor's House, His Family Flees Through Backyard – Eflip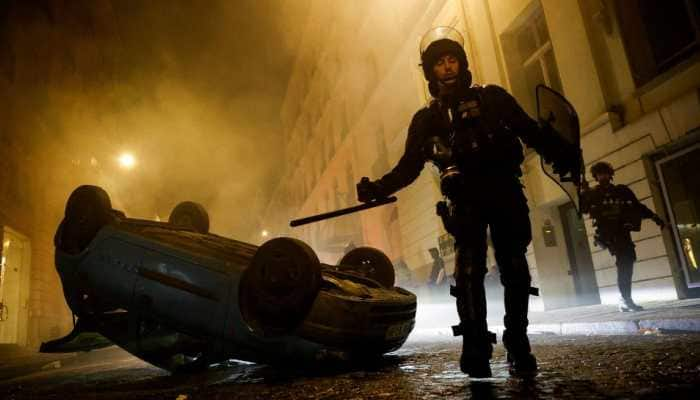 The home of a Paris suburb mayor was ram-raided and set alight while his wife and children were asleep inside during the unrest that has gripped the country following Tuesday's shooting of a teenager by a police officer, the official said on Sunday.

Vincent Jeanbrun, mayor of the southern suburb of L'Hay-les-Roses, said his wife and one of their two children, aged five and seven, were injured as they fled the building in the early hours.
Jeanbrun, from the conservative Les Republicains party, was not at home but at the town hall during the incident. The town hall has been the target of attack for several nights since the shooting and has been protected with barbed wire and barricades.
"At 01:30 a.m., as I was in the town hall just like the two previous nights, people ram-raided my home before starting a fire to torch my house, where my wife and my two young children were sleeping," Jeanbrun said on his Twitter account.

"While attempting to shield them and fleeing the attackers, my wife and one of my children got hurt."

The local prosecutor told reporters that an investigation into attempted murder had been opened. No suspects have been arrested.

The prosecutor said the woman was injured as she fled through the backyard of the house.

Rioting across France was less intense overnight, the interior ministry said on Sunday, as tens of thousands of police were deployed following the funeral of a teenager of North African descent whose shooting by police has sparked nationwide unrest.

The government poured 45,000 police onto the streets to try to keep a lid on a fifth night of unrest after Saturday's funeral of Nahel, a 17-year-old with Algerian and Moroccan parents, who was shot during a traffic stop on Tuesday in the Paris suburb of Nanterre.

Since then rioters have torched cars and looted stores, but also targeted town halls, police stations and schools – buildings that represent the French state.

President Emmanuel Macron postponed a state visit to Germany that was due to have begun on Sunday to handle the worst crisis for his leadership since the "Yellow Vest" protests paralysed much of France in late 2018. He was due to meet his ministers on Sunday evening to review the situation, the presidency said, after the prime minister said on Friday the government's "crisis unit" had been activated until further notice.

Nahel's death has fed longstanding complaints of police violence and systemic racism inside law enforcement agencies from rights groups and within the low-income, racially mixed suburbs that ring major cities in France. Authorities deny that.

An officer has acknowledged firing a lethal shot, the prosecutor says, telling investigators he wanted to prevent a police chase, fearing he or another person would be hurt. The officer involved is under investigation for voluntary homicide.

The interior ministry said 719 people were arrested on Saturday night, fewer than the 1,311 the previous night and 875 on Thursday night.

"Forty-five thousand police officers and thousands of firefighters have been mobilised to enforce order. Their action … made for a quieter night," the ministry said on Twitter.

Paris' police chief said it was too early to say the unrest had been quashed. "There was evidently less damage but we will remain mobilised in the coming days. We are very focused, nobody is claiming victory," Laurent Nunez said.

The biggest flashpoint overnight was Marseille, where police fired teargas and fought street battles with youths around the city centre late into the night.

China, along with some Western nations, has warned its citizens to be vigilant due to the unrest, which could pose a significant challenge for France in the peak summer tourist season if it were to escalate around city centre landmarks.

China's Consulate General lodged a formal complaint to France after a bus carrying a Chinese tour group had its windows smashed in on Thursday, leading to minor injuries, China's Consular Affairs Office said on Sunday.

In Paris, police increased security overnight at the city's famous Champs Elysees avenue after a call on social media to gather there. The street, usually packed with tourists, was lined with security forces carrying out spot checks. Shop facades were boarded up to prevent potential damage.

At least one cafe terrace there was evacuated due to the clashes.

There were sporadic clashes elsewhere in central Paris. Paris police said six public buildings were damaged and five officers wounded overnight. Some 315 people were arrested in the city.
There was also unrest in the Mediterranean city of Nice and Strasbourg in the east.

Finance Minister Bruno Le Maire said on Saturday around 10 malls had been attacked and looted in the wave of unrest. He said more than 200 supermarkets had been attacked, around 15 of which had been burned down, with tobacconists, banks, fashion stores, sports shops and fast food outlets also being targeted.

Since the unrest erupted, Macron – re-elected in 2022 – has been forced to postpone his trip to Germany and leave an EU summit early. He has called on social media platforms to cooperate with the authorities to help identify those who "promote violence".

While he faced down widespread union-led protests this year over a deeply unpopular increase in the pension age that left his ratings in tatters, a concerted and lengthy uprising from the streets, like the Yellow Vest protests over high fuel prices, would pose a new challenge.
Yann Wernert, of the Jacques Delors Institute think-tank in Berlin, said the postponed visit highlighted the unrest's impact on Macron's ability to conduct foreign policy.

"The state visit can be made up for later, but the violent protests and the reactions to them also show how charged the political mood in France is at the moment," he said.