LIFESTYLE
From cancer survivor to Air Force vet: Meet the people who will be on SpaceX's all-civilian space mission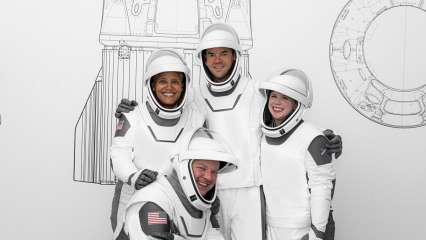 In a one-of-a-kind space mission, SpaceX is all set to send four novices into space in its first-ever all-civilian space mission. The spacecraft will be taking off on Wednesday, September 15, without a single professional astronaut on board.
Aboard the Crew Dragon spacecraft, four private civilians will set off on a journey to the Earth-orbiting mission on Wednesday. The mission has been named Inspiration4, with the intent of spreading the message of diversity in the world.
This will be the third mission of SpaceX which is being led by a billionaire. The intention behind sending four civilians to space is to spread the message that the space is open to everyone. Let's have a look at who will be a part of this unique space mission.
Jared Isaacman
Jared Isaacman, who is the mission commander for this SpaceX initiative, is a billionaire, who is passionate about piloting and travelling. He is 38 years old and is the CEO and founder of Shift4 Payments, which offers stores and restaurants a service for processing bank card transactions.
Isaacman is also qualified to pilot several military-grade aircraft, and he also founded the company Draken International, which provides training to US Air Force Pilots. His seat in the mission represents "leadership".
Chris Sembroski
Chris Sembroski is a 42-year-old US Air Force veteran, who served in Iraq and will now be a part of this unique SpaceX all-civilian mission. According to reports, he currently works in the aeronautics industry, for Lockheed Martin in Washington, USA.
Sembroski made a donation as part of a fundraiser conducted for St. Jude's hospital, after which he was selected for the mission. He will be in charge of managing the cargo on board and communicating with earth during the mission. His seat represents "generosity".
Hayley Arceneaux
Hayley Arceneaux is set to create history by being the youngest American to be sent into space, at the age of 29. She will also be the first person with a prosthesis to be a part of a space mission.
Arceneaux was diagnosed and treated for bone cancer as a child in St. Jude's hospital, and now works as a physician there. She was selected for the mission post the fundraiser, which was organized by Isaacman. Her seat represents "hope" and she will be the medical manager of the mission.
Sian Proctor
Sian Proctor is 51 years old and is a professor in a college located in Arizona. She developed her interest in space travel as her father used to work at NASA during the Apollo mission. She has twice applied to become an astronaut at NASA.
She will be the fourth African American woman to go into space and will be assuming the role of the pilot during the mission, assisting the commander. Her seat in the mission represents "prosperity".