BUSINESS
From Kiran Mazumdar Shaw to Leena Gandhi Tewari: Look at top 5 richest women of India and their net worth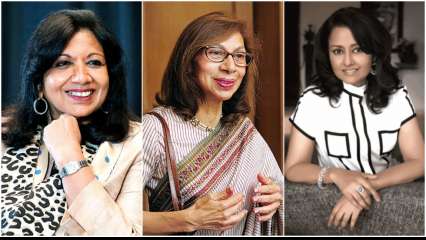 We always talk about the richest men in the world and in India but it is now time to talk about the women who have achieved a lot in their life through their sheer hard work and are now amongst the richest women in the country or the world. According to the Hurun Global Rich List 2021, take a look at top five richest women entrepreneurs in India.
Kiran Mazumdar Shaw
Biocon founder Kiran Mazumdar Shaw is the richest woman entreprenuer in India with a net worth of USD 4.8 billion.
Smita V Crishna 
The Godrej heir is the sdcond richest woman entrepreneur in Indai with net worth of USD 4.7 billion. It is to be noted that Crishna owns one-fifth stake in the family assets.
Manju Deshbandhu Gupta
Manju Deshbandhu Gupta is the wife of Lupin Limited founder Deshbandhu Gupta and co-founder of the company. Lupin is a multinational pharmaceutical company. Manju has an estimated worth of USD 3.3 billion.
Leena Gandhi Tewari
USV Private Limited chairperson Leena Gandhi Tewari has an estimated worth of USD 2.1 billion. The company manufactures items like solid orals, biosimilars, peptides and ophthalmics.
Radha Vembu
Radha Vembu is the majority stake holder in Zoho Corporation. She has a net worth of USD 1.7 billion.