CITIES
Ganeshotsav 2021: 500 Home Guards, 275 constables and additional manpower deployed for Visarjan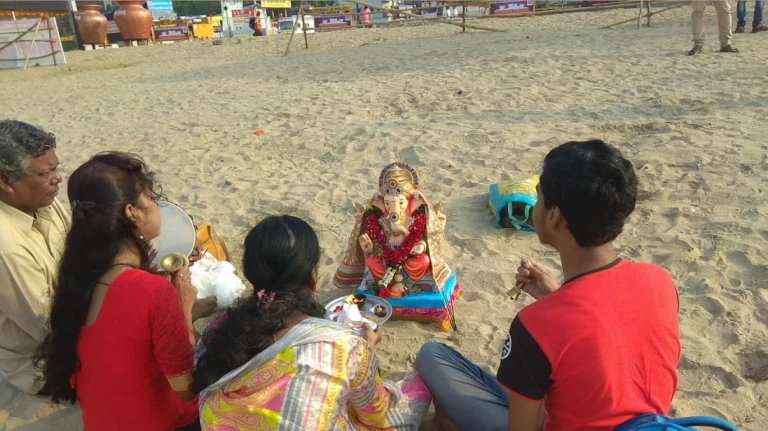 Ganeshotsav 2021 comes to an end and the people are bidding farewell to their beloved Bappa today. Over the last two years, public activities and celebrations for Ganesh Chaturthi were not allowed dur to the coronavirus (COVID-19) pandemic, and the government this year imposed Sec 144 keeping the increasing COVID cases in mind. To control the crowd during the visarjan, Mumbai Police, in a statement released before the Anant Chaturdashi visarjan, said that the department is prepared to control the crowd and activities on September 19, 2021.
As per reports, fixed points and patrolling will be deployed at all sensitive spots and areas. "Heavy bandobast is being deployed at all immersion points. Arrangements such as lighting, cranes,swimmers, ambulance, fire service, and all other safety measures are being undertaken incoordination with the departments concerned. Anti-sabotage measures, Night Patrolling andGood Morning Squad operations will be undertaken with high alertness in this period. Vitalinstallations will be safe guarded.Maximum manpower at all Police Stations and Branches will be deployed forbandobast duties," the release said.
The department has deployed extra manpower for the day whereby 100 officers, 1500 men from local arms and various branches, three companies of SRPF, one of CRPF, 500 Home Guards and 275 constables from other units will be present at different parts of Mumbai during the Visarjan. 
Police has been conducting operations on September 17 and 18, to crack down criminal activities, and hence nakabandi and other operations were undertaken keeping a check on the criminals, activities at hotels and lodges, and other sensitive locations. "Cases were made against illicit activities including drugs, illegal arms, illicit liquor, drunken driving, etc. Meetings have been taken with Ganpati mandals, peace committees, mohallacommittees and all stakeholders and appropriate instructions were been given for a peaceful visarjan," the release mentioned.