WORLD
Georgia deputies arrest man accused of striking pregnant woman with car amid domestic dispute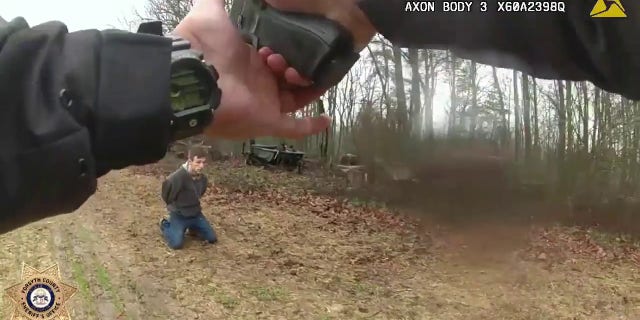 Sheriff's deputies in Georgia arrested a man accused of hitting a pregnant woman with his car after a domestic dispute.
Damian Berryman, 26, was arrested on Feb. 2 after allegedly leading police on a foot pursuit following the domestic dispute, where he's accused of striking the pregnant female victim with his car, according to the Forsyth County Sheriff's Office in Georgia.
After deputies found a crashed car, they began searching for Berryman in the area. Shortly after, Berryman was located near a wooded area in an open field.
"Get on the ground!" a deputy can be heard saying. "I'm not going to tell you again!"
AUTOPSY FOR GEORGIA WOMAN'S 'SUICIDE' REVEALS EXTENSIVE INJURIES PREVIOUSLY UNMENTIONED
While Berryman appeared to initially surrender to police and placed his hands behind his back, he got back up and continued running away from the officer, body camera video shows.
After several more minutes of running away from deputies, a K-9 was eventually able to help deputies locate Berryman, who was hiding in a wooded area.
GEORGIA MAN FACES MURDER CHARGES FOR ALLEGEDLY SHOOTING A MAN, MAY BE GANG-RELATED: POLICE
"What makes a perfect Valentines gift, Ladies just show this to your special guy as to what happens if they mistreat you," the sheriff's office said in a Facebook post. "While barbed wire may slow down the Deputy's foot pursuit, K9 Flash's nose works just fine in the rain. Run all you want, you will just go to jail tired, Bloodhounds like K9 Flash live for these moments. Good boy Flash, you got that bad guy!"
CLICK HERE TO GET THE FOX NEWS APP
Berryman is being charged with aggravated assault, reckless driving, failure to stop and render aid, driving without a valid driver license and obstruction of a law enforcement officer.