India
'Government of India should own responsibility of universal vaccination'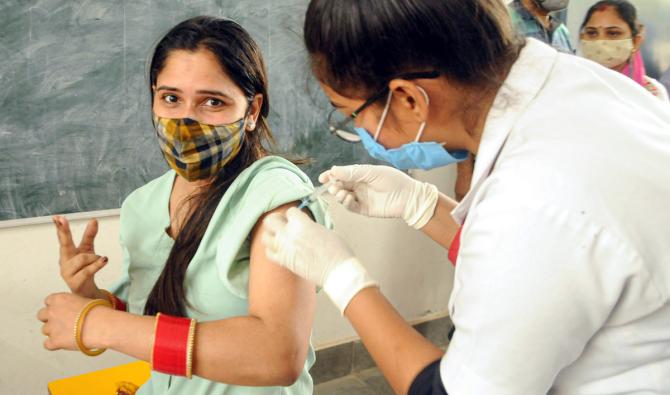 'The vaccine policy should be such that all people should get the vaccine free.'
IMAGE: A beneficiary shows the victory sign as she receives a COVID-19 vaccine dose in Patiala, May 19, 2021. Photograph: PTI Photo
One topic being debated the world all over in the pandemic is the waiver of patents of Covid vaccines so that vaccines could be manufactured wherever it is possible and made available to everyone.
When the US, the UK and most European Union countries are for a temporary patent waiver, Germany is against the very idea.
Of course, the pharmaceutical companies are also not in favour of parting with the Intellectual Property Rights of the vaccine they have developed.
But then, the IPR waiver is the only way to boost vaccine production, and also the only way to fight the pandemic.
One person who was opposed to the idea waiving Trade-Related Aspects of Intellectual Property Rights, or TRIPS, was Bill Gates whose Foundation is involved in supplying vaccines to many poor countries.
Gates's comment opposing the transfer of IPR was, 'There's only so many vaccine factories in the world and people are very serious about the safety of vaccines. So moving something that had never been done, moving a vaccine from say a J&J factory into a factory in India, it's novel. It's only because of our grants and expertise that it can happen at all,' drew severe criticism all over the world.
This made the Bill and Melinda Gates Foundation issue a statement reversing what Gates said.
One vocal critic of what Bill Gates said was the Rashtriya Swayamsevak Sangh-affiliated Swadeshi Jaagran Manch, the members of which organised protests in Delhi.
In this conversation with Rediff.com's Shobha Warrier, Swadeshi Jaagran Manch Co-Convenor Professor Ashwani Mahajan discusses the Covid Crisis in India.
The concluding segment of a two-part interview:
Every expert says vaccinating people is the only way to controlling the coronavirus but we are in a situation where people want to vaccinate themselves but there is not enough vaccine.
Where did India go wrong?
India is the biggest manufacturer of vaccines globally.
I am not talking about the covid vaccine, but all the vaccines.
We have the expertise, we have the capacity, and we have the history of manufacturing vaccines.
The next issue is, how to manufacture more vaccines in this pandemic.
And the issue boils down to the ownership of IP (Intellectual Property).
When the issue of vaccine manufacturing started, the so-called philanthropist Bill Gates entered the fray through GAVI (the Global Alliance for Vaccines).
Then, GAVI along with WHO started vaccine research and development by distributing money to different people.
Now the IP is in the control of this philanthropist who is not ready to share the formula so that his companies can make profit.
Now, the US, the UK and EU except Germany are batting for IP waiver. In fact, because of the world wide criticism, the Bill and Melinda Gates Foundation now agrees to the transfer of IP to manufacture covid vaccines.
The very fact that these countries and Bill Gates were blocking the IP waiver, exposes their intention.
The decision to waive IP does not mean that they have changed their hearts.
If we go back a little, we will see that from the very beginning, from 1991 when the WTO was formed, they were for more stringent IP laws.
At that time, it was widely said that we should not sign WTO because it would hamper our public healthcare.
One argument then was that in the case of a pandemic when the entire humanity would suffer, these people would try to make profit.
So, it was decided then that the IPR would not be applicable when there was a pandemic.
But they found ways and means to exploit poor people.
When South Africa purchased medicines from Cipla in India, these companies went to WTO complaining that South Africa should not purchase cheaper medicines from India.
Then a people's movement including those in South Africa forced them to agree to the Doha Declaration on issues like public health.
It is very clearly written in the Doha Declaration that commercial licenses can be issued by countries and parallel import can be allowed.
It means if we get license and produce vaccines in India, we can sell to developing countries at a cheaper price.
Why I am saying this is, by waiving the IP, these countries or Bill Gates are not doing any favour because it is the RIGHT of the member countries of WTO to get the IP waiver of covid vaccines.
No country can block this as it is clearly written in the Doha declaration.
Now, we have the IP of one vaccine that is owned by Bharat Biotech.
The IP of the other vaccine that is manufactured here is with the Serum Institute, and they have received money from Bill and Melinda Gates Foundation to manufacture the vaccine.
The question today is, can't profits wait when we are dealing with humanity? If humanity is lost, to whom will they sell these medicines?
So, what the Indian government should do now is, issue compulsory license to produce these vaccines and medicines immediately.
They should also press for technology transfer from these companies.
IMAGE: Young beneficiaries wait in a queue to receive COVID-19 vaccine dose in Bhopal, May 19, 2021. Photograph: PTI Photo
Coming back to the vaccine shortage in India, do you think the Government of India overestimated its capacity to produce vaccines by depending on just these two vaccines?
Do you also feel Indian government should have made more vaccines available in India because of the sheer number of people India has to vaccinate?
Even if you have just one vaccine, it can cover the whole population, that is, if we can produce enough vaccines.
So, the issue is of production.
If you give compulsory license to 7-8 companies in India who have the capability to produce, we will have enough vaccines.
It is not that they were not doing it; they have been selling vaccines to all around the world.
Now, we are allowing Sputnik to be produced by Cipla.
But didn't we lose a lot of time in the meanwhile? When countries like US, UK, Israel etc have vaccinated half the population, we have only vaccinated 9.4% of the population.
You are talking about countries like Israel the population of which is small. Look at our population.
It is not the time to discuss what we didn't do. The problem at hand is, we need more vaccines and how we can produce them at the shortest possible time.
IMAGE: Health workers give a dose of the COVID-19 vaccine to elderly women at a drive-in vaccination centre in Nagpur, May 18, 2021. Photograph: PTI Photo
My question was, when the authorities were aware of the population, why didn't they plan to produce more vaccines earlier itself?
I am saying, we have the capability to vaccinate the entire population.
Anyway, now that the situation is alarming, many people in India are coming forward to vaccinate themselves.
Now that companies are falling in line and there is a lot of political will, things will improve.
The very fact that India went to WTO in October 2020 itself for a waiver of IPR shows we are committed to this issue.
Would you agree the idea of charging people for the vaccine when other countries are vaccinating their people free?
We have always been saying that the vaccine should be affordable.
Looking at the resources of the government, they are forced to charge people but remember, they are giving free vaccines in the government hospitals.
Can you justify the idea of selling a vaccine at one price to the Centre, another price to the state and a higher price to private hospitals?
It is highly unfortunate. I would rather say deplorable.
This is a pandemic situation and why do some people try to make profit like this?
Exploiting a pandemic and making profit is a major issue in our campaign. We are totally against this. It is unacceptable.
Good sense should prevail. The vaccine policy should be such that all people should get the vaccine free.
Those who can pay for it, let them go to the private hospitals and get vaccinated.
It's okay to pay Rs 250 for a vaccine shot, but extortion is bad.
What is happening is extortion by private hospitals…
That's why we want the government to give compulsory license so that it could provide cheap medicine to all.
And the Government of India should also own the responsibility of universal vaccination.
Feature Presentation: Aslam Hunani/Rediff.com