WORLD
GREG GUTFELD: Blue Jays' Anthony Bass' apology is a hot, steaming pile of crap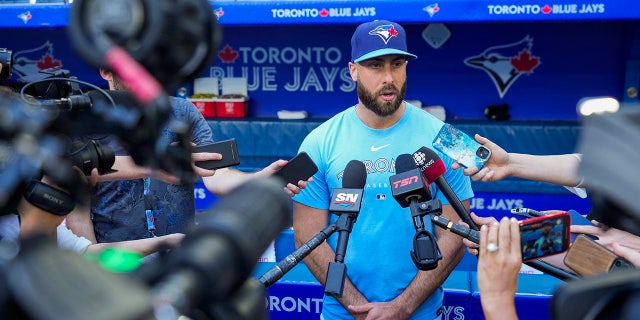 NEWYou can now listen to Fox News articles!
Oh, my goodness. Happy Thursday, everyone. It's June 1st, and you know what that means. Pat Boone's birthday. Everyone right now do a shot of Relief Factor. But also, it's Pride Month, and you will be happy about it, or else. Just ask Toronto Blue Jays pitcher Anthony Bass. I know, who knew Toronto had sports? 
This week he posted a pro-Christian video to his Instagram account supporting boycotts of Target and Bud Light. Those are the companies, you know, who support men with junk entering women's locker rooms armed with their own built-in towel hanger. So after some blow back, he said, I didn't mean it that way. Geez, Louise.
BLUE JAYS' ANTHONY BASS BOOED IN FIRST GAME SINCE SHARING VIDEO ENDORSING TARGET, BUD LIGHT BOYCOTTS
TYRUS: The one time you didn't.
Yeah, I know.
TYRUS: Who knew?
So after some blowback, did the player hold his ground and stick to his Christian beliefs? Nope. Like Joy Behar sucking down a prune mojito. He released a hot, steaming pile of crap.
ANTHONY BASS: I recognize, yesterday I made a post that was hurtful to Pride Community, which includes friends of mine and close family members of mine, and I am truly sorry for that. I just spoke with my teammates to share with them my actions yesterday and apologized with them. And as of right now I'm using the Blue Jays resources to better educate myself to make better decisions moving forward. The ballpark is for everybody. We include all fans at the ballpark. We want to welcome everybody. That's all I can say. Thank you.
Better educate himself. Well, that had all the sincerity of Hannibal Lecter telling his date that the ketchup is for a hot dog. Still, the player, he groveled like Hunter at a strip club without his ATM card. Sad, every word of that forced apology came from the bottom of some lawyer's shriveled black heart. 
BLUE JAYS PITCHER ANTHONY BASS APPEARS TO ENDORSE TARGET, BUD LIGHT BOYCOTTS
So what did he do that was so hurtful? He shared a video, and you don't have to agree with the video, but so what? In today's world, if you're a Christian and don't want trans propaganda dangled in your face like a weighing pop free from a women's swimsuit, that's too damn bad. You're supposed to just shut up about it. 
Sure, leftists could scare authors, broadcasters and even bakeries with mob persecution, but pipe down, you Christians because trans are a marginalized community. Although does it really seem like they're in the margins anymore? They have more visible flags than the UN gift shop. I haven't seen this many rainbows since I crashed that leprechaun convention. Oh yeah. And whatever the event, you better applaud with tears in your eyes or else you're a trans phobe refusing to do what you're told is bigotry. Again, Anthony Bass didn't say any of that Bible stuff himself, but he agreed with it, which is gross because yuck, it's Christianity. And according to Major League Baseball, Christians are open for mockery, not support. 
The L.A. Dodgers face backlash for re-inviting the Sisters of Perpetual Indulgence, a group of transvestites dressed as nuns to present them with a Community Hero Award or CHA. At the team's pride night later this month, this is a group known for mocking Christians, of course, including actually holding a pole dancing on crosses. Now, what do a group of transvestite atheists have to do with baseball any way other than they both like rubbing pine tar on their bats? Nothing. Just like what Dylan Mulvany had to do with beer. Nothing.
ARCHDIOCESE OF LA CRITICIZES RE-INVITATION OF ANTI-CATHOLIC DRAG QUEENS TO DODGERS GAME
But that's not the point, the point is to rile you up. Get in your face, so they can then condemn you for your dismay even more. It's a sport, always has been, and if you don't play, then you're the problem. After rescinding their initial invite, the Dodgers were cowed into submission by a small group of activists, and now they're alienating their own fans. 
So what's next? I guess now when they call ball four, it means you're getting flashed by two nuns with beards. So what have we learned? Well, for one, corporate executives are —-, and that condition is contagious. And all protected celebrations of identity do is sew division creating trip wires and fake sins designed to scare everyone else into obedience. Even Bass is now getting blow back from Christians. 
See, he should've just shut up. But how can you when everyone has to get involved, including PetSmart? Yeah. Even dogs are pro-pride, which makes sense they're on all fours and always looking for ass.
CLICK HERE TO GET THE FOX NEWS APP
But in my opinion, if you want acceptance, why not just be more like us? Be boring, but it appears if there's one thing certain members of the trans lobby won't tolerate, besides high heels under a size ten, it's not being the center of attention. The bullied are now the bullies. Not sure this is the transformation they were looking for.