HEALTH & FITNESS
Himalayan Rhubarb: Precautions, Side Effects And Benefits Of Revand Chini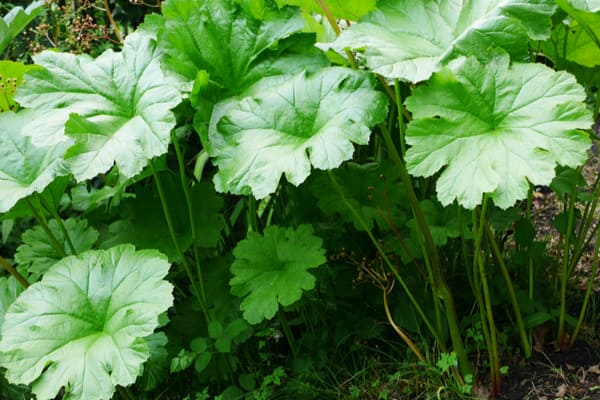 This article will explore the Ayurvedic perspective on Himalayan Rhubarb, discussing its uses, protection, and possible side effects.
Revand Chini, also known as Himalayan Rhubarb or Rheum australe, is a perennial herb widely used in Ayurveda for its medicinal properties. This herb offers numerous health benefits. However, be aware of precautions and potential side effects of its consumption. This article will explore the Ayurvedic perspective on Himalayan Rhubarb, discussing its uses, protection, and possible side effects.
Benefits Of Himalayan Rhubarb (Revand Chini)
Digestive Health: Revand Chini is known for its potent digestive properties. It helps improve digestion, stimulates appetite, and relieves symptoms of indigestion, bloating, and constipation. In addition, the herb supports healthy bowel movements and promotes overall digestive well-being.
Liver Support: According to Ayurveda, Himalayan Rhubarb possesses hepato-protective properties. It aids in detoxifying the liver and supports its proper functioning. Therefore, regular consumption of Revand Chini may help maintain liver health and prevent liver-related disorders.
Detoxification: Revand Chini is believed to have detoxifying effects on the body. It helps eliminate accumulated toxins and purifies the blood. Regular use of this herb may support the body's natural detoxification processes and contribute to overall well-being.
Skin Health: Ayurveda considers Revand Chini beneficial for maintaining healthy skin. It possesses anti-inflammatory and antibacterial properties that may help manage skin conditions like acne, eczema, and rashes. In addition, the herb's detoxifying properties also contribute to a clear and radiant complexion.
Menstrual Health: Himalayan Rhubarb is commonly used in Ayurveda to address menstrual irregularities and discomfort. It helps regulate hormonal balance, reduce menstrual cramps, and promote regular menstruation. However, it is essential to consult an Ayurvedic practitioner for appropriate dosage and usage guidelines.
Precautions Of Himalayan Rhubarb (Revand Chini)
Consider the following precautions:
Avoid use in cases of chronic diarrhoea.
Do not use this in an epilepsy condition.
Avoid this during pregnancy and breastfeeding.
Follow the recommended dosage and usage instructions.
Be aware of potential gastrointestinal discomfort.
This herb gives a deep tinge to the urine.
Excessive or prolonged use may lead to adverse effects.
Please do not use it for uric acid diseases or renal or gall bladder stones because it contains oxalic acid.
Side Effects Of Himalayan Rhubarb (Revand Chini)
While Revand Chini is generally safe when used appropriately, some individuals may experience mild side effects. These can include:
Gastrointestinal Disturbances: Some individuals may experience stomach discomfort, nausea, or diarrhoea.
Electrolyte Imbalance: Prolonged and excessive use can lead to electrolyte imbalances, dehydration, and mineral deficiencies.
Pregnancy and Breastfeeding: Avoid use unless prescribed by an Ayurvedic practitioner due to limited research on its effects during these stages.
Dosage and Duration: Adhere to recommended dosage and duration to avoid potential adverse effects.
Dr Chanchal Sharma provided us with the information for this article, so proceed with caution for appropriate intake and dosage.
Total Wellness is now just a click away.
Follow us on
window.addEventListener('load', (event) => {
// $(document).ready(function(){
$('#commentbtn').on("click",function(){
(function(d, s, id) { var js, fjs = d.getElementsByTagName(s)[0]; if (d.getElementById(id)) return; js = d.createElement(s); js.id = id; js.src = "//connect.facebook.net/en_US/sdk.js#xfbml=1&version=v2.3"; fjs.parentNode.insertBefore(js, fjs);}(document, 'script', 'facebook-jssdk'));
$(".cmntbox").toggle();
});
// });
});