LIFESTYLE
Holi 2023: Rural women earn big as they make herbal gulal from flowers and fruits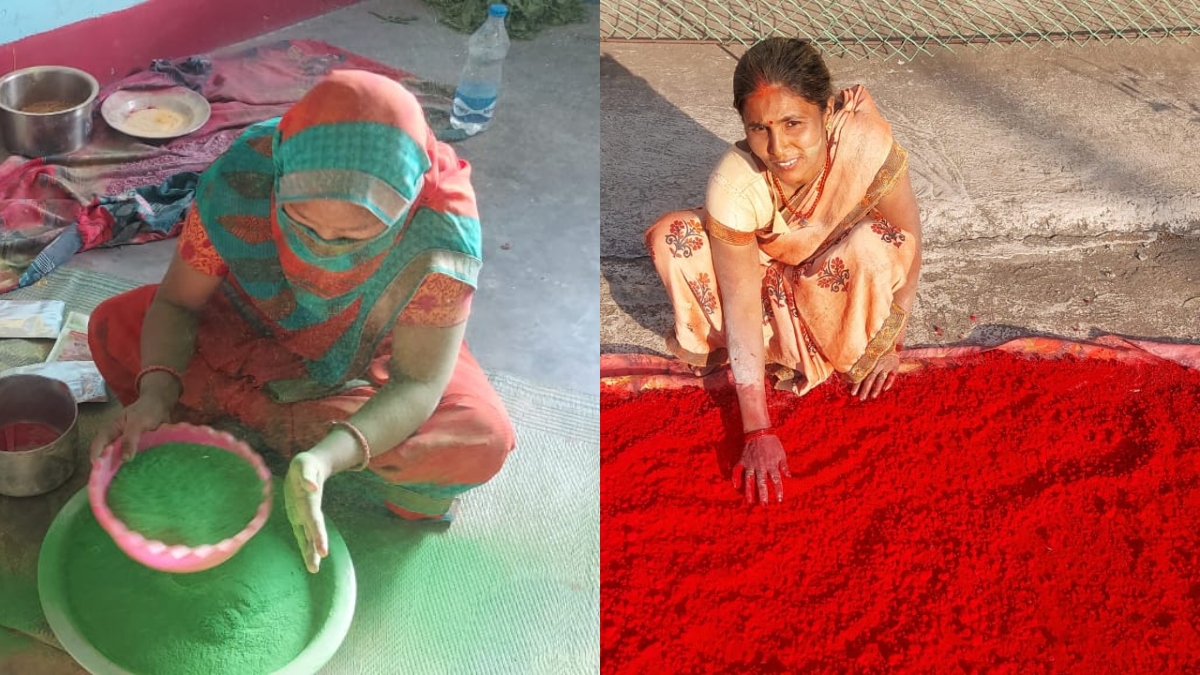 Holi 2023: Women of Hazaribagh's Peto village are making herbal gulal using natural colors. Fruits and flowers are being used in preparing this herbal gulal. For example, herbal gulal is prepared using spinach, palash flower, marigold flower, rose flower, beet, jasmine oil, arrowroot, sandalwood and multani mitti. This gulal is completely organic and chemical-free, which does not harm the skin and eyes. Also, the beauty products used in it like Jasmine oil, sandalwood, multani mitti, etc which is beneficial for the skin. It is available in Palash Mart of Abir JSLPS.
How is the gulal prepared?
The women of the group prepare a mixture by first boiling different types of flowers, leaves and fruits and grinding them in a mixer. Then mix it in arrowroot flour, kneads it well and then spread it and dry it. Following this, it is ground well. After this, herbal gulal is prepared by mixing sandalwood, nicil powder and a little natural perfume in it. 
Later, it is packaged and sent for sale at Palash Mart, a purchase center established at different places of JSLPS. The price of a packet of herbal gulal weighing 150 grams is fixed at Rs 90. Orders are also taken at these purchase centers for purchase in lots.
Rakhi Devi, president of Gramin Seva Kendra Daru, says that apart from natural products, basil and lemon grass oil are also used in the manufacture of herbal colours. Abir Gulal manufactured by us under the Palash brand is being made available in the market for the last four years, which people are very fond of. Apart from the festival, many types of products are processed and made available in the market in the remaining months of the year. Due to this, women are getting economic strength along with employment to earn their livelihood.
Appreciating the effort of the women's group, Deputy Commissioner Nancy Sahay said that herbal gulal is completely made from fruits, flowers etc. and chemical-free products obtained from nature. Through this many women have started getting economic prosperity along with employment.
function loadFacebookScript(){
!function(f,b,e,v,n,t,s){if(f.fbq)return;n=f.fbq=function(){n.callMethod?
n.callMethod.apply(n,arguments):n.queue.push(arguments)};if(!f._fbq)f._fbq=n;
n.push=n;n.loaded=!0;n.version='2.0′;n.queue=[];t=b.createElement(e);t.async=!0;
t.src=v;s=b.getElementsByTagName(e)[0];s.parentNode.insertBefore(t,s)}(window,
document,'script','https://connect.facebook.net/en_US/fbevents.js');
fbq('init', '529056027274737');
fbq('track', 'PageView');
}
window.addEventListener('load', (event) => {
setTimeout(function(){
loadFacebookScript();
}, 5000);
});